Weekly Journal - The Ballad of Foggy Jack
Hey everyone,
We hope you are having a good end of October. There are a lot of cool games coming out, shows to watch and Halloween is right around the corner. If you are dressing up as anyone from We Happy Few, send us some pictures!
This week we've been posting some fun stuff on our social media such as some pumpkin stencils and a little bedtime story by Uncle Jack.
We also posted a tutorial on how to make your very own Bobby mask thanks to the amazingly talented cosplayer DeAnna Davis.
Production
Sam
Reviews continue this week as we look more closely at player progression, world setup (the procedural generation) and balance. Looking at the user research reports from Gearbox (who have added a piece below explaining who they are and what they do), one of the pieces of feedback that matched community feedback was that many people were taking a while to get to the Village and start taking Joy. As you guys know, these are critical parts of the game world, and many early reports from players have been "I don't get it, is this just a survival game?" because they never got to the more colourful parts of the world:
These reports are cool because they're independent - they're similar in a way to the feedback all of you have given us over the past few years, but are focused on the story playthroughs. These aren't editorial suggestions, they're (as much as possible) objective evaluations based on player feedback. They're a way to help us gain perspective, because it can be very easy to get tunnel vision during development. With this specific issue, we have a range of solutions.
One thing that has become apparent the past two months is that we have huge power with the procedural generation to make big changes very quickly. One option to solve the problem above is to use the generation system to change the layout of the world, introducing these areas earlier. While the generation system has caused issues for our art and level design teams in the past, it is much easier for us to make changes like this than it would be for a traditionally built game. We're really starting to see the benefits of it at this stage.
For most of the team, content work continues well, and we are able to finalise our ratings submissions. Brazil has been submitted (it is the region with the longest analysis time), and we're now beginning work on Japan and Malaysia! We do have a couple of last minute cinematics coming in today (including one highly suggestive and comical scene), but as of today that means we have now built the raunchiest, goriest, most full-of-expletive, parts of the game. It's very fun to review! One more week until "content complete".
Design Team - David, Hayden, Antoine, Adam, Ben, Eric, Roxanne and Benji
Adam
Over 1000 lines needed to be plugged in for the mad scotsman… and that is now finished… hooray! After that, animators go through all the conversations and put together idles/animation chains for conversations. This is a double-edged sword because it opens up the floodgates for a bugs and problems, but it's an important part in helping give life to the dialogue and story.
Bugs and problems are pretty much daily life during development. If we have a bug with animation, we'll need to either fix it through script, or ask for a better tool from programmers. Both solutions can potentially break with subsequent changes, although script fixes are more volatile. For example, in the Technicolour update we remade our AI systems. That system continues to be iterated on, but that can cause problems and break encounters that worked correctly beforehand (eg if we add a new conformity rule, our quest NPCs may not know that they're supposed to ignore that rule until we fix it).
Early Access was fun for that, because each update meant we'd need to fix encounters that were working previously! Good times. That being said, we're almost at the point where major systems stop getting significant changes, so we are looking forward to doing the final "finaling" pass and making things run super well. In the meantime, *opens beer bottle*.
Eric
Integrated VO mostly. Had to fix bugs to be able to do this, so it was a twofer this week.
Roxanne
This week I worked on the new loot system and populating our loot lists. I also made some burning status effects for people stepping in campfires. Tons of VO integration otherwise.
Engineering Team - Matt, Serge, Michael, Lionel, Rob, Evan, Maarten, Céline, Neil and Guillaume (sometimes)
Michael
A bit more combat and a bit more stealth this week. The content complete deadline looms and it's starting to feel more panicked. The goal for content complete is to have a representative version of the game ready to fix and polish. So any features we want in the game should be in before this deadline, and for me it feels like packing for a holiday the night before; chucking things into the suitcase and hoping you haven't missed something you really need. Also, with the end in sight you start to be even more judgemental of the game you're making, and see all the things you want to improve, so it's a vicious cycle. Fortunately, I'm also still seeing new bits of the game that really impress me, and we've still got many months to polish up the work that has been done, and to keep improving and improving the features we've got to make the moment to moment gameplay as brilliant as possible.
Lionel
The world generation impacts two different aspects of the game, the gameplay and the visual. On the first hand, the length of the roads or the distance between "interesting places" are directly connected to the way the world generates. On the other hand, the suspension of disbelief depends (among other things) on the coherence of the world generated. I worked the last week on the first aspect (gameplay) and while there is still room for improvement (there always is), I worked this week on adding subtle (or not so subtle) visual stuff to the hamlets and villages. Things that you would miss if they weren't there but that makes the world more natural.
Neil
In the past few weeks I have been working on implementing very different things that Miss Thigh Highs and the Mad Scotsman need to take care of over the duration of the game. Both of these features rely heavily on the flow of time (coincidentally like the looming content complete deadline)! Much like my previous task, this has helped me learn more about the many different systems that are in play in our game. It's been an incredible adventure to content complete, and I hope this translates into an experience you'll all enjoy.
Narrative Team - Alex and Lisa
Lisa
When you play 1.0, each character will have audio flashbacks that let you hear moments in their past that defined them. That's what I've been writing for Miss Thigh Highs this week (in addition to writing the last bits and bobs of environmental narrative). It's going to be very hard for me to say goodbye to Miss Thigh Highs when we lock content next week. I've poured a lot of my own experiences into her character (though of course I never lived in a 60s dystopia where A Very Bad Thing happened).
I hope you'll love her as much as I do! In Halloween-related fun, Naila asked me to write a Foggy Jack poem for our Twitter last week. This one that didn't quite make the cut (we went with a limerick instead), but perhaps it could still serve as a useful warning for all you Downers...
The Ballad of Foggy Jack
On Halloween Eve, in Wellington Wells,
The church bells knell, and yet all is not well.
When all good Wellies should be in their bed,
Comes a nameless fear and a leaden dread --
If you're out past curfew, you'll end up dead!
For out on the heath, under night's velvet sheath,
Whistling cuts through the mists like a scythe!
Do hurry back home if you value your life,
Or the last thing you'll see is the gleam of his knife!
You may have noticed there's actually a bunch of verse in the game -- we have bawdy army songs, a Rupert Brooks-style soldier poet, pop-star lyrics, and even a couple of modernist diary-entry poems. It's fun to have a job that lets me write in lots of different literary styles -- from cheeky magazine articles to faux-Shakespearean witches' dialog. This week I even got to write a riddle in rhyme. I'm trying to squeeze in as much as I can in the last week before content lock!
Alex
When Lisa and I were taking Kenneth Koch's writing class at Columbia a long time ago, we learned two things: (a) develop a writing style by writing in other people's styles (b) you will never run out of words. Writing a game is a master class; I've got to write in different voices and different media.
Originally we were just going to have audio flashbacks for Arthur, because Arthur's main issue is someone who never comes on stage in the present, while Miss Thigh High's issue is clear and present, and the Mad Scotsman has a special friend to talk to. But Sam asked for audio flashbacks for them, too, so I wrote the Mad Scotsman's memories this week. They'll have to go into the game in robospeech or temp voice or something, as the fellow who voices the Mad Scotsmen disappears Monday to the wilds of Alberta till just before Christmas; apparently where he is, there are not high quality sound studios. (Everyone now carries a pretty decent microphone in their pocket; but you still need a professional quality sound studio to get clean audio without a "boxy," "roomy" quality of reverb.)
Other work: figuring out how to bring the player up to speed on the Garden District faster; writing clever journal entries and objectives in the game's voice for about half the game; and editing Arthur's nightmares. Oh, he will have nightmares. He was going to have cinematic nightmares, but with our animators working their fingers to the bone and Clara frantically editing Uncle Jack, now it's audio nightmares.
I actually love editing audio.
Lisa and I are giving a talk at MIGS this December on the various forms of narrative we've put in the game. Back in the day, if you'd proposed to tell stories via randomly collected letters, signs, graffiti, and gin bottle labels, in an artificial environment, they'd have given you a degree for experimental writing. Now it's not so experimental, but it continues to be strange fun.
Animation Team - JR, Rémi, Vincent, Mike P, Jules, Raph and Franzi
Slightly less dangerous Mike
Hey folks! So this week was cutscenes,cutscenes, cutscenes!!! Was working on them like they were going out of style! These little snippets are there to make you laugh, cringe and add to the flavour of the world we are making for you. This week I worked on one of our characters that I can't mention, buuut… so if you've ever seen a circus act where a guy's shot out of a cannon.. Well it's pretty much like that. Except there are no soft landings in store. And I started working on a shot heavily laden with some wink, wink, nudge, nudge, know what I mean, know what I mean type stuff going on. (For you Monty Python fans out there) Except in this situation it's probably not as exciting as you might think it is. Plot twist! So that's pretty much it from me this week! Tune in again next week, same Bat Time, same Bat Channel!
Jules
Hi everybody ! So this week, I worked on combat animation! I've made some new attack for the bayonet weapon. I'm sharing you the new heavy attack of this weapon.
At the middle of the week, I worked on the Doctor! As some of you find, the only NPC who can carry the powerful bonesaw is the Doctor! So the doctor can heal other NPC during a fight, he can resurrect them and heal himself. Yes, he can do a lot of things and reverse the situation during the fight! So during the last part of the week, I've also made some Heal and resurrect animation for the NPC and the doctor.
Art Team - Whitney, Emmanuel, Tito, Marc-André, Sarah, Guillaume, Cary and PH
Whitney
Hey folks,
It's been a while! The last couple weeks have been a whirlwind. We've been developing the parade district and figuring out what we can do to improve the look of the procedural world on the art side. I've also designed a new version of The Plough Boy (concept soon to come), and the nighttime gas mask for The Doctor, inspired by a medieval plague doctor. Somewhere in there I got the plague myself and had to take a couple of days off, but that's over and I'm back to organizing, prioritizing, reviewing environmental narratives, and concepting:) Speaking of which another thing I've been up to is figuring out ALL remaining art tasks to be done and ALL art related bugs to prioritize, and the underlying conclusion is it's not going to be too terrible! Yay!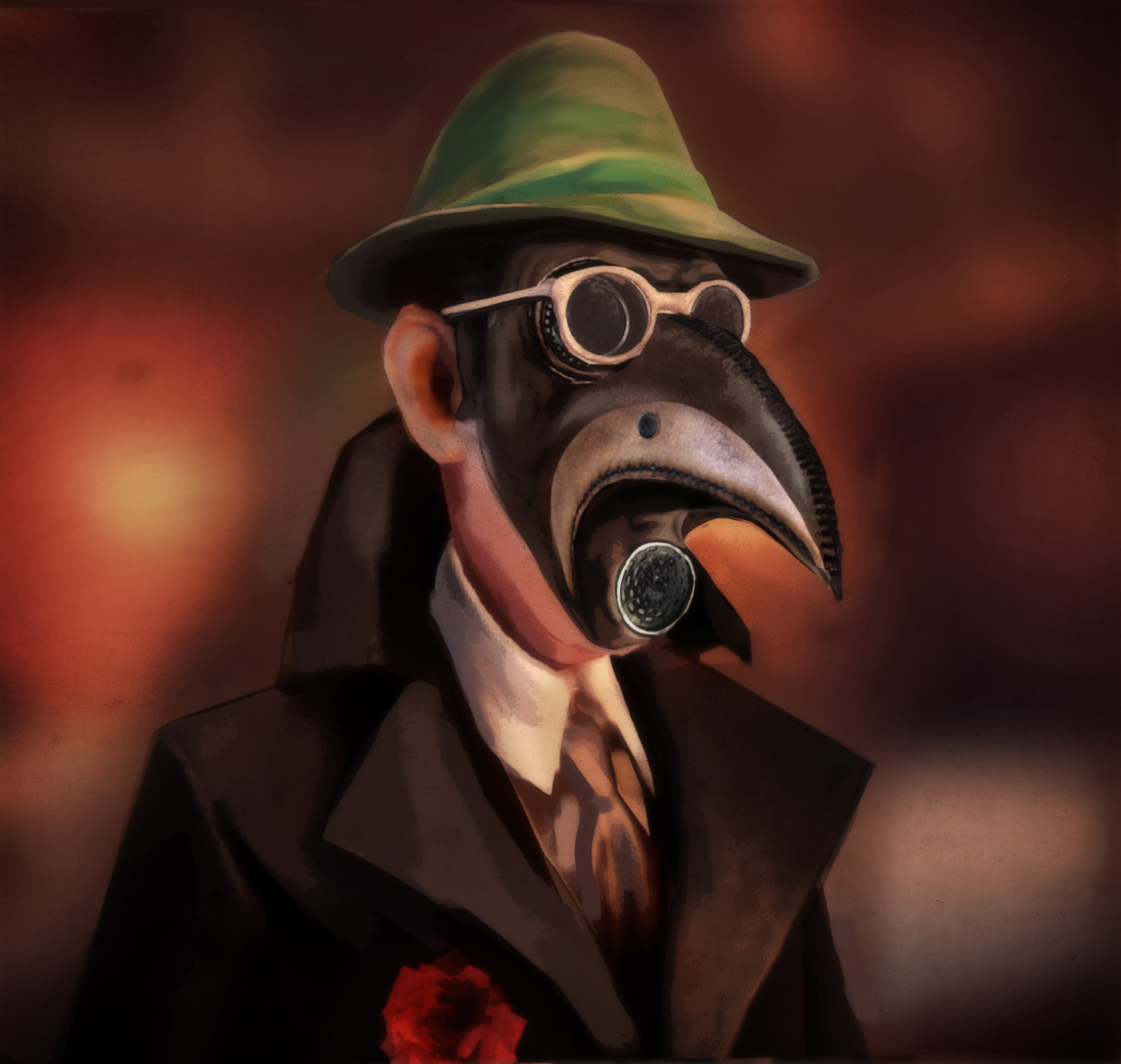 PH
I had the chance to made a really cool plague doctor gas mask based on Whitney's concept, our Art Director. So I gathered some old leather and vintage gas mask references and I started to sculpt the general shape. The challenge was to give some personality to the mask. Looking at the concept, you can see the frowning eyebrow, the aggressive shape and how everything fits very well with the Doctor's face. So my main goal was to give strong attention to this. Texturing was a critical process and I spent hours refining the overall leather look. I'm quite happy with the final result. Then I moved on to weapons. I was in charge of creating a set of variation that the player will be able to craft to get a specific weapon ability.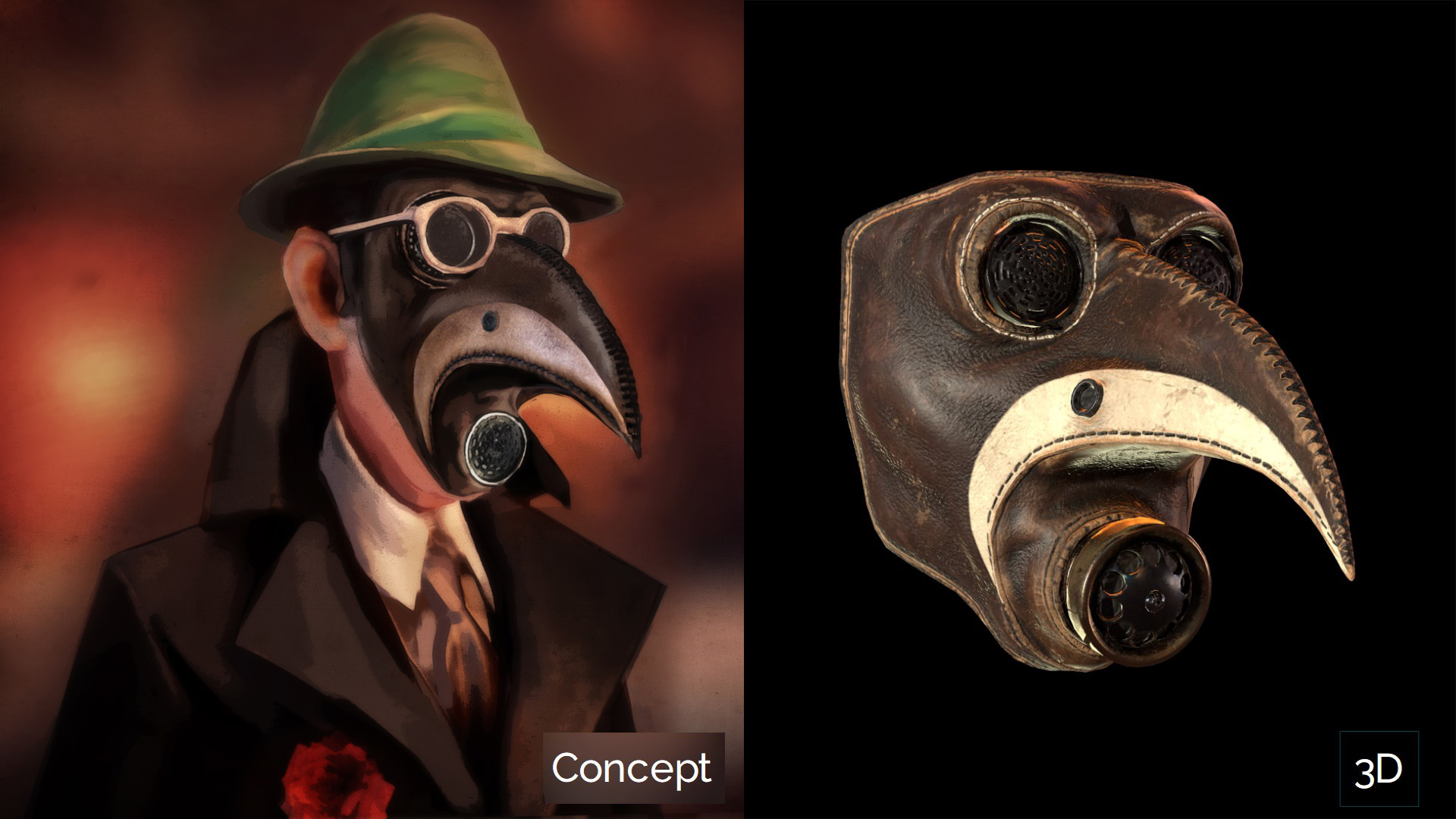 Marc-André, Guillaume, Cary
This week, we've kept working away on level art for the new wonderfully handcrafted biome that is the Parade District. After completing the mid-level blockout of the areas (polishing the layout of the streets, the buildings and creating the rough shape of the terrain), we have been placing all of the decorators such as leaves, vines, puddles and signs on the buildings. We've also been placing streetlights to set the ambiance.
Publishing – Steve, Jeff, Mike C, Mike R, Austin, Meredith, Elisa, Kat, Kelly, Nicole, Sean, Brad, and Erick (and more)
Jon, Michelle, and Kyle
Hail, and well-met!
We are the Gearbox Publishing User Research Team. Our jobs involve conducting user tests and analyzing data from players for nearly every project at both Gearbox Publishing and Gearbox Software. We work primarily out of our User Research Facility, a dedicated testing lab in Frisco, TX. We recruit participants from the Dallas/Fort Worth area to come to our labs and playtest content for us. Prior to moving over to Gearbox Publishing, the team operated under Gearbox Software since 2008.
This month the team has been focused on a large multiday user test for We Happy Few; this is the kind of test where our participants come back to the lab for a second day of content and feedback, and we can really focus in on critical areas for analysis. While we can't divulge the details of the test or the data we collected, we can say that the test itself went very well. Our partners at Compulsion and our Publishing QA groups were fantastic allies throughout the preparation and execution of the test, and all parties were pleased with the report that was delivered. We are looking forward to the next round of testing, and we will be planning that out in the next couple of weeks.
Until next time!
Compulsion Games