Weekly Journal - Production update and regional price adjustment
Hey all,
This week's development has been focused on finalising encounter blocking for the last stretch of the story, along with finally recording those additional Uncle Jack kickstarter shows! It's great to finally complete these recordings, as it means there will be even more Uncle Jack as part of the final version of the game.
It's a busy time for our level designers as they create the remaining building blocks of the game, and we work to lock down all the features in the game.
We also spent additional time with Gearbox analyzing the regional pricing for the game after several discrepancies were brought to our attention. Here are revised price points for several regions, effective immediately: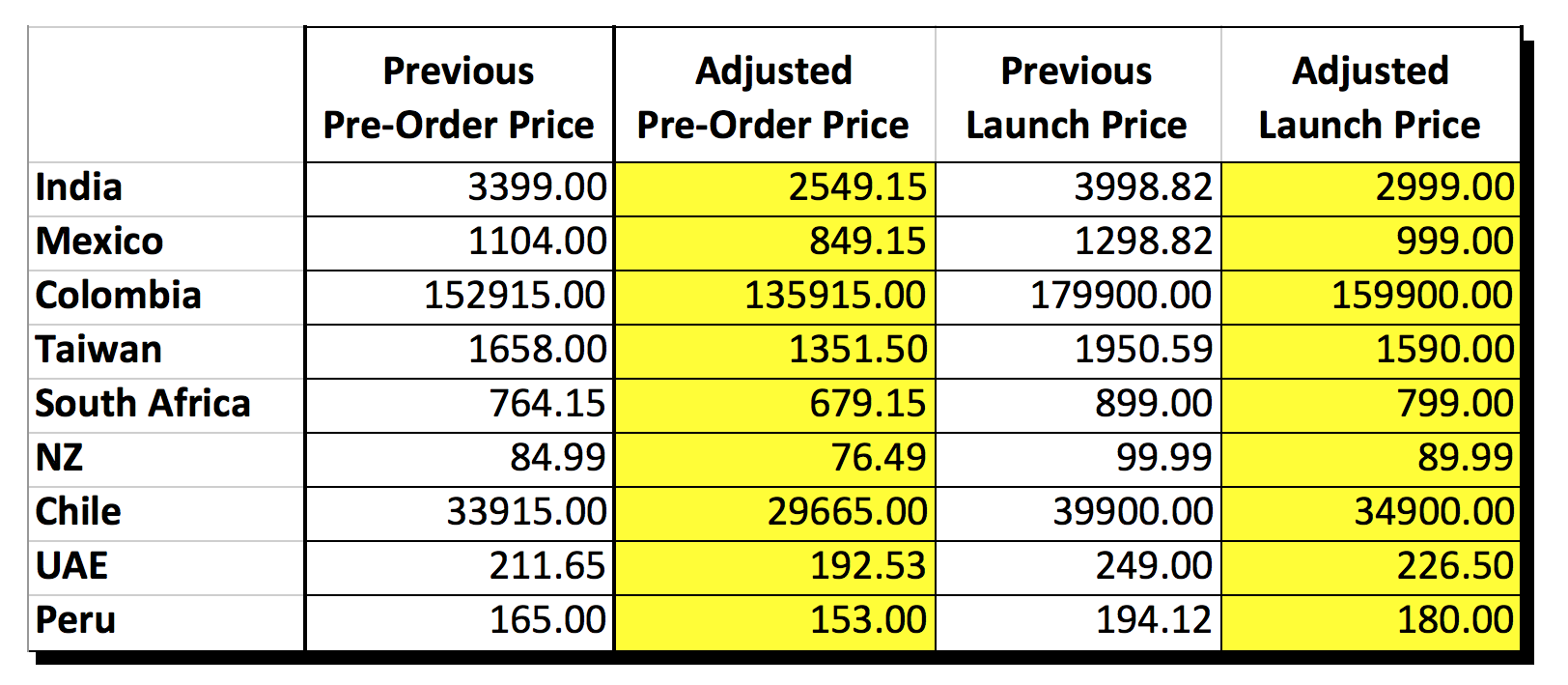 Production
Sam
Hi folks! From now on until we ship, I'll be adding weekly production updates so that you can keep up with our progress towards finishing the game.
To start with, I want to explain where we are in the production cycle: in 7 weeks, we are aiming to be "content complete". This is the point where we effectively "lock down" what's in the game, to submit to ratings. After this point, we can touch things up, fix bugs, and add in missing pieces (eg recorded VO for which we used robo voice previously), but can't create new things.
In order to get there, the first step is to make sure that all of our levels are "blocked" - aka the point where the levels can be played, but the supporting things like VO, animation and journal text are not final. We will not be blocking any new encounters after the end of next week. That means this week, and the past 2-3 months, have been all about blocking encounters.
To give you context, we launched the Early Access version of the game with around 50 encounters. As part of the quest rework, the Clockwork Update shipped with 61 remade/reworked encounters. 94 encounters were in the game by the Maidenholm Update, and 110 in Life in Technicolour. These range from big encounters like the Butcher, or smaller encounters like bridges or Crazy Legs, but does not include things like interactive houses. Once we have finished the current content creation, we will have significantly more encounters, which should make for a much richer world.
As part of this, Alex is furiously writing VO to be recorded, and we will be having probably 1-2 dozen recording sessions over the next month and a half.
Narrative Team - Alex and Lisa
Lisa
Wakey, wakey! In addition to writing environmental narrative for the Parade District, I wrote a fun scene in which Uncle Jack's Fan Club breaks into a melee, arguing about whether his 1951 Christmas Special is part of The Uncle Jack Show's canon.
I've also been coordinating with the art and level design teams to make sure the amount of environmental narrative feels right for the newest locations. (For instance, if someone is trying to kill you when you're in a certain room, that might not be the best place to hide lots of diaries and letters.) I usually start with my own list of character-related documents I want to put in a location, but honestly, some of the most fun stuff happens when another department tells me, "Figure out what this room is used for."
Ninja Department
Clara The Great Cheese
Hello everyone, So much news this week from the ninja department!
Last Monday we gathered our film gear, scripts and Wellie masks to shoot more Uncle Jack shows with the amazing Julian Casey. It went really well!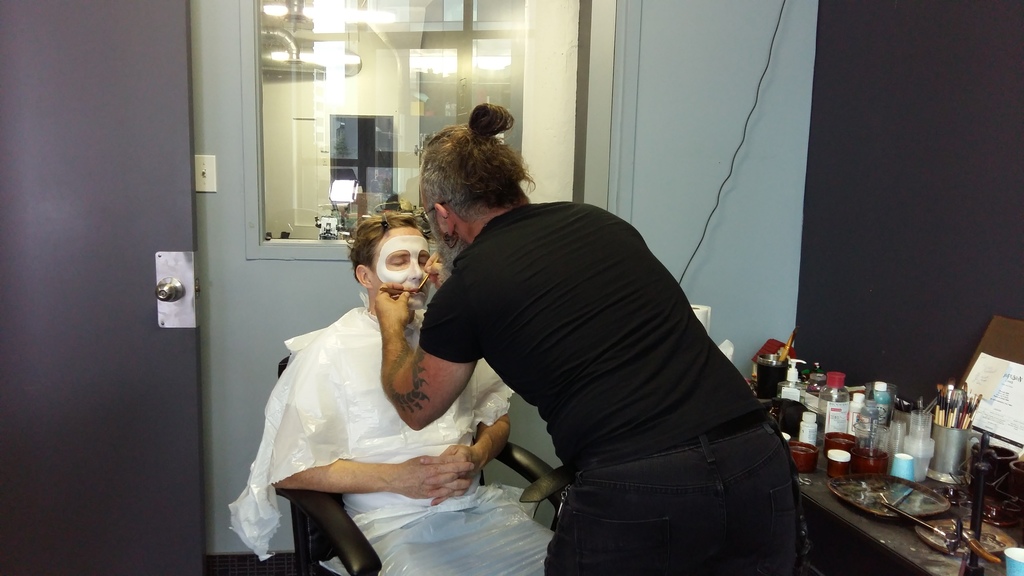 We managed to shoot about 12 shows which will add even more diversity on all the tellies and radios of Wellington Wells… plus a special episode which I can't talk about just now. Secret secret, you know the drill.
A hundred coffees later, I also started syncing footage and cleaning everything for the team to review, while going back to my daily tasks of retouching the UI, planning the next weekly video and reworking some of our loading screens to make them fit even more seamlessly in the world of Wellington Wells.
Animation Team - JR, Remi, Vincent, Mike P and Jules
Mike (Kinda not the new guy anymore)
Hey gang! So this week I did some work on some atmospheric conversation stuff and started animation on a new takedown for the player. Can't mention anything specific, but if this thing doesn't make you shudder just a bit, you might be a robot. It's a little on the terrifying side of things. Unfortunately you'll have to wait till 1.0 to see it! But it'll be worth the wait!
That's it for me, see you all next week, same bat time, same bat channel!
Jules
Hi, folks! So for me during the first part of the week, I finished another POI (point of interest) animation. As you can see it's a poke fire animation.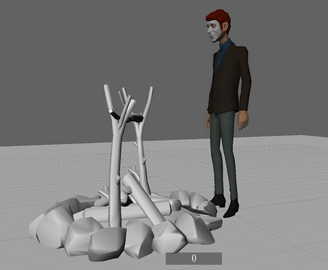 Now the NPCs have another interaction with their fires, I'm going to take a break from the POI animations and move to an exciting task, updating combat animations! The goal of this is to improve the feeling of intensity during the fight for the player. We want more variety for the attacks and really want to make the player feel how much the NPCs hate them (because you are a Downer...).
Vincent
Hoi! This week, I joined the Ninja Department for a bit, and switched my animator hat for a driver hat! Then I quickly returned under my secret cinematics animator hat.
J.R.
Greetings my mates. Another secretive week under the belt! Trust me, if you're getting impatient about the story, I am equally if not even more eager to show you bits of narrative. Again this means I don't have much to show you, but it keeps moving forward.
This week I finished working on the longest scene in the game, it was a lot of fun and took me a couple of late nights. Otherwise we are getting underway with effectively closing the shots. This means we've been scrolling through every completed scene, making sure everything is nice and tidy in order to sign off on the final animations and mark them audio ready.
Adding check marks and colouring the sheet in green is exciting!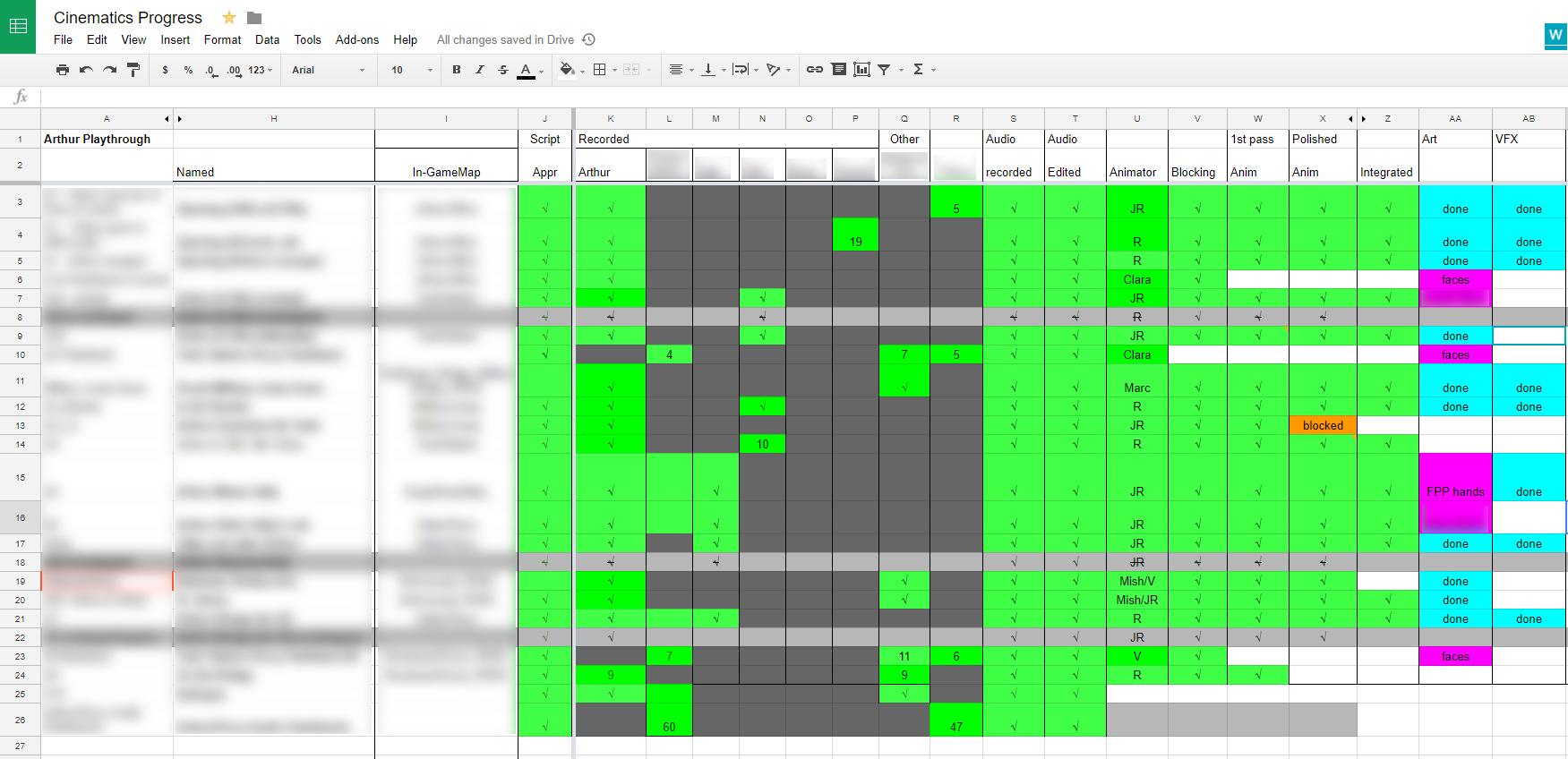 Design Team - David, Hayden, Antoine, Adam, Ben, Eric, Roxanne and Benji
As is now customary, the design team is working on story quests/encounters, meaning that most of them have to be very secretive.
Eric The Fantastic
Last week or two has been story encounters. Mostly bridges. Waaaay too many bridges. Mostly just making the existing bridges work for all 3 characters. Plus some more department of science quest stuff #secrets. Cary made a sweet computer console, and hooking up all the buttons so they work in game is gonna be fun.
Antoine
Still well, alive and scripting! My head is 100% dedicated to deliver the playthrough of the second character (miss fancy pants). She's got some very surprising mechanics, probably things that you don't see a lot in video games. I'm currently going through her playthrough from beginning to the end and cleaning up any blockers that I come across. Progressively coming out of blocking phase. I wish I could openly talk about the story in the same way we talked about the sandbox but… of course we want to have a surprise effect (with a side dish of jazz hands ?).
Art Team - Whitney, Emmanuel, Tito, Marc-André, Sarah, Guillaume, Cary and PH
Carylitz
I have been doing really small changes everywhere so I feel like I haven't done much this week! I have mostly been fixing problems here and there, alongside lots of meetings with Remi to implement new textures on old models (gotta make the old stuff look as good as the new stuff) and finally I started working on secret new stuff.
Whitney
Hello everyone! This week was a bit of a blur. I'm helping out on some environmental narrative for some fun new locations that I REALLY wish I could talk about! Here's a little teaser image: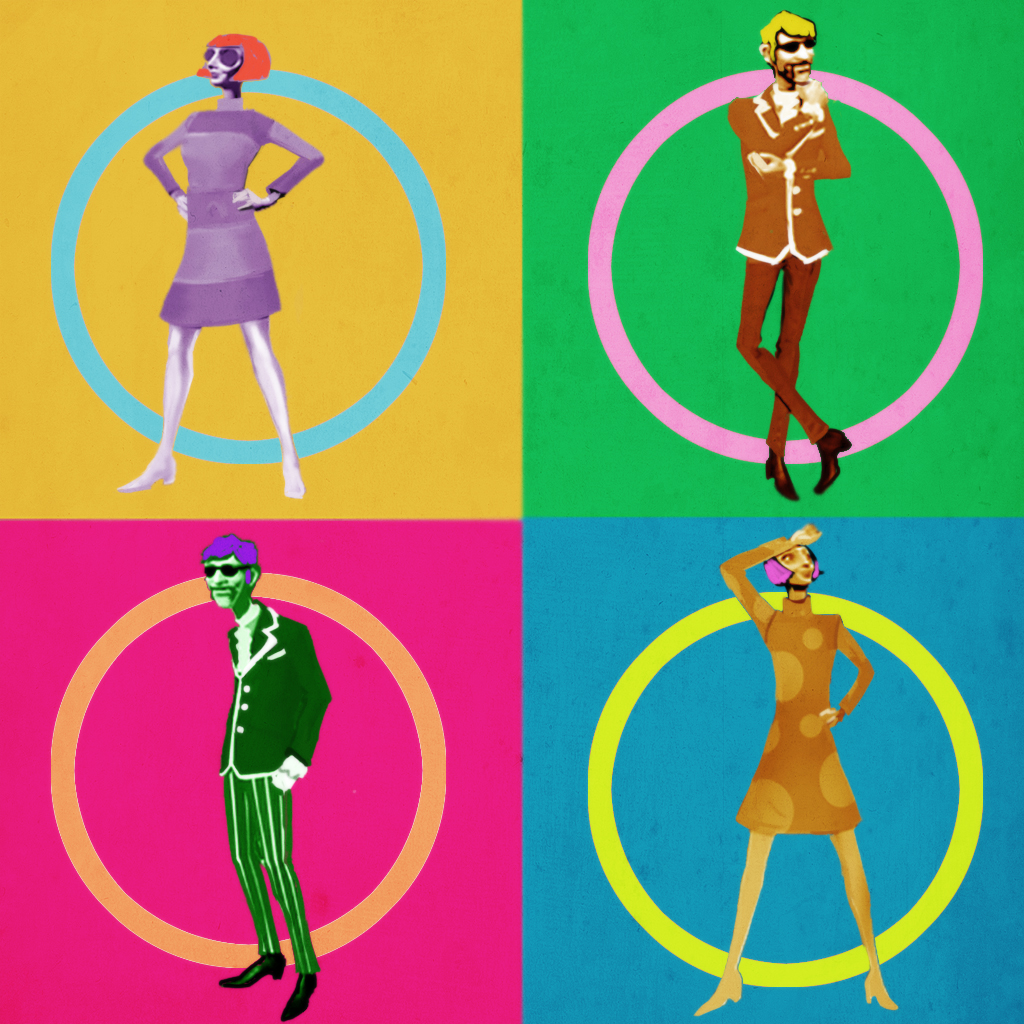 Another thing that I can finally share is this concept of Arthur Hastings. I rarely have time to spend getting images up to my liking, but I allowed myself that luxury for this one. I was really trying to get the feeling of the classic, slightly neurotic, bureaucratic Every Man. As you can see he's got a lot on his mind :)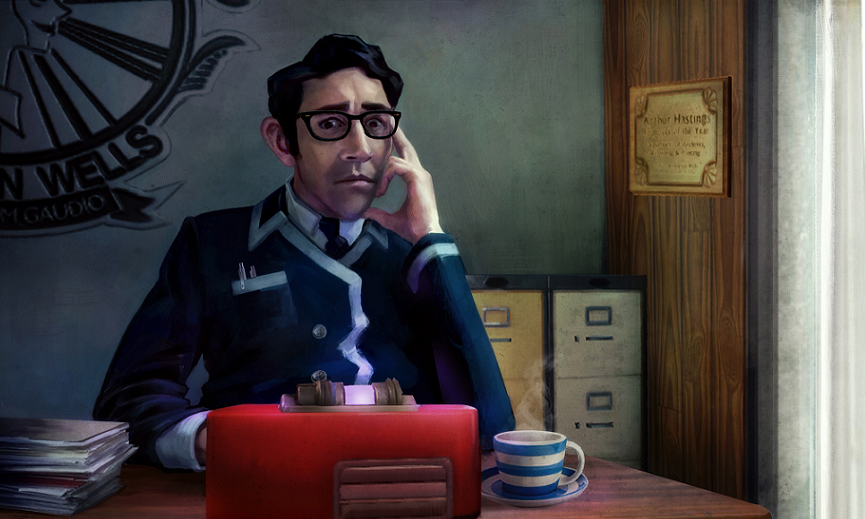 Marc-André
This week, I have been working on modifications for a story level to align better with narrative. We have cinematic flashbacks occurring in the level and they were too close to one another. So design has been adapted to lengthen the size of an area - and I've been doing an art pass on top of it.
Afterwards, I was able to go back to the special house I'm working on. It will be the biggest in terms of detail and work involved - and will be very iconic. Can't show pictures for both locations since they are story related.
Programming - Matt, Serge, Michael, Lionel, Rob, Evan, Maarten, and Guillaume (sometimes)
Michael
This week I convinced the sun to move in the correct direction. There's been quite a few of you who noticed that the sun does not rise in the east and set in the west. This was not part of a deeper conspiracy in our world, compass makers are still as trustworthy as ever. It was just a bug, which has now been fixed.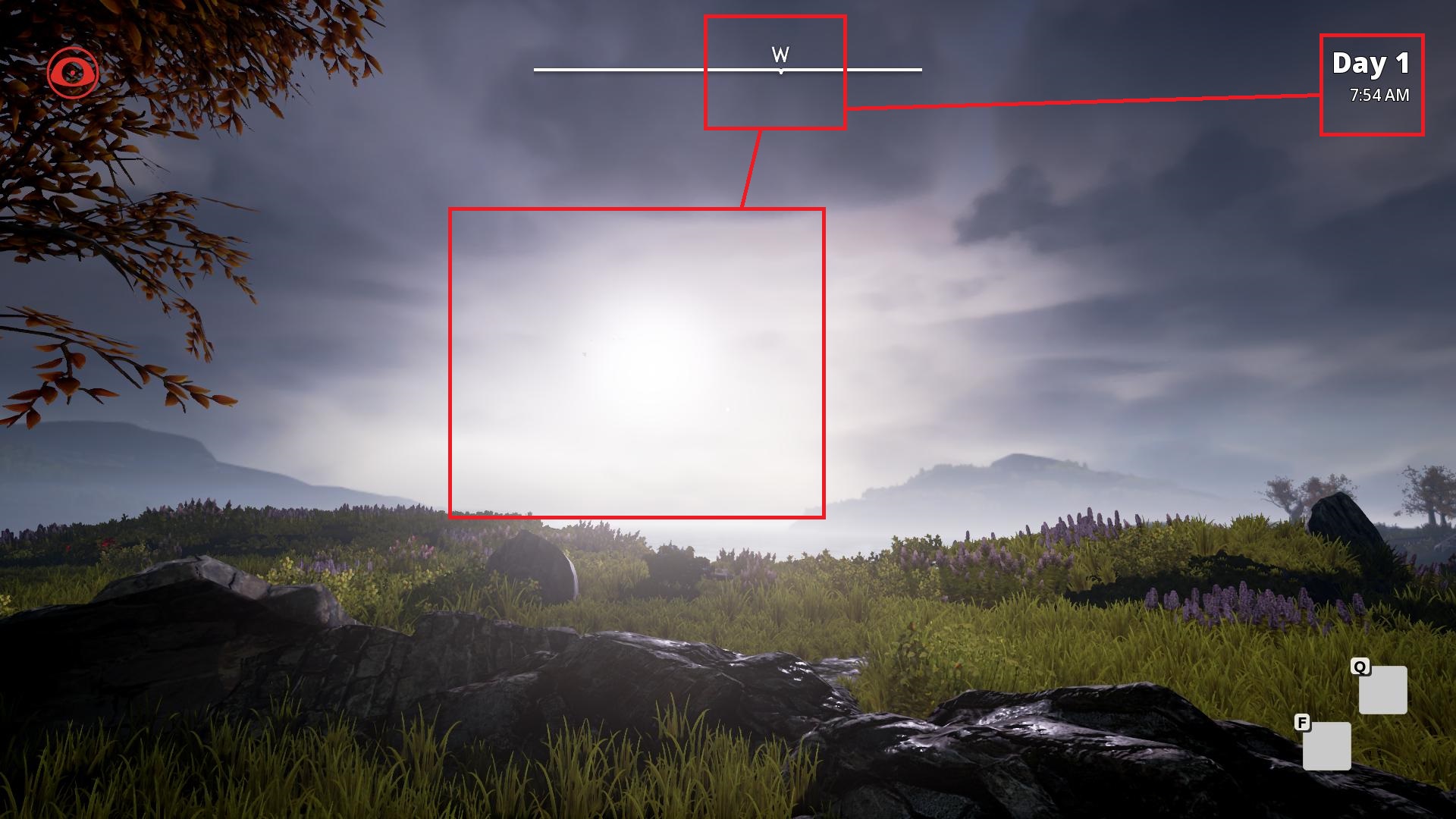 After that I added some new events into the code for the weapons to allow Ben to create some cool gadgets, including the bee cannon. Unlike our other weapons you can charge it and fire it, instead of just swinging it at your enemies.
Lionel
This week it has been mostly surgery of my creatures. Some encounters were not spawning correctly. Well, not spawning *sometimes*, it would have been too easy otherwise. For example, in the new worldgen, crossroads were a rare event, but were mandatory for some new part of the scenario. So, I kidnapped a game designer (thank you Antoine ! ) and with his help, we did some good sleuthing, and found what the problems were. Good times. And yes, I let him go.
Serge
Since last week, I've been working on the combat system in order to improve the whole experience. The first step was to fix some issues related to navigation that were preventing our AIs from working as a group. Then, with design, we iterated on the formation they should aim for, meaning that while some characters will keep you busy in close combat, others will throw stuff at you from farther away. On top of that, we will also implement people that cheer the mob but I'll come back to that in a later post. The idea is that combat will be more threatening, and more varied.
Toward our polish phase, we will have more attack variety so ensuring that our system can support that in an efficient data-driven approach is also at the heart of my efforts. Working closely with the animators in order to reach the design intention is a big part of being a gameplay programmer and that is so fun because they are highly creative persons (and I love that, isn't it why I do game in the first place? or because I'm a gamer myself, hard to tell).
Thanks for tuning in!
Compulsion Games
Discuss this post here