Weekly Journal - The Ravens Have Gone From the Tower
Hey all,
Welcome to a new weekly journal! This week we released the second hotfix for PC and the combined hotfix for Xbox One (both patches into one). If you are still having issues, feel free to post on the forums or to email support@compulsiongames.com
It is a long weekend over here, so response time to some posts might be a bit slower. But, they will come!
Art Team - Whitney, Emmanuel, Tito, Marc-André, Sarah, Guillaume, Cary and PH
Marc-André
At the beginning of the week I finished a brutalist building interior for the Parade District. After that, I started working on a very special victorian house that's going to be very grand and girly. There will be gold accents everywhere and new architecture pieces! So far, I've adapted the level design blocking for art and have started adding wallpapers and tweaking rooms per color palette, as well as adding props and tweaking their materials.
Can't show anything because it's related to story, but progress on the new locations/encounters is going faster than ever.
Emmanuel
This week I'm doing a final art pass on what is by far the biggest level of the game and maybe our most iconic piece. It looks already pretty amazing but I'm aiming for "mind blowing". It's also a secret for the time being, as it's a core part of the story of Wellington Wells.
PH
This week, I tried to catch up with the artistic team since I'm new here. I learned a lot of technical stuff and super interesting things about shaders. Then, I started making some props that will be used for the story.
The Design Team, LLC - David, Hayden, Antoine, Adam, Ben, Eric, Roxanne and Benji
This week we have all been working on additional story content, but Adam and Antoine in particular have been working on the main path. Good news, we can now play through all stories for all characters! (hypothetically)
Here's a fun screenshot that I can actually show for one location. In one character's story, the store is open, in another character's story it's broken: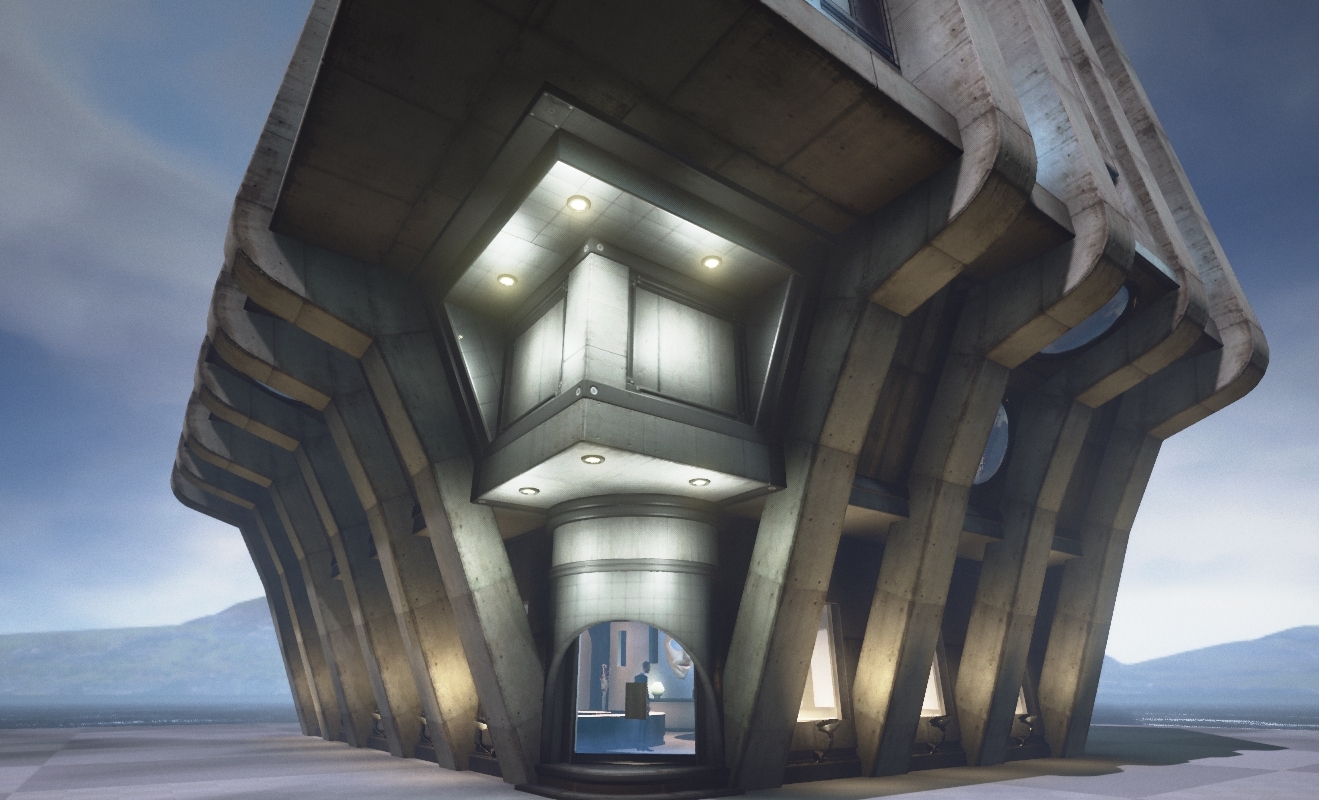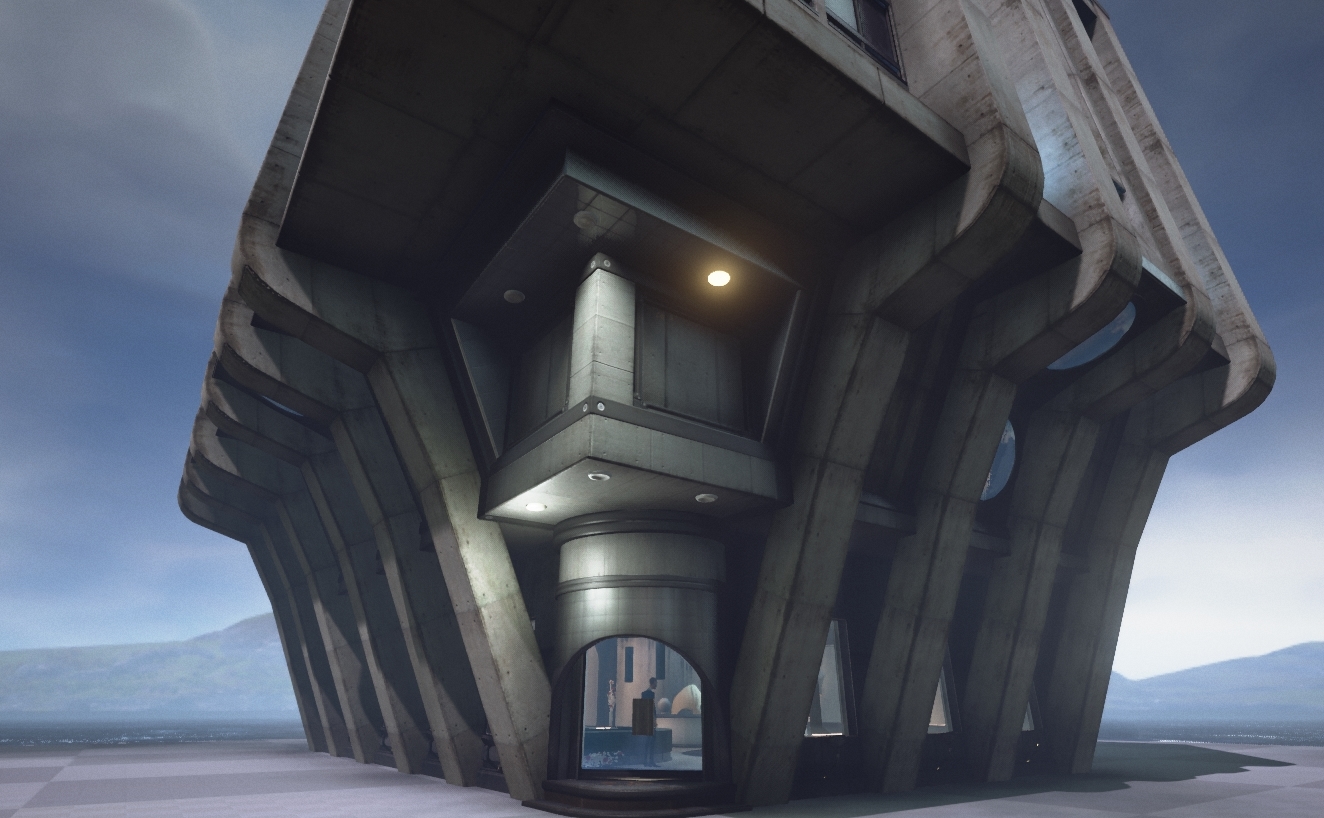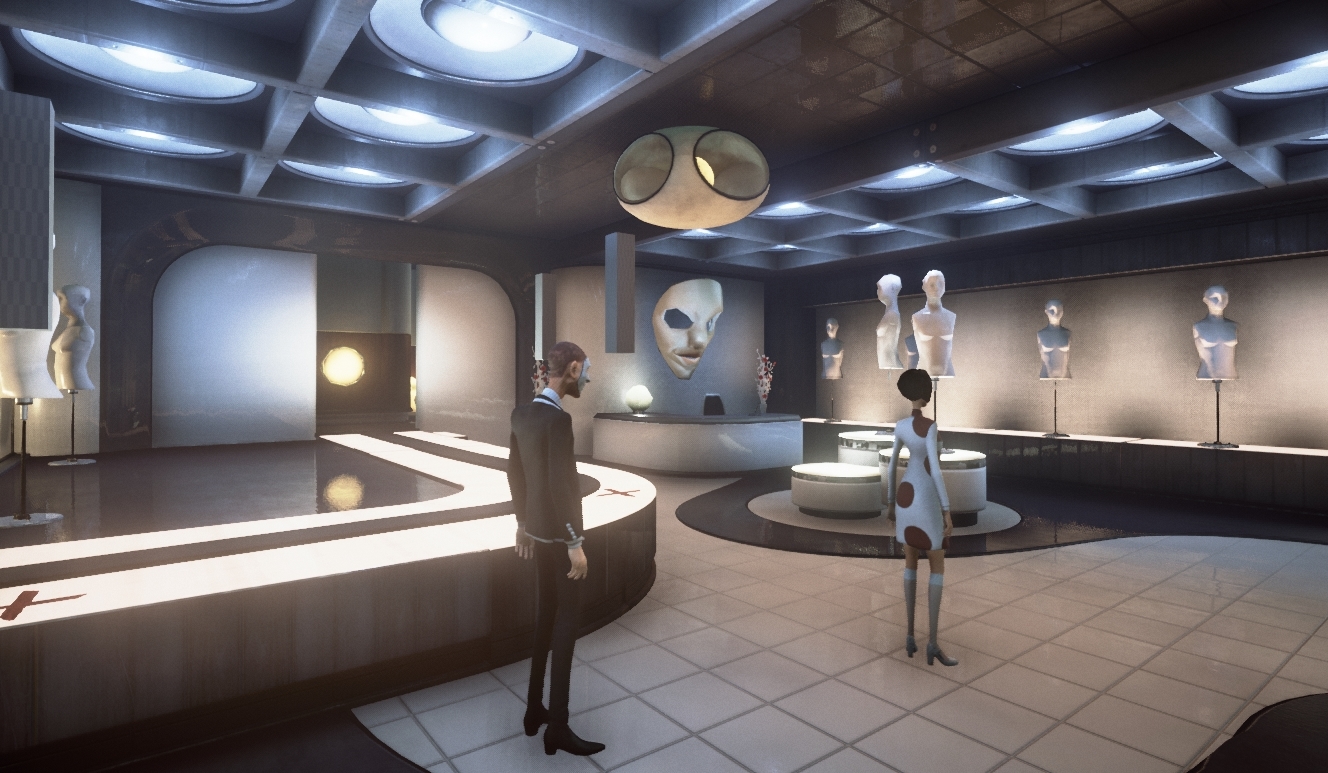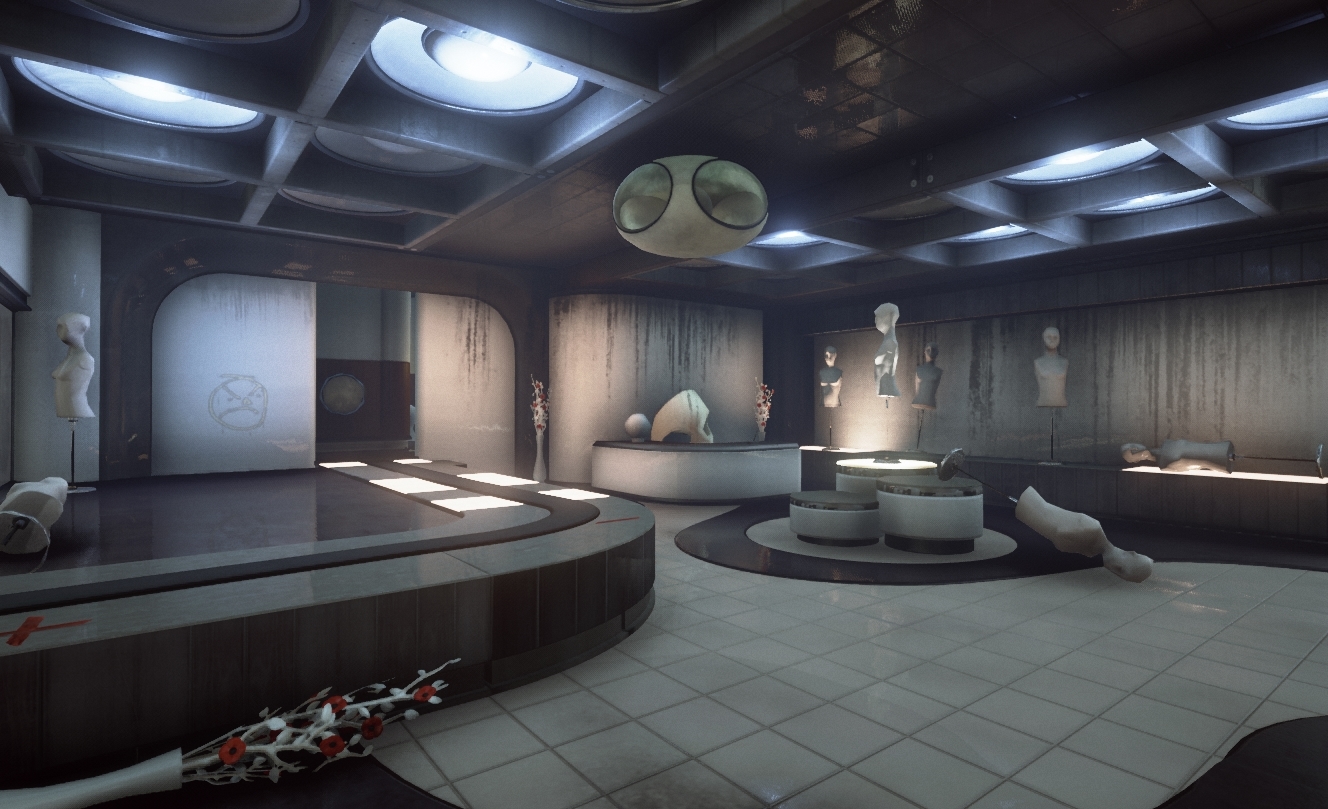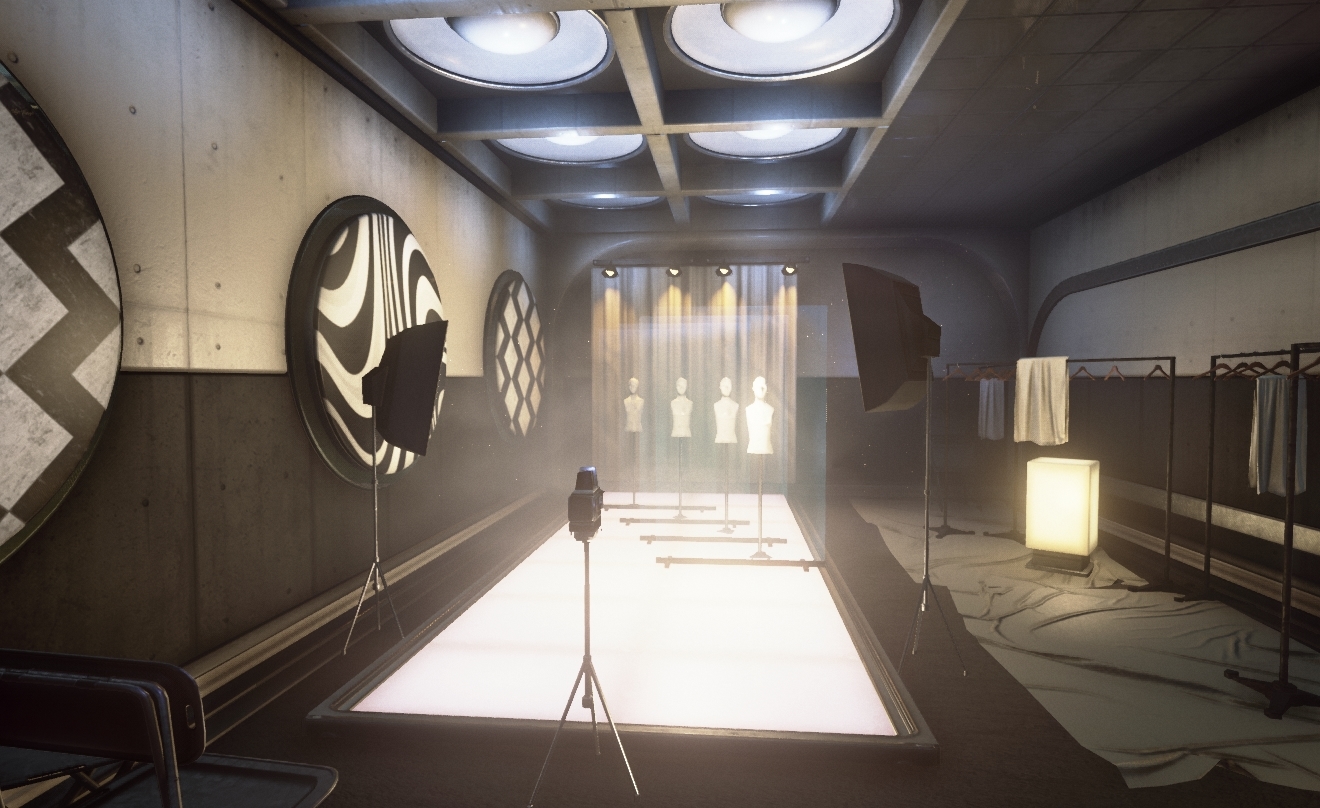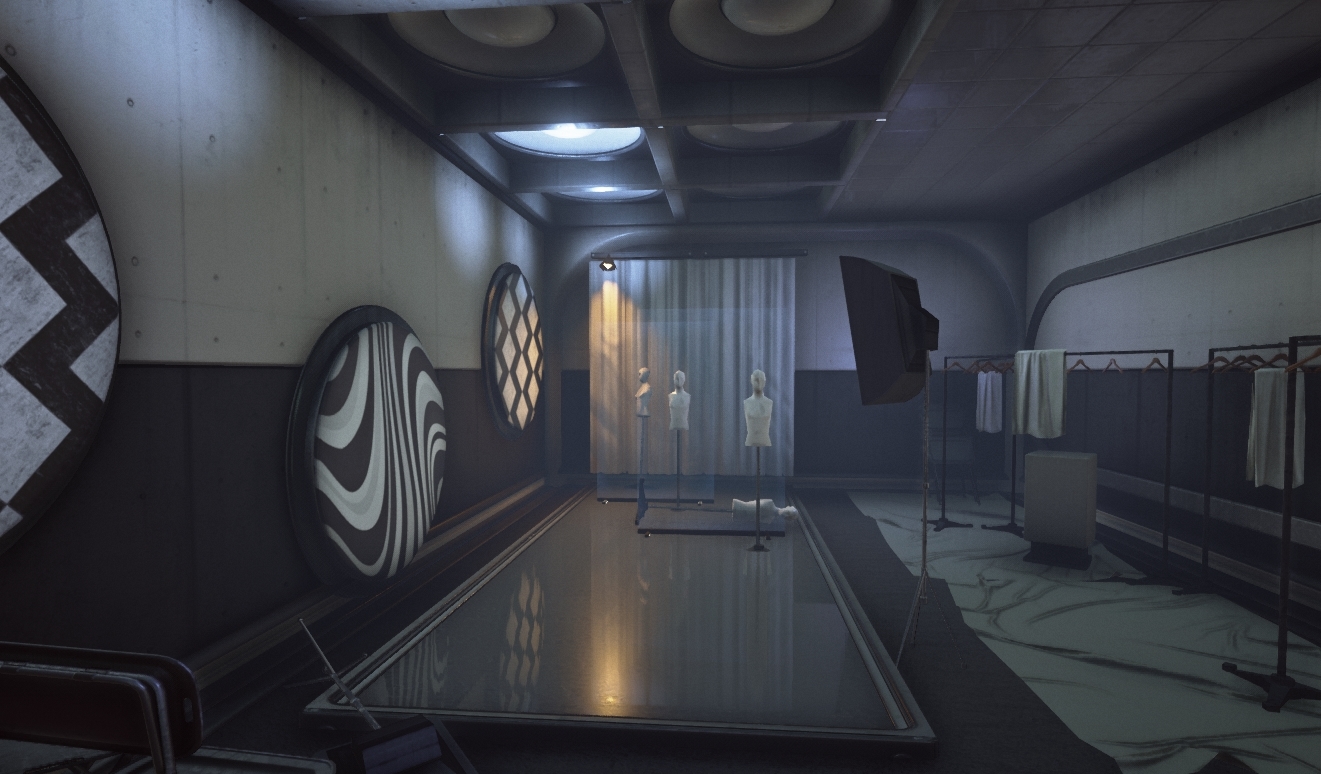 Animation Team - JR, Remi, Vincent, Mike P and Jules
Jules
Hi! This week I made a few new POI (point of interest) animations for our NPCs. After the picking ear and the sneezing, it was time for the picking nose and a soft variant of coughing. I had a lot of fun making these animations. I can't wait to see them in the game.
Mike (less of the new guy than before)
Sup folks! So this week I finished up that character animation I have been droning on about for the last few weeks but couldn't tell you about. Well that situation hasn't changed so…. Guess you'll have to wait to play the narrative. In any event I have now moved on to helping the level designers with encounters. So yay! Breathing some life into narrative is FUN! But again, mum's the word, cloak and dagger kinda stuff. Like a nerdy Ninja. That pretty much sums it up for me this week. It's been a slice, tune in again next week, same Bat Time, same Bat Channel!
Rémi & Vincent
Amongst the usual top secret cinematics animations, Rémi has been working on a little scripted event in which the player destroys a wall in order to circumvent a recalcitrant door. He broke the walls to pieces and then simulated the behaviour of the exploding chunks.
Once this was done, the only thing left was to get all that mayhem in Unreal. Unreal kind of prefers skinned meshes, so I gave him a hand to make a small python script that puts a bone on each piece and transfer the objects motions to the bones, then skin the pieces back on the bones. Hope you're still following. After some hair pulling (because Maya has its very unique and 'charming' way of doing python), we managed to get it working, and that's how it looks:
As you can see the art is not quite done yet, the hole doesn't have 'thickness'. Of course there's gonna be some extra effects added, like smoke, particles, cam shakes and co!
Programming - Matt, Serge, Michael, Lionel, Rob, Evan, Maarten, and Guillaume (sometimes)
Lionel
When you're mad scientist, sometimes, you let your creatures in the world and they come back broken. So it was with last week new city layout : something unexpected happened and things broke (specifically, a whole bunch of necessary features stopped spawning in the world with our new urban layout). So I investigated what exactly happened and spent quite some time on the blackboard to improve it. At the same time, a few improvements were added to city layout to make it more structured.
Maarten
Hey guys! I've been working in the shadows for a while now, but since this is my first weekly: Hi! I'm Maarten, working as a freelance programmer, mostly tasked with engine support. That means my stress levels are *slightly* lower than those of the other programmers, and I get to work on some fun stuff! :) You may know me from such features as Video Support or Community Localization, but this week I'm hacking away at the Linux build for We Happy Few. Good news for our Linux fans, we're making good progress there. We sorted out all compilation issues, and are now fixing third party lib per lib. It's a cumbersome process, between switching to/from Linux, toolchain mismatches, having to figure out each lib's build process, etc - but hey, the thrill of the challenge is what we're programmers for, right?
[Ed note: this one's for you Shmerl.]
Thanks for tuning in and have a fantastic weekend!
Compulsion Team
Discuss this post here