Weekly Journal - Joy Division
Hey everyone,
Another week, another journal. This week the team continued their hard work on the build. It's becoming very busy as features come in and content gets created, and it will continue to be very busy most likely until April.
We released a hotfix earlier this week on PC, which fixed the majority of our known crashes. We will be releasing hotfix 2 on PC early next week that addresses quest blockers and other fixes, and a combined patch will go out to Xbox players early next week too.
We'd like to recap a few things we have discussed on our forums and in responses on reddit, just so that everyone is on the same page:
We still own the IP on the game and Gearbox is not involved in development. They are helping with QA, user research and looking after marketing the game. They are not providing development funding, they're a partner to try and help ship the best game we can make. They're also pretty nice people and have been very supportive.
We're in the process of adjusting price points down in several regions. Some regions had prices higher than the US and we're not comfortable with that. We'll let you all know what the revised prices are once they are final.
Finally, we have had a number of very vocal players upset about the partnership with Gearbox. We understand you feel strongly, and are happy to talk through it. However, please remember that we are human beings just like you. So, feel free to disagree but lighten up on the anger and remember that we're are talking about a video game here.
Narrative Team - Alex and Lisa
Alex
Lisa and I have also been writing new Uncle Jack episodes, both as part of our Kickstarter and as part of the increased scope of the game. My goal is to have 35-40 pages' worth, which is the maximum we are likely to be able to shoot in a day. I try hard to have more to record than we have time for. The alternative is possibly running out. He'll have some surprise guests on his show! Sort of.
Lisa
This week I've been writing "layered" environmental narrative that tells you both what a location is now and what it used to be, and what happened there. It's sort of like archaeology, but with documents.
This fall, Alex and I will be giving a talk at the Montreal International Games Summit, where we'll discuss how we're creating the narrative world of Wellington Wells. So if you have questions about that, let us know (though be forewarned, no spoilers!).
Art Team - Whitney, Emmanuel, Tito, Marc-André, Sarah, Guillaume, Cary and PH
Marc-André
These past few weeks I have been working on secret story locations for which I can't mention specifics. However, I can show you guys a few screenshots to create some sort of intrigue. There's a house and a HUGE concrete building that will come out in the new biome. Doing the landscaping around it was also quite fun! I have also been working on some sort of police station - that is almost done as we speak.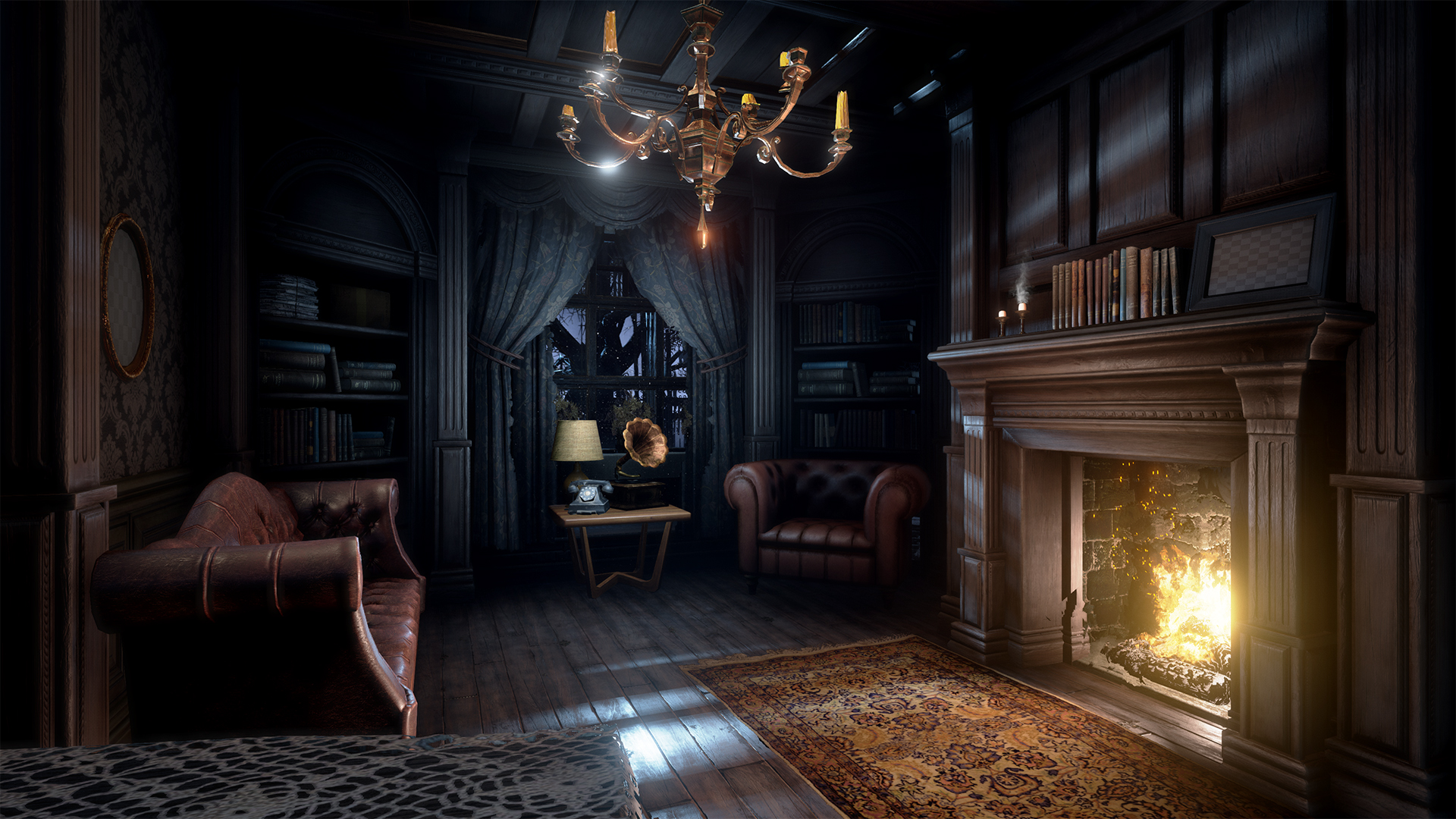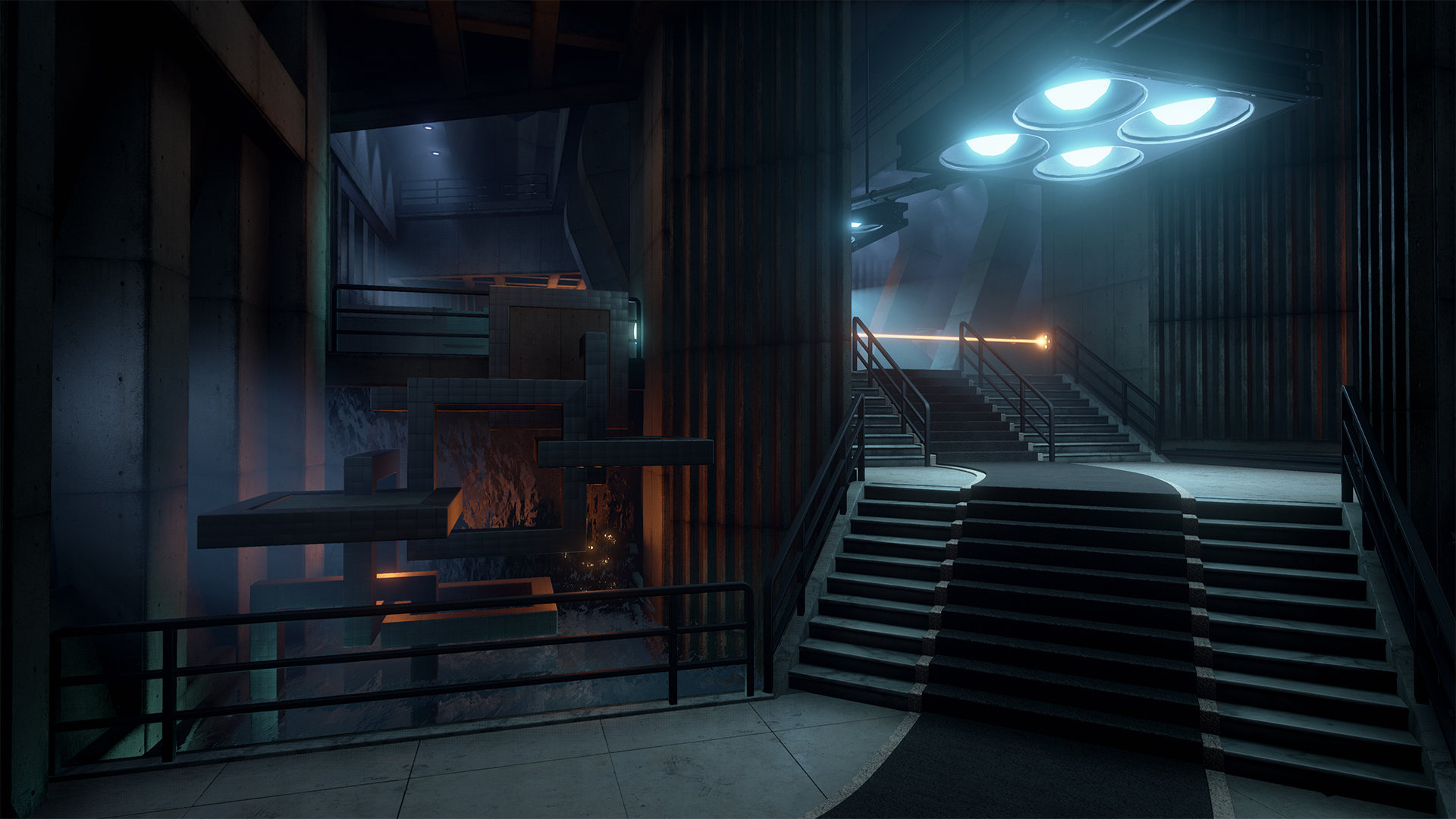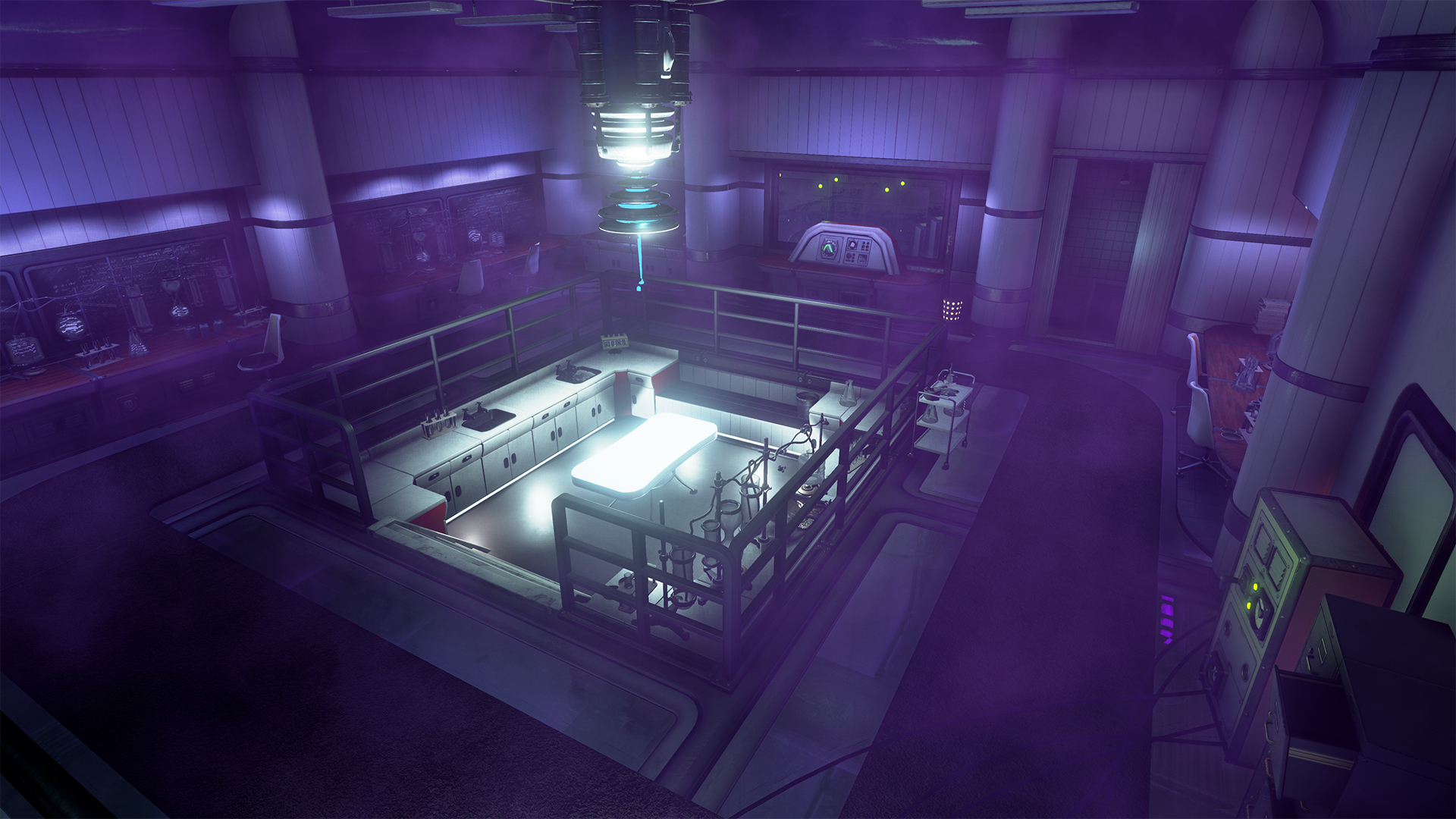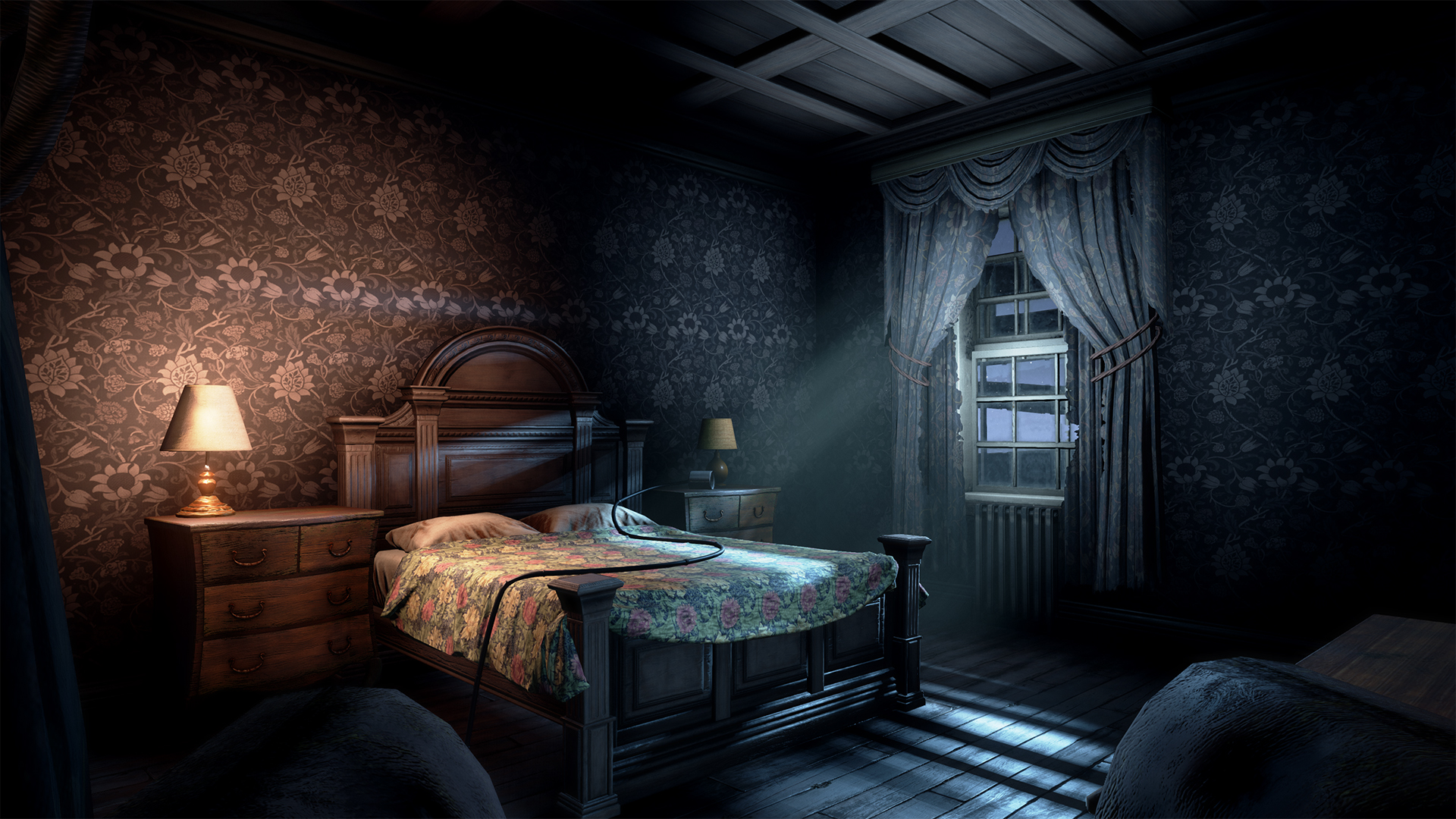 By this time in production we are working very efficiently. Levels get arted up in a matter of days and we have more and more modular pieces to work with - which makes things easier. With tight deadlines and a lot of existing levels, it becomes too easy to use and reuse the formula we already have. Making every new location fresh and unique is a challenge. But it is what makes the process creative and interesting!
Whitney
Hey everyone!
I wish I could share everything I've done this week, I really do... but I can't :( But one thing I DID do is design some fun mannequins for a secret locations - pose credit to Jules.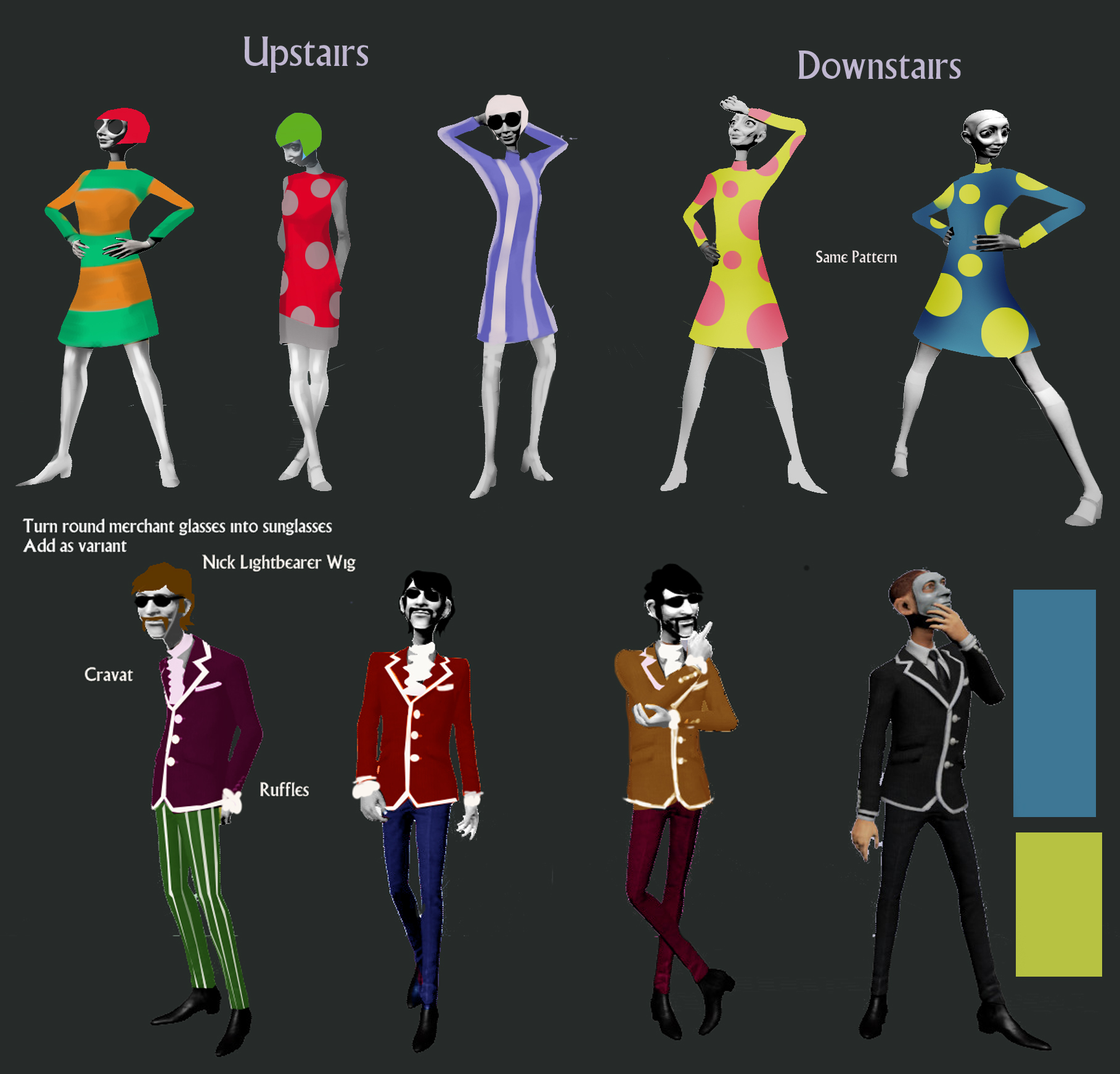 World generation was also a hot topic this week. One thing we would love to do is add land formations closer to the islands to help with general composition. Here you'll see some quick sketches exploring this idea.

And lastly, I've been sifting through ancient concepts to start organizing our art book. Here's a very old concept for the face of the male, village NPC.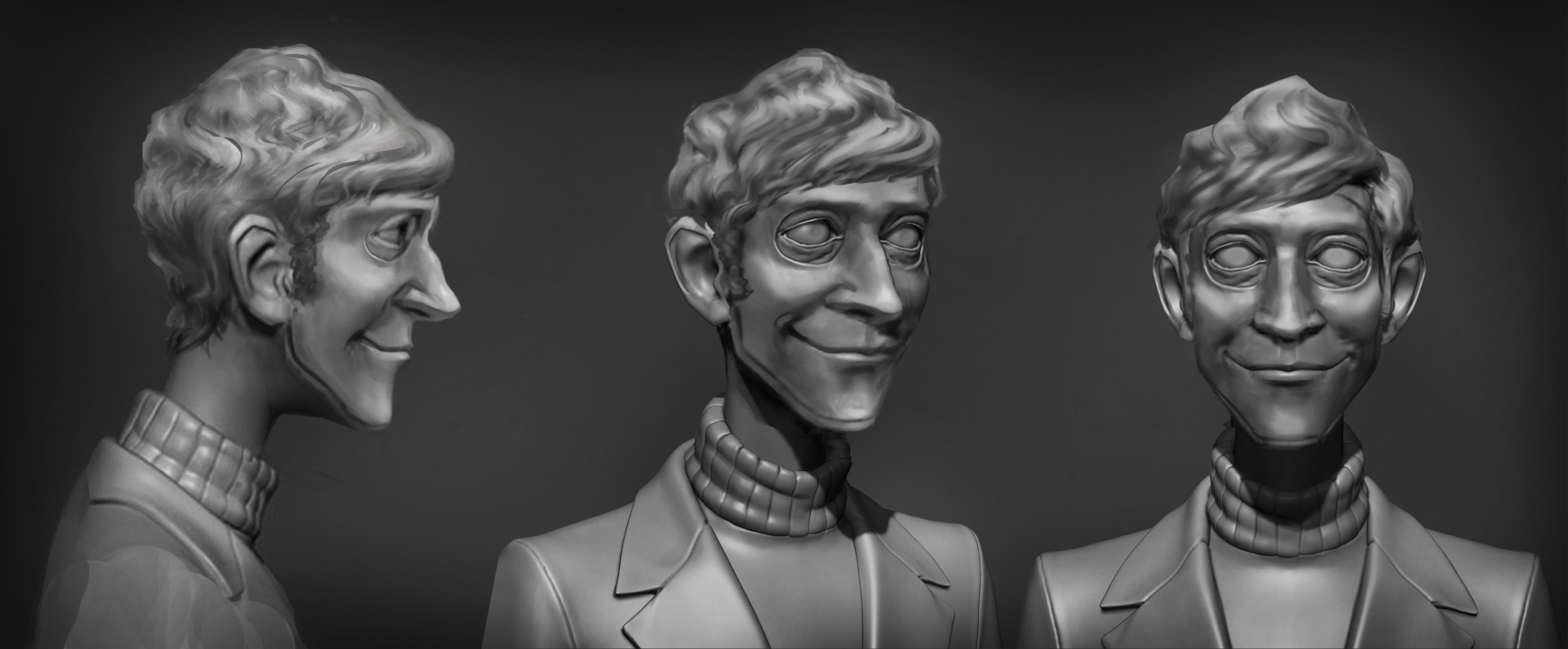 Carylitz
Hey oh! Been doing several things this week, some locations, new props, props corrections, and other stuff, a little bit of everything, trying to keep up with the crazy schedule. But the thing that took most of my time was this location so I will leave a sneak peek for you guys!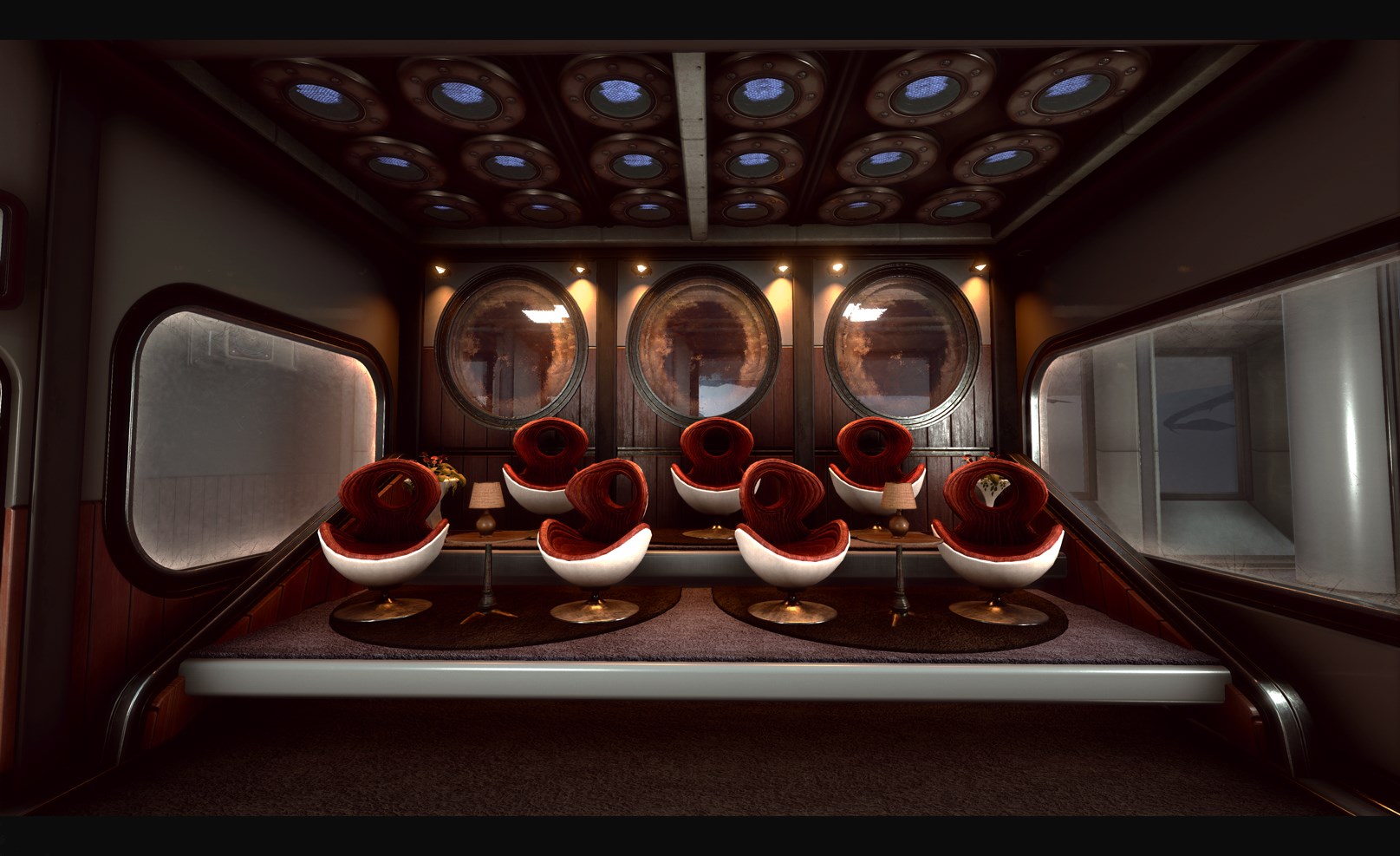 PH
Hi guys,
My name's Pierre-Henri (PH), I'm the new artist in the team. I'm so happy to have the chance to work on We Happy Few, the team is really awesome and I've got a warm welcome. First mission: trying to catch up and learn the very dense and complex workflow that a game production involves. Can't wait to start creating awesome props and stuff. See you!
Sarah
You're either sick of reading this, or relieved to know that I'm also working on story specific content! Sadly I can't share those images with you just yet, but I can tell you they include MORE icons!! Thrilling, yes.
This week also involved a lot of feedback combing on my part, to see what people's impressions are of the new UI, and you guys did not disappoint!! The crafting screen was by far my favourite rework, and I'm glad it got such a positive response (lil baby's growing up!). The Inventory screen needs a substantial amount of tweaking, especially where the filters are concerned, so thanks to everyone who took the time to provide feedback! My week also included designing some options for the Collector's Box (posters, stickers, and box art!) so stay tuned, and thanks for the continued support!
Design Team - David, Hayden, Antoine, Adam, Ben, Eric, Roxanne and Benji
The design team has worked primarily on story quests and bug fixes this week, so there's not a lot we can show without spoiling content or boring you to tears! That being said, here's a couple of good ones:
Roxanne
Fixed an issue with the NPCs in the quest An Awkward Courtship. They were previously leaving because of the night curfew, making them absent of the mushroom log. Now they ignore curfew (these young rascals!). Also worked on a bunch of new content. But it's a secret! ;)
Adam
As you know, we've all been busy fixing bugs for the hot fix, and when we have some downtime from that, we work on story content. We want to thank everybody who has helped us by reporting other bugs we had missed, and sending log files for weird issues. Thank you so much!
We would also like to thank Naila (our Community Manager) for her amazing work this week. She is a trooper.
Hayden
This week I focused on bugs for the hotfix and also had some time to work on a rather large story content level featuring some of our other characters and their search for resources.
And also fire... Which is always nice, right?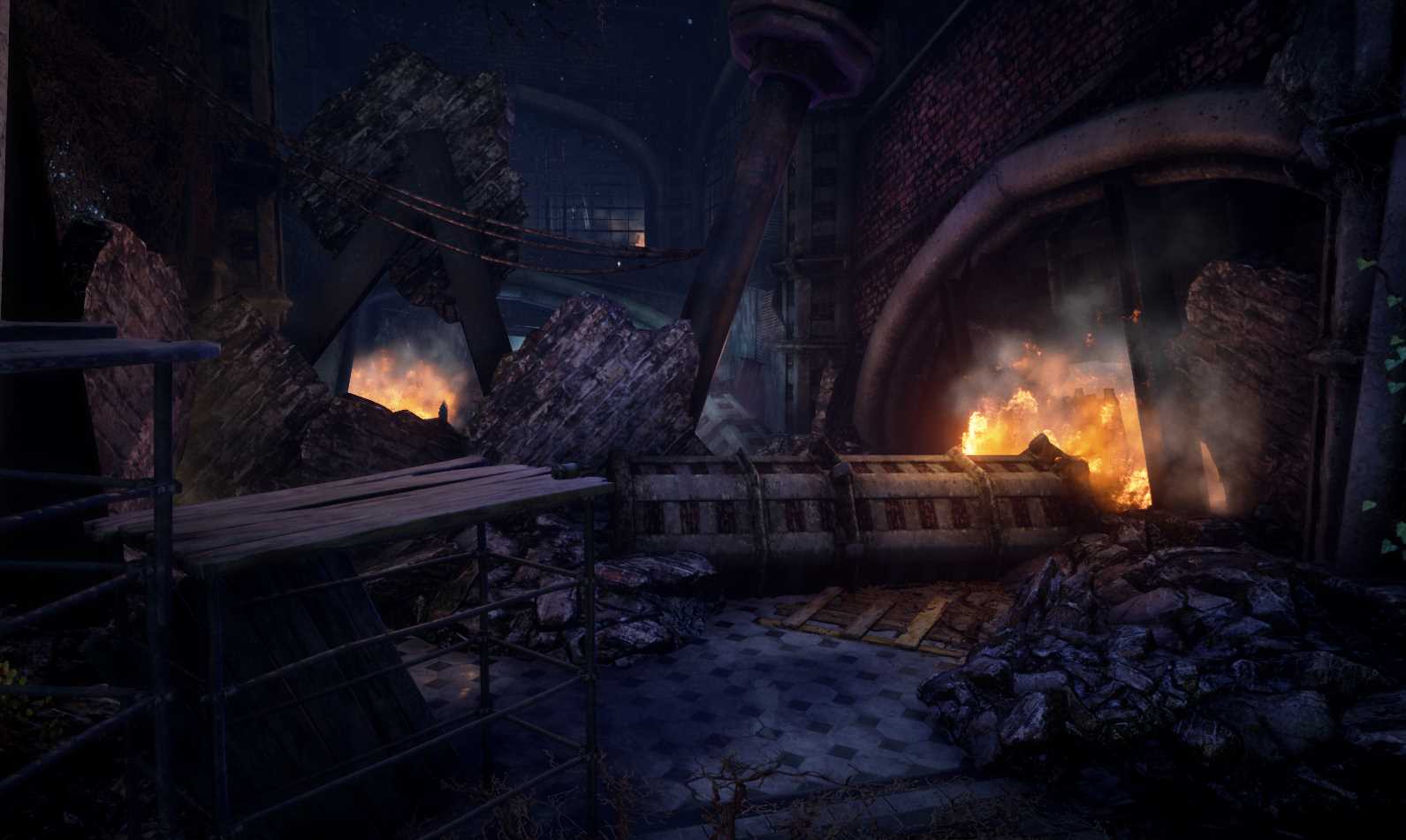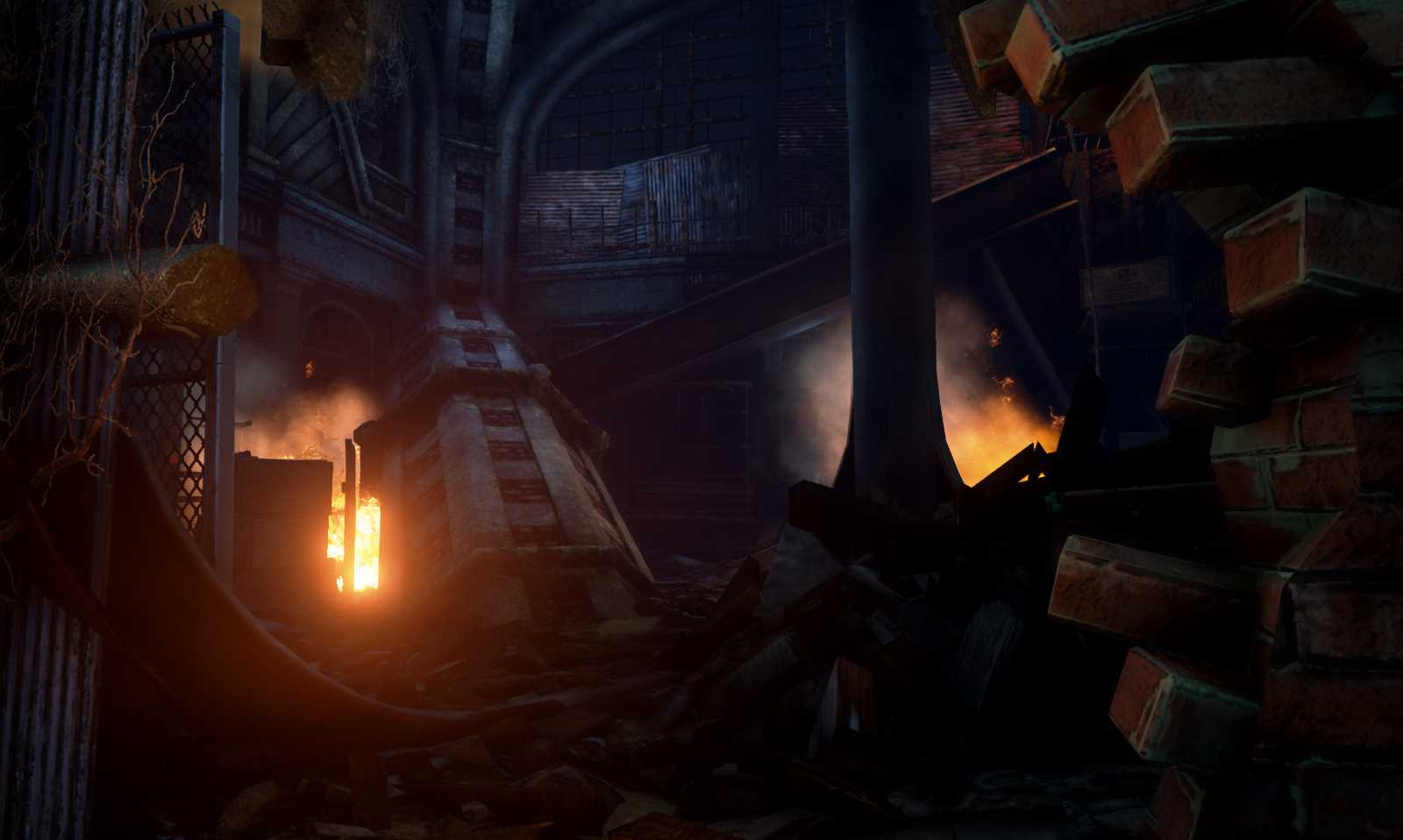 Animation Team - JR, Remi, Vincent, Mike P and Jules
Jules
Hi! This week I focused on the ambient animation for our NPCs. That means creating a few animations that will be played randomly when the NPCs walk on the street or just waiting on a bench. None of these are particularly glorious actions (but everybody does it, I know you do). I am talking about picking your nose, picking your ears or sneezing.
All of these animations can play on male or female, in a stand up or seated position. So for this week, that's twelve new animations. I'm a little proud of me ha-ha.
Mike
Hey guys! So this week I kept working on character animations for a supporting character I can't talk about, because we haven't mentioned her yet. Super secret, mum's the word, ya know; wink wink, nudge nudge, know what I mean! So needless to say I have nothing much to report to the community at large. But I will say that it's been a learning experience and has been fun. So there's that. Well that's it for me, see you next week, same Bat time, same Bat channel!
Programming Team - Matt, Serge, Michael, Lionel, Rob, Evan, Maarten, and Guillaume (sometimes)
Our programmers have had a bit of a rest this week after a very busy two weeks leading up to the update. The ones who are here have been working on crash and bug fixing for this week's and next week's hotfixes. Back to new features next week!
Thanks for tuning in!
Compulsion Games
Discuss this post here