Weekly Journal - Fresh Meat
Hey all,
Another very busy week here at Compulsion. On the non-development side we are finalizing some very exciting marketing details for the future. It might sound odd, but there is a lot of fun in looking after marketing details - particularly pieces that will be seen by potentially millions of people. As you can imagine, something might work for someone but not for someone else, so which is best? Is it too artsy? Not artsy enough? What does this convey to someone who has never seen the game before? All that fun jazz.
This week we also welcome 2 new animators to the team! Jules and Mike. The team has grown a lot in the past 2 years. When we first started this project we were 9 and now we are 30 employees! The game has also grown a lot thanks to your support and feedback. Rest assured that we will support you and the game back after we release the final version :)
Production Team
Sam
One of the less talked about topics in our weeklies is how we structure and organise tasks. Like many other teams, we use JIRA to help organise, plan and manage the thousands of tasks that we need to do to build the game.
We've used JIRA since early 2016 (creating 7000 tasks in this time), but we've had a pretty loose structure - assign tasks, have a bit of chaos, and then try to tighten things up as we approach an update release. We also have only been writing up significant issues - eg cosmetic issues for AI, UI, world generation, etc weren't worth bugging because those systems would change before release, and fixing them now would be a waste of dev time. However, now that those systems are reaching their final design, it's time to record and fix these things… but this leads to information overload.
I decided a couple of months ago that this wouldn't work as we were trying to finish, polish and ship 1.0, so I have spent time in the last few weeks cleaning up the database, organizing, and doing all the OCD things that make me happy.
Except the long weekend, where I spent Canada Day and its friends combing through our 1400 open tasks, prioritizing/questioning/chasing as necessary, and merging our story and Early Access databases to prepare for what is to come. I did not enjoy that so much. But, things are much better organized, and hopefully this will mean the next update will see a good increase in quality and in useability.
I did have one great task I found though. The elusively named "sarah", which had no description. I will ponder the meaning of this task forever.
Narrative Team
Alex
I spent much of the week writing up the creepiest medical convention you'll ever willingly attend. Annnnnd we're scheduling recording sessions for Arthur, Miss Thigh Highs, the Mad Scotsman, his Special Friend, and particularly creepy Doctor.
Design Team
Eric
This week has been stubbing in part of a mini boss fight before going back to working on the level I was working on before. It's the big puzzle map from a week or two ago. The hard part (the puzzle) is done now, so I'm just stubbing in the rest of the quest itself, and working with Guillaume, Cary, and Whitney to art it up and create some custom machines for this puzzle.
Art Team
Carylitz
I can finally show some of the props I have been working on! YAY! So for this week I tried to go a little bit faster and not lose quality in the process (my brain is dying), but I think so far so good. I did 3 big machines made out of other props and some new pieces. I have been following some concepts from Whitney and checking with Eric to see if the asset will work in the scene and the functions for the gameplay. I also did some corrections on secret props for Remi, so he can rig them! I think that's all for me this week, have a nice weekend!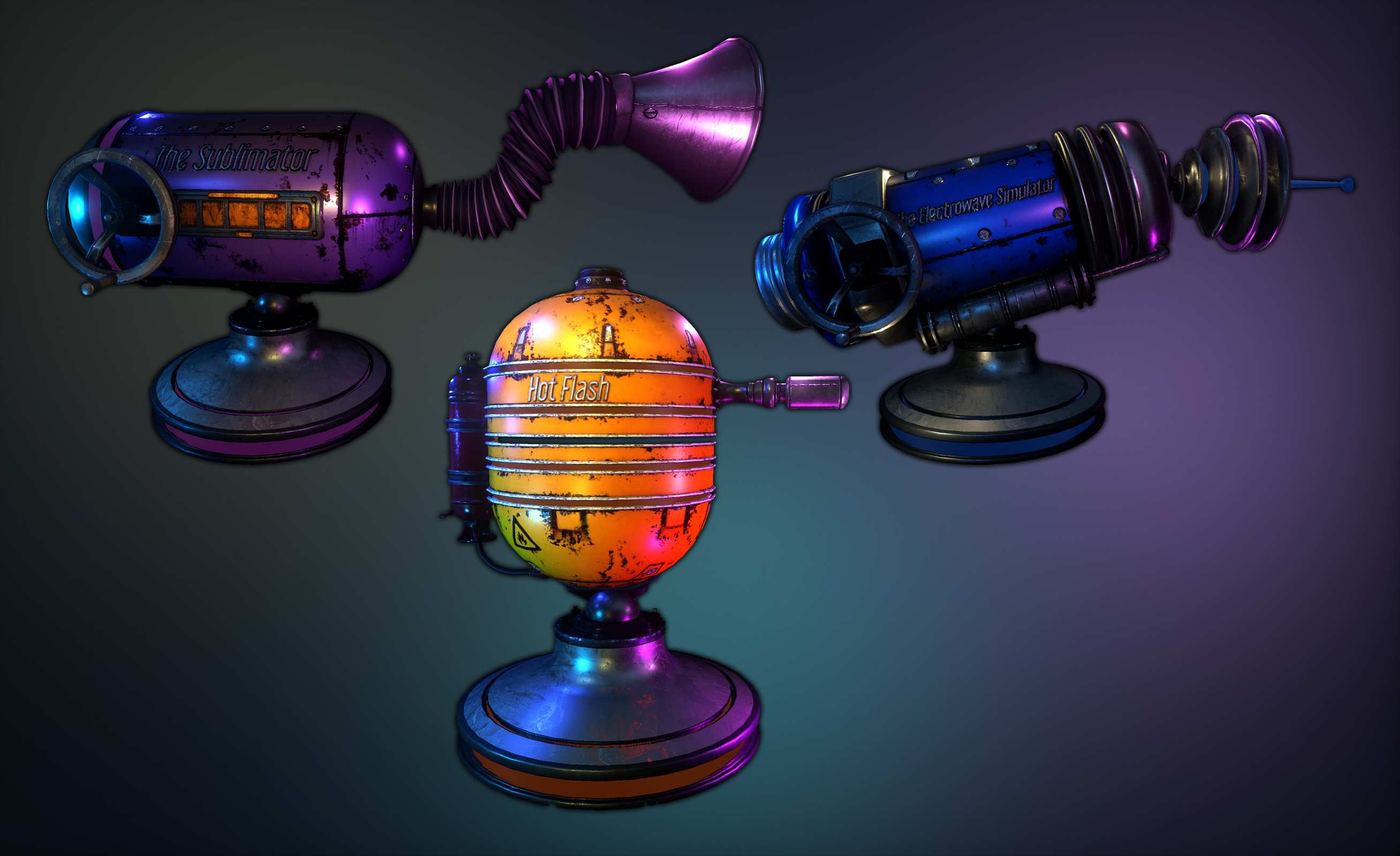 Animation Team
Rémi
Hello all! This week started off slowly as we began planning our upcoming weeks. We did a huge clean up in our tasks and rearranged them. We also welcomed 2 new junior animators! We helped them setup their PCs and had them play the game. A little bit more formation on our animation pipelines and they should be good to go! It'll be fun to see what they can do.
During the other half of the week, I got back to rigging. Sadly most of the props I rigged this week were Narrative/Story related. The only one thing I can show you is this magnificent Fire Extinguisher (Modelled by Marc-André):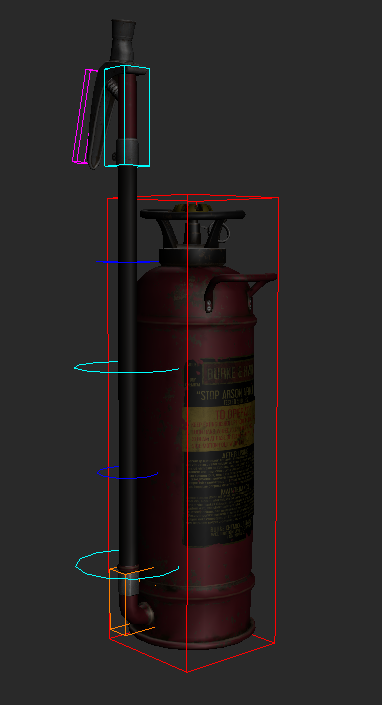 I also took some time to fix some rigging bugs. Bugs that used to slow down our animation process. For example, the feet controller orientation on one of our Narrative Rigs was facing the wrong direction. Which obviously makes it more complicated to pose.
That's it! There's more rigging to come in the upcoming weeks and I'll try to keep you updated as much as possible.
Mike (*Whispers*One of the new guys)
Hey folks! I'm Mike one of the new Junior Animators that joined the team this week. It's been a great week full of getting to know the game, getting to know all my new teammates and getting settled in. Not much else to add right now other than I'm super stoked about joining the team and having had the chance to play the game a bit, let me assure you, you won't be disappointed! I'll be working hard to bring you the best animation I can muster! Have a good one!
Jules
Hi everybody, I'm one of the new animators! I'm really happy to join Compulsion Games and this amazing team. This week I mainly met people and played the game. I didn't know We Happy Few before joining Compulsion, but now after playing many hours I'm totally addicted. At every new game I discover a new epic situation or dialogue that makes me laugh.
Thanks Pudge
Compulsion Games
Discuss this post here