Sneak peeks of our next and last major content update
Hi everyone,
Things are going well in the old Compulsion factory. We are working and planning the August update… and something else ;)
As you know, the Joy related update will be the last major content update before the final release of the game. Some key features of that update are: new UI, new Joy effects, fast travel, AI overhaul and much more! But let's not spoil it all, we need to keep some of it for the update release video :)
Lately a lot of players have been asking us why we didn't participate in the Steam sale, or in sales in general. The reason for this is because the game is currently already at a reduced price for Early Access, both because the game isn't finished and also because we're holding back the main story content of the game. We make a point to mention it periodically, but the price will go up as we get closer to the final release of the game. We also believe that discounting now would not be fair to the Early Access and Kickstarter players that have supported us so far, when the game had even less content than it has today.
We want to be as open as possible with you guys about our decisions and always make a point to explain them. If you have any questions about why we do things, we are here ready to answer.
Art Team
Guillaume
Today I can proudly show you what I have been working on for the past week. Tree variants!
I know, I kind of showed you some WIP in another weekly but this time I've finished the different leaf and bark textures and they are spawning in the world.
This is gonna change the way the Garden District looks and hopefully will make the game feel better and more alive.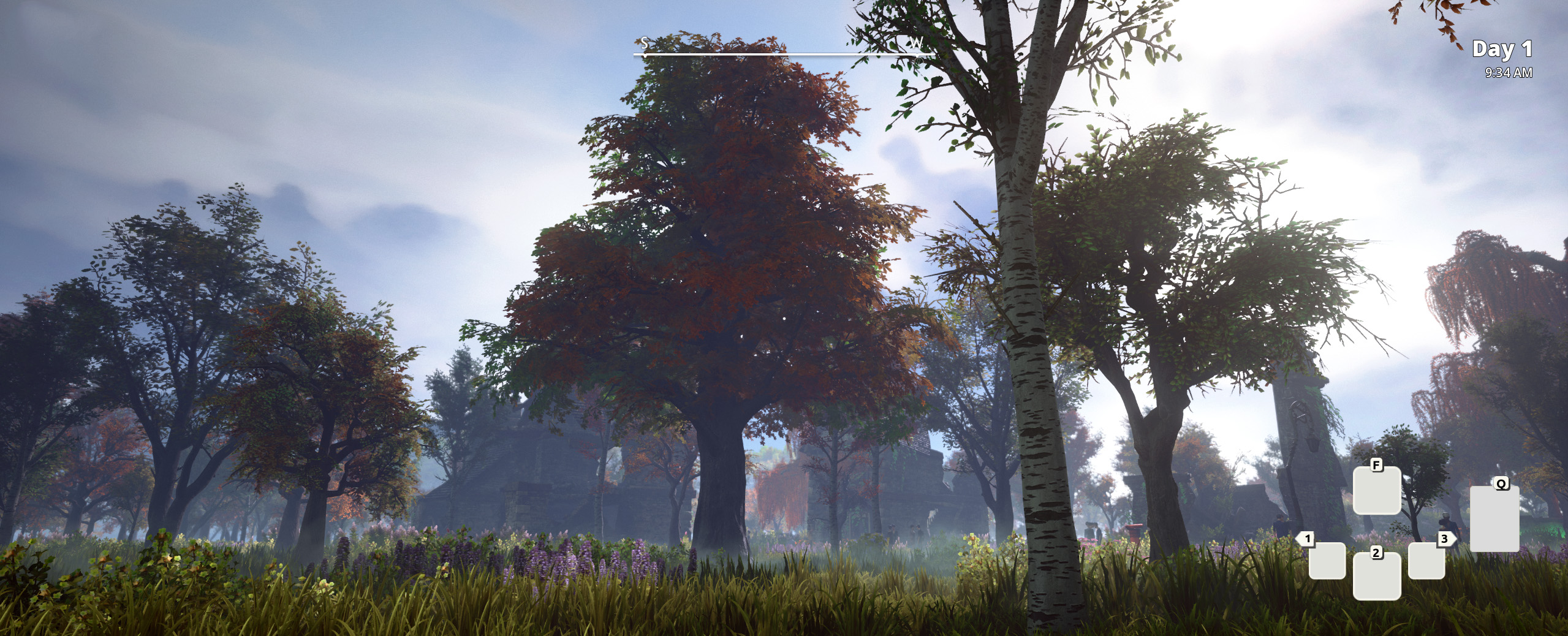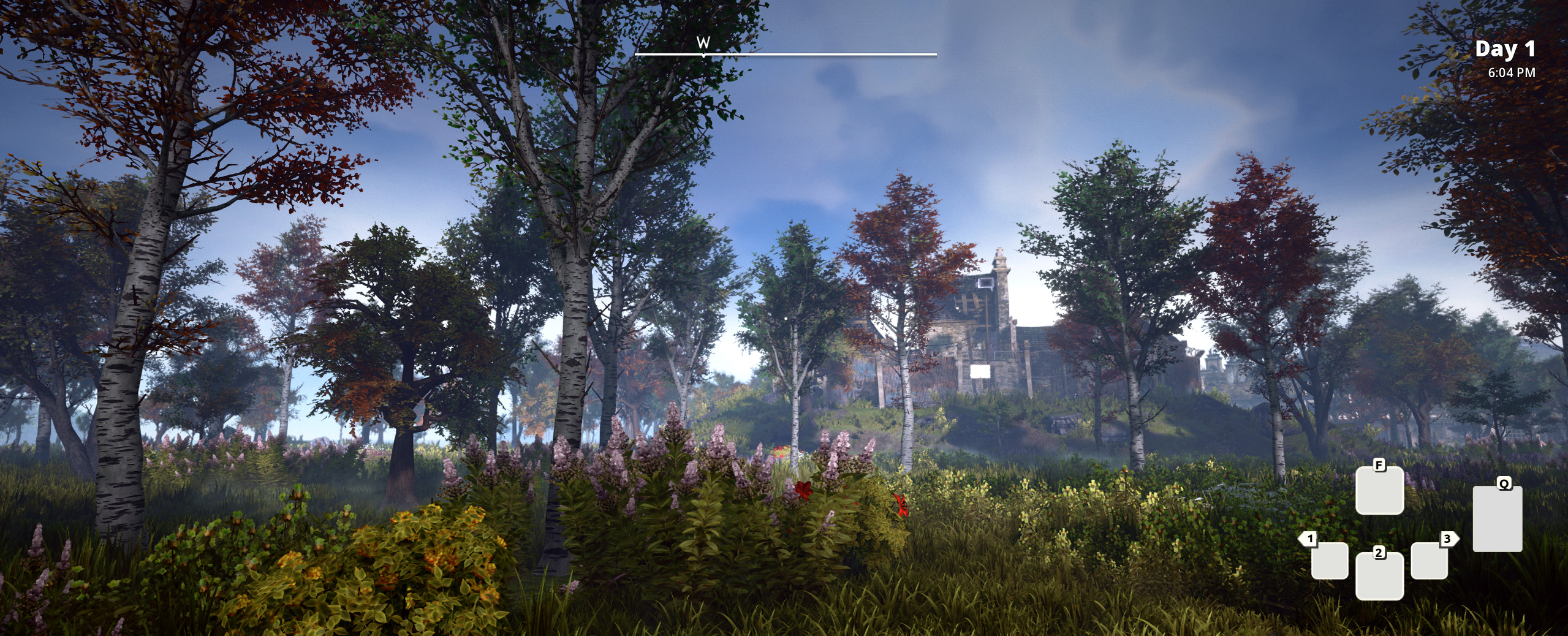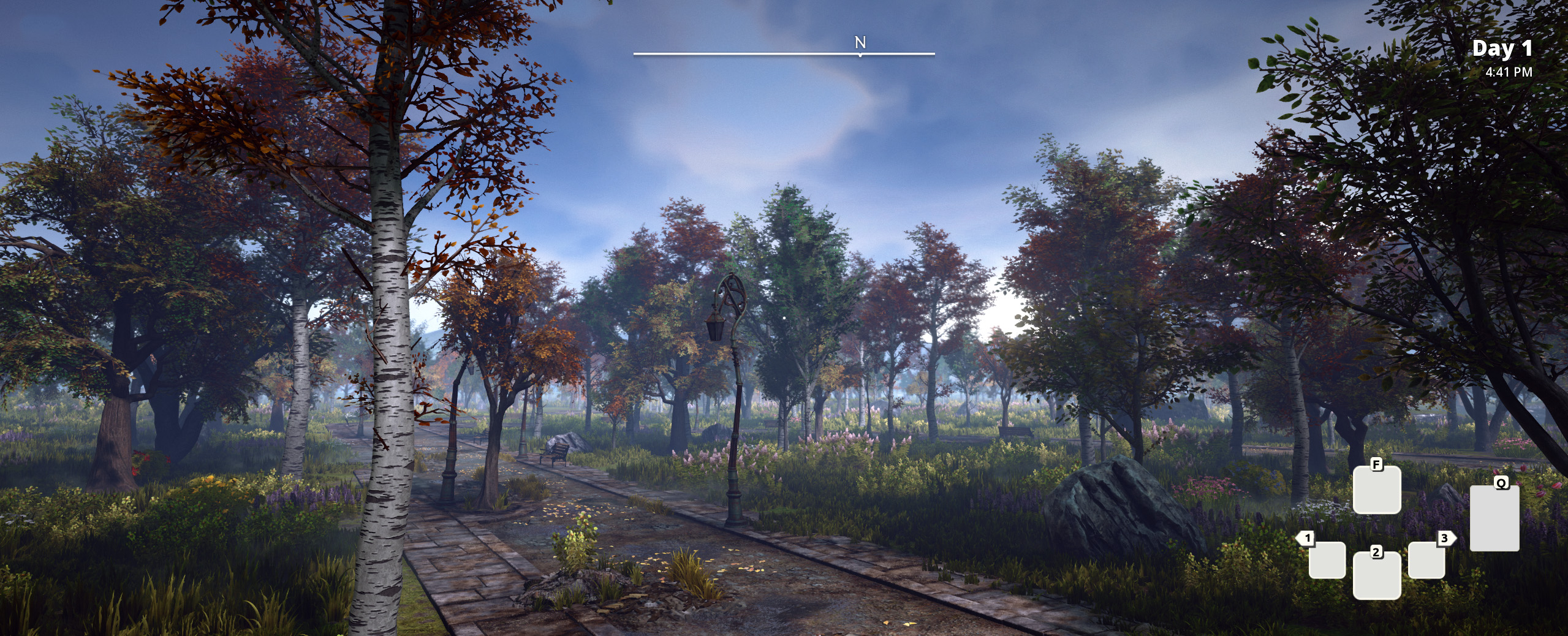 Marc-André
These past two weeks, I've been doing the ground floor lobby of a very special upcoming encounter. It is my first time working with a brutalism interior and it's been really fun to experiment with the architecture style! As we move into the new biome, buildings are much taller which allows us to create very nice shapes and composition. For the lobby, I created forty-five new custom meshes, including a new set of railing and new textures, such as marble for the floor.
But… this location is so special I can't show it to you guys. Be patient and one day you'll get to discover it! Today I'm moving to the upper floors of said encounter. I have a good vibe about this! It will be one of a kind.
Whitney
Hi everyone!
I don't post very much because my days generally consist of meetings, spreadsheets, reviews, feedback, planning, collecting references, crudely painting over 3D locations, and hastily throwing together concepts collaged from random photo sources that are purely for internal reference and in no state for public viewing. That's the sad truth about so much concept art. Either that or the concepts are for unreleased, super secret and exciting locations that we can't talk about :( So I apologize, but rest assured, we're very busy working hard to make the game beautiful!! And soon, I promise, we'll have beautiful concepts to show.
Sarah
Well shucks, it's been a while since I've posted an update. I've been knee deep in UI mockups and meetings for what feels like an eternity now, but things are starting to take shape in a really sexy way. Here's the Map screen and Fast Travel screen Mock-ups I finalized not moments ago!
I was featured with Michael in a video about the new Inventory Screen a couple of weeks ago, but what the video failed to include was Clara's heavy involvement in its development and realization. This is entirely due to the fact that Clara is the one making these videos, and is too camera-shy to take any credit for the great work she's doing, so shout out to Clara. You go, Glen Coco.
Speaking of Clara, together we're juggling back and forth between the other UI screens AND some faaaaaaaancy fancy 2D animations (unrelated to the UI screens), so stay tuned!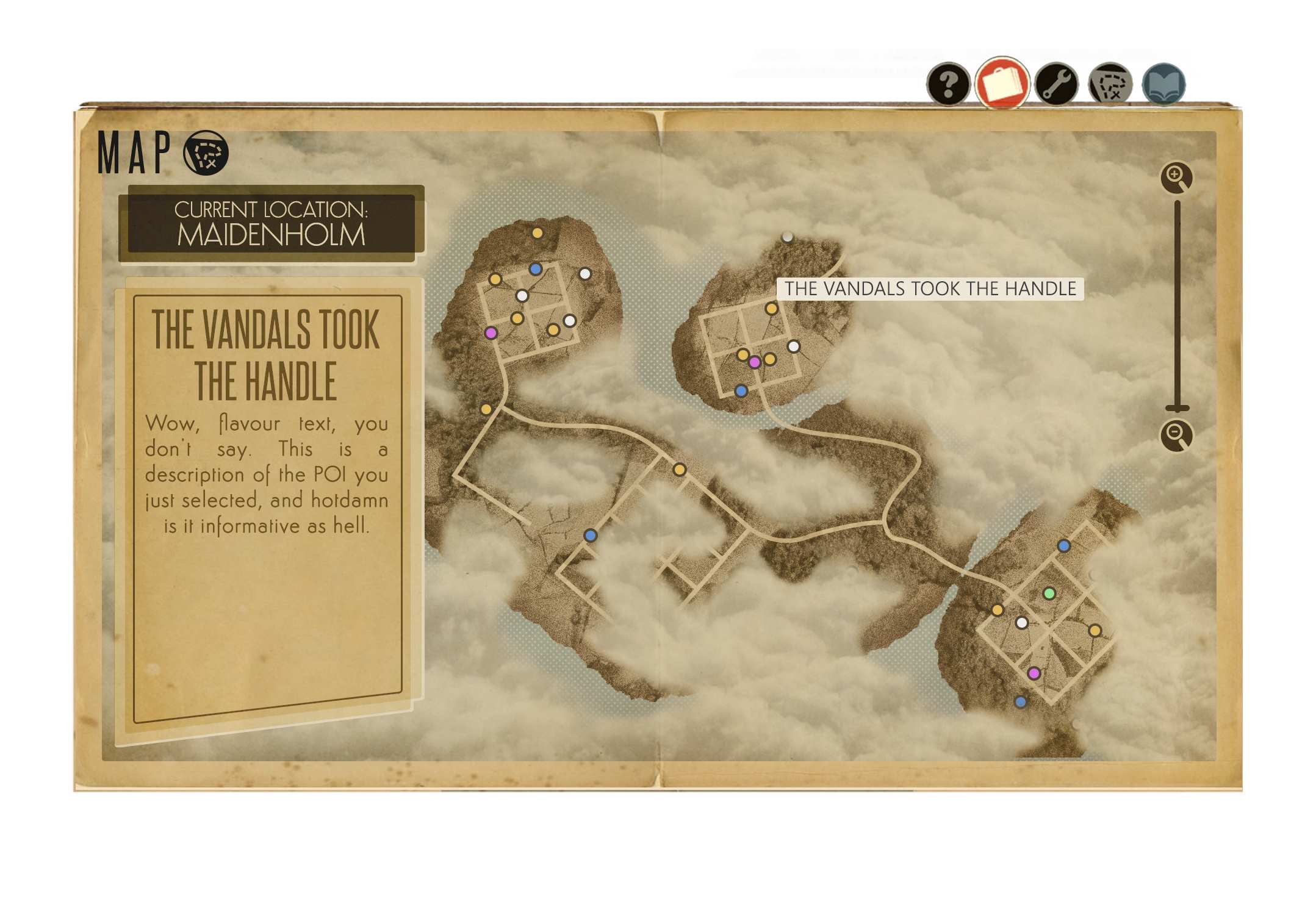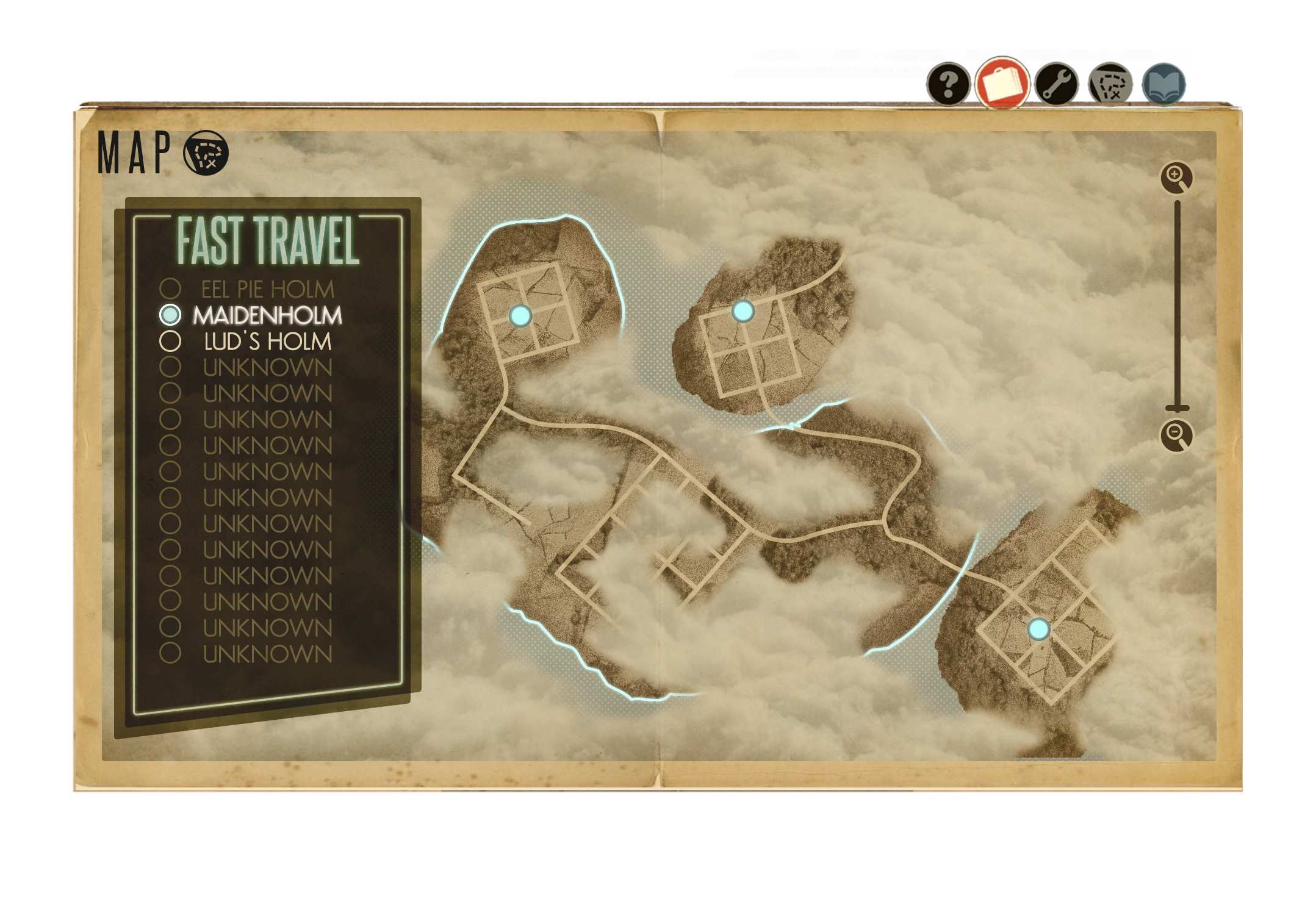 Engineering Team
Chris and Rob
Hi all! So we've almost finished the work to get a UWP build to QA. Right now, we just have to rebuild a few third party libraries to fix some app certification errors. Good news is that this means that we've begun working on our next task: HDR! There's lots of math involved to get this working properly, but luckily we have lots of Unreal examples to work from. Personally, I think that the art and style of this game is very conducive to the increased colour range and contrast of HDR. So I'm really excited to see how this turns out! But first things first... math and shaders. We'll keep you posted on our progress in the next updates!
Serge
Not much to say this week, I focused mostly on bug fixing and iteration of conformity rules ... it doesn't sound like much, and it's a little boring to look at, but trust me... it's interesting.
Take the behavior around corpses left behind by the player; we had prototype where you can make them sleep (rather than kill them) so they can wake up at some point later in the game. While in theory it looks fun, the lack of feedback make it near impossible for the player to understand plus it conflict with other gameplay so I had to cut that out from the code!
Michael
I've been working on improving the systems behind the different states of Joy. David had written up a design a long time ago, and we're finally getting round to working on it. The idea is to get it so that you are more aware of whether you will crash, overdose or go into a withdrawal when you're taking Joy, and to make those states more punishing gameplay-wise, because remember: Drugs are bad!
Joy is a big part of the game, so you won't want to avoid it all together, but you'll have to be smart about how and when you take it.
I've started off by separating out each of the four states (Joy, overdose, withdrawal and crash) into separate Unreal blueprints, so that I can hand them over to Emmanuel to make the effects of each of them more distinct, beautiful, and scary.
Narrative Team
Alex
I've been editing a series of encounters for Miss Thigh Highs' playthrough. She climbs a foggy crag to find a young woman, a middle-aged woman, and an old woman. They seem to know quite a bit about her present and her future. They use the word "hurly-burly." Sometimes they speak in unison.
An encounter hub is an encounter you keep coming back to for multiple missions, like Johnny Bolton, the lad in the treehouse.
One of the things I most enjoy about our game's narrative is that we are in a town where everyone knows each other. Writers of games which start with the protagonist having amnesia don't know what they're missing. When people know each other, it's easier to motivate quests. "I will give you this shiny new sword if you go to this dungeon and steal a goblet for me" becomes, "You owe me, you son of a bitch!" which makes for much more compelling television game writing, I think.
Design Team
Adam
Well, I have been on paternity for 3 weeks now, but I still manage to check in with the team on slack every day or so. It's actually been very nice to chat with the team about theory and rules without the backlash of actually being there. It gives me a new perspective on the whole thing.
Eric
Week 3 of Adam being out of the office. It's been really good having him not be here. Jk. You know I love you Adam. This is essentially my weekly as I've been out of the office moving to Montreal most of the week. Either that or Quebec Holidays. I guess I did some bug fixing too, and I'm starting to work on a small boss fight.
Since Roxanne isn't here I'll mention what she was working on. While ramping up she was also working on an encounter called Love Birds that David has wanted in forever. There were already 2 other attempts at getting it in that just never made it. Roxanne has done a full block in pass on this and it looks pretty good. Once art/anim spread their love all over it, it'll be pretty awesome.
Animation Team
Vincent
Ahoy! We spent some time this week doing some HR… Yup, we are going to welcome two new animators in our ranks… They'll be presenting themselves in the coming weeks I'm sure. They will help us with all the animation needs for the next encounters, which will allow a part of the team to stay full time on cinematics.
Speaking of cinematics, we are all three working on them at the moment, starting new ones and editing some on which the script has changed. To help with the latter, I worked a bit on a python script that allow to easily shift keyframes around on a whole scene and multiple animation layers… which is a pain to do by hand in Motionbuilder!
Thanks for tuning in!
Compulsion Game
Discuss this post here