Weekly Journal - Story, UI and more story
Hello everyone!
Another packed week for the team. While we're still working on the core mechanics of the game itself, a significant part of the team spends their time creating and polishing the story. That means that they can't always showcase here what they've been working on. That also means that the game is shaping really nicely, and we can't wait to share the results with you. But we have to (wait), I'm afraid.
What that means is that animators have been working on cinematics, Alex has been recording even more lines (both story-related and NPC barks), designers have been working on the story quests, artists have been polishing new environments… while the rest of the team keeps working on refining the AI, fixing or improving existing encounters and mixing audio. Thankfully, nobody in the team keeps having crazy ideas to make the game even better and bigger. Wait… they what?
Anyway, let's move to the actual weekly, but before that, let me remind you of the video we posted about our work on the UI of the game, in case you missed it:
Production
Sam
Hi folks! This week I went off to E3, for a bunch of meetings about the project. It's really important for at least one of us to attend the major shows each year, so that we understand what's going on in the industry. This year's E3 felt like the beginning of a return to the "glory days" of E3, and it was so packed that I could see a bigger E3 next year as a result.
I'm really happy with how the week went, and there are some pretty huge surprises coming up within the next two months, but as we have a lot to prepare I'm not yet ready to talk about it. Sadly I was so busy with meetings that I didn't get a chance to play many games. Instead, here is a picture of my favourite booth of the show, which was a tiny little alley inside the SEGA booth: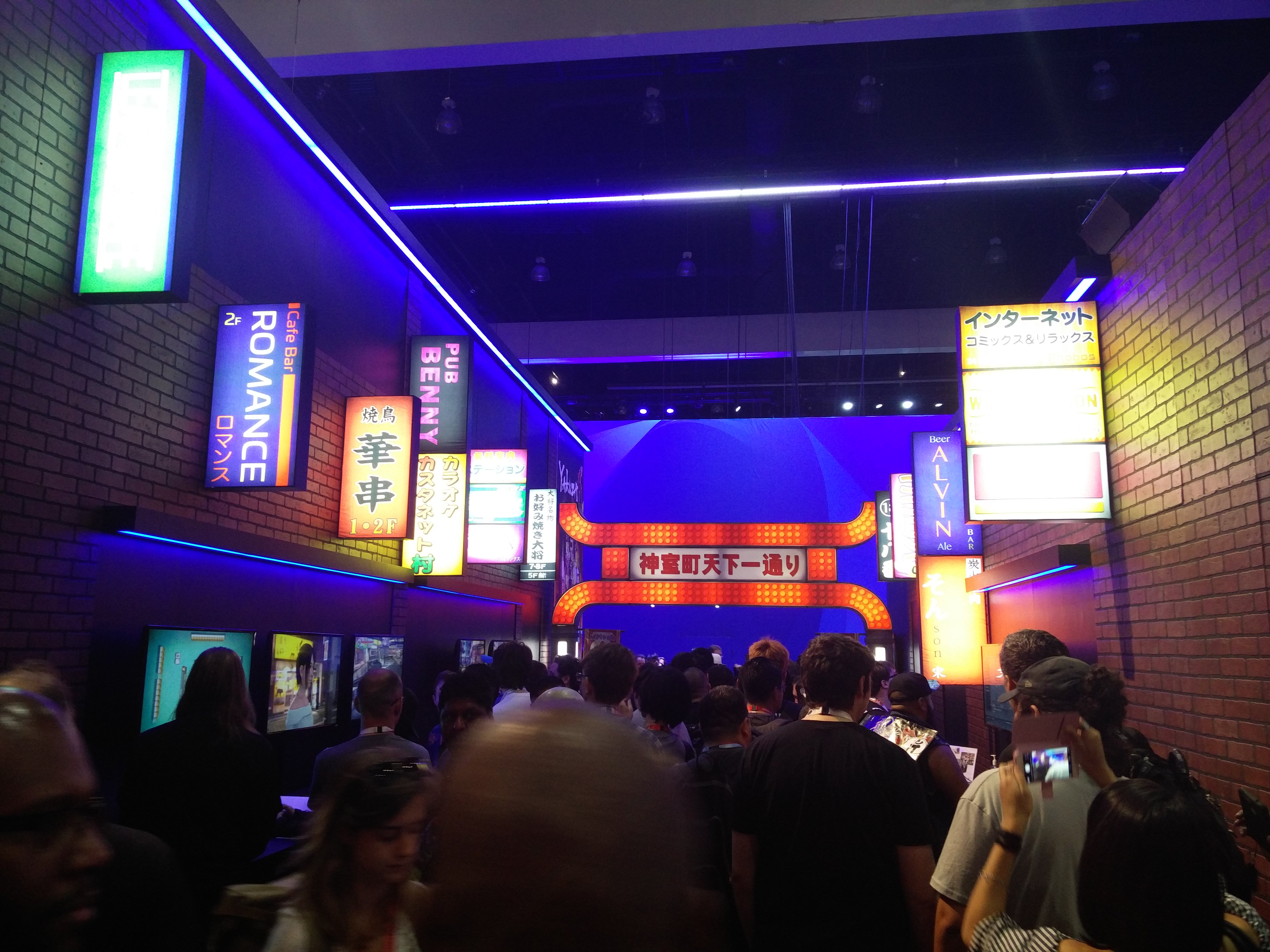 Yeah, SEGA! Who would have thought?
Design
Antoine
Hi there !
First some good news: Adam has had his baby! He's out for 5 weeks on paternity, and Eric is away in Las Vegas for a wedding, so let's just say that Ben and I felt pretty lonely this week *cue sad violin music*.
Aside from the sadness *snif snif* this week was a bit unusual. I often spend my time solely in the editor vigorously building levels and making scripts, but not this week! Last week I finished the first cycle of quests of the second character and couldn't really see the progression of the playthrough at a glance. I took the description of each encounter and started to arrange them in logical order from the start of the playthrough to the very end. This makes scripting and building levels very fast since you are never really going to have to stop and think about how this quest ties into the other one both from a gameplay and narrative perspective. It also makes it so we can weed out any flow problems in the golden path early on. So why I said this week was unusual is because I spent it practically entirely in Google Docs and going back and forth between Alex and David to make sure narrative sticks well with the gameplay. Lots of tough questions were asked and it came out as a hopefully cohesive playthrough for all of you nice people !
Art
Carylitz
Hi guys! This week I made small changes to the new shelter and adjusted some props from that location, alongside new and secret props that I can't show. I spent most the week doing research, talking with Remi for the rig and David to know the functionality and purpose of the asset. So far I think it is one of the most complicated props in terms of technical complexity, so lots of thinking on how to make it work.
Marc-André
I started by making a few assets, such as the fake doctor's head mirror, a mousetrap and flowers with stems for an upcoming VFX. I went through my bug list to fix what I could. I also fixed bugs I noticed myself, such as ground materials in all Village houses (they stopped working due to an mesh optimisation pass we did a while back). I have also been integrating new posters from Sarah in the Village parks and modifying a story level to meet the animators needs. I did a brief art pass to the fine cuisine encounter, which now has a before/after state. After you free the cook, he'll transform his prison into a restaurant! The menu's always stew, but some fancy meals are "coming soon"!
For the second part of the week, I started working on the lobby of a new story location, which will be an encounter set in a new upcoming biome. So far the whole encounter is very early work in progress, and I can't share it, but I have done some excellent work on... toilet stalls! Everyone's favourite gameplay location.
Engineering
Chris and Rob
Hi all!
Rob and I have been focusing on efforts on the UWP build this week. We managed to get a UWP build packaged and running really early this week, so that's great! We had to stub out some of the Xbox Live features and then spent the remainder of the week tracking down various problems. The good news is that the build seems to be as stable as the Steam build now. Is there bad news? Yeah, I think our Xbox Live changes may be causing a problem with the Live services in the Xbox One build. So first order of business next week: Fix the Xbox Live services on UWP and Xbox One. For those of you playing the game on Xbox One, don't worry! We're currently working in a separate branch and our QA will make sure everything is working again before we bring our changes over to the main code branch :).
Have a good weekend!
Michael
This week I've been adding sound effects and voice lines for the inventory screen, quick slots, and fast travel.
Audio can add so much to the experience. Games are an interactive medium, and so the feedback we give for any action you perform is important, and audio can be a big part of that.
It's pretty common that audio gets left until the end of the process of creating game elements, but when it goes in it's very exciting because it adds a new level of responsiveness to what you're playing.
With the new inventory screen, the elements are a lot more animated and dynamic, and with the audio on top of that, it's very fun to just click and mess around with it, which feels like a success.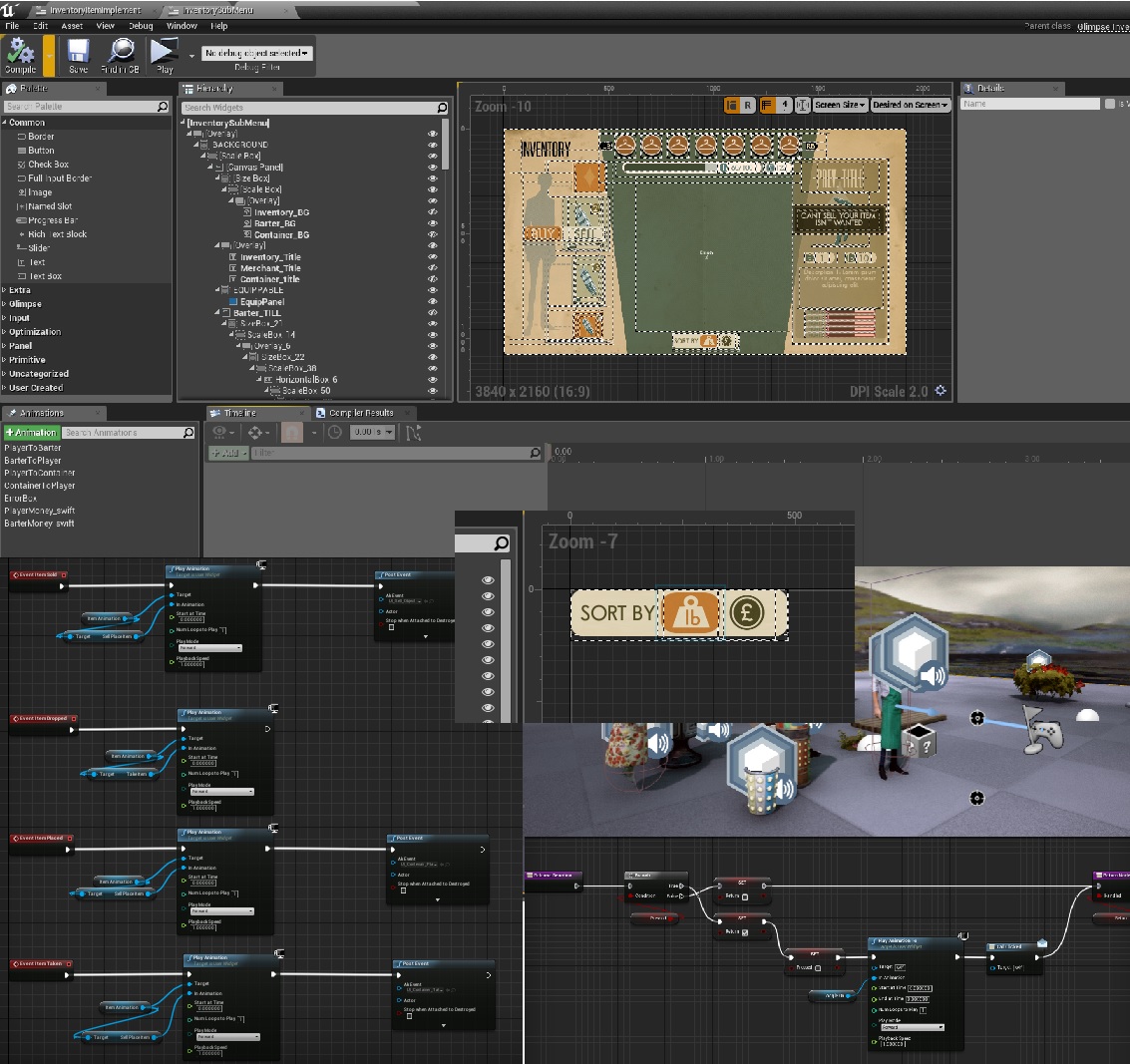 Narrative
Lisa
In a world awash in "fake news," aren't you glad you have the O' Courant to tell you what's really happening in Wellington Wells? This week I wrote a newspaper that you'll see in the next update.
I've also been writing environmental narrative for a schmancy design/fashion center in the posh part of Wellington Wells. (This is when having seen BLOW-UP 20 times comes in handy.) I think cosplayers will jump for Joy when they see this location. If you read the fashion tips in the signs and memos, you'll know what's in and what's out. (Hint: tweed is VERY controversial this season.)
Thanks for tuning in!
Compulsion Team
PS: You can discuss this post here.