Weekly Journal - UI and AI progress!
Hi all,
It has been a week now since we've released the hotfix for the Maidenholm Update on PC and released the Maidenholm update on Xbox One! We love getting your feedback on it, so keep it coming! In the meantime, work continues full steam ahead on our next update, and as always, on the main story.
This week we also released part 2 of our Youtube segment "Building story inside encounters". This episode is focused on the design process of encounters. Stay tuned for next week's episode on the polish process!
Animation Team
Remi
Hey everyone! This week, most of the animation team is still working on cinematics. For me, I worked on finalizing and polishing one of the cinematics, and started on the first pass animation of the final ending scene of one of our 3 playable characters.
In the meantime, here's a gif where you see Adam doing one of the Simon Says animations.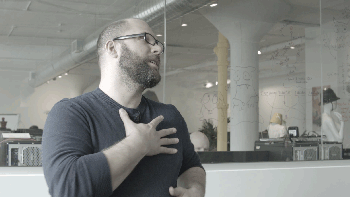 Art Team
Carylitz
I finished it! Can't tell you much of this giant robot... I will let you guys use your imagination, but I can tell you a little bit about the whole process. It was super interesting because I had to do a lot of research on robotic parts and how mechanical joints work.
The park was pretty straight forward, I tried to include some trees but they were not working that great so I removed them.
And for the broche, I followed the concept of David (which was really clear), changed few stuff to make it work in 3D and voila.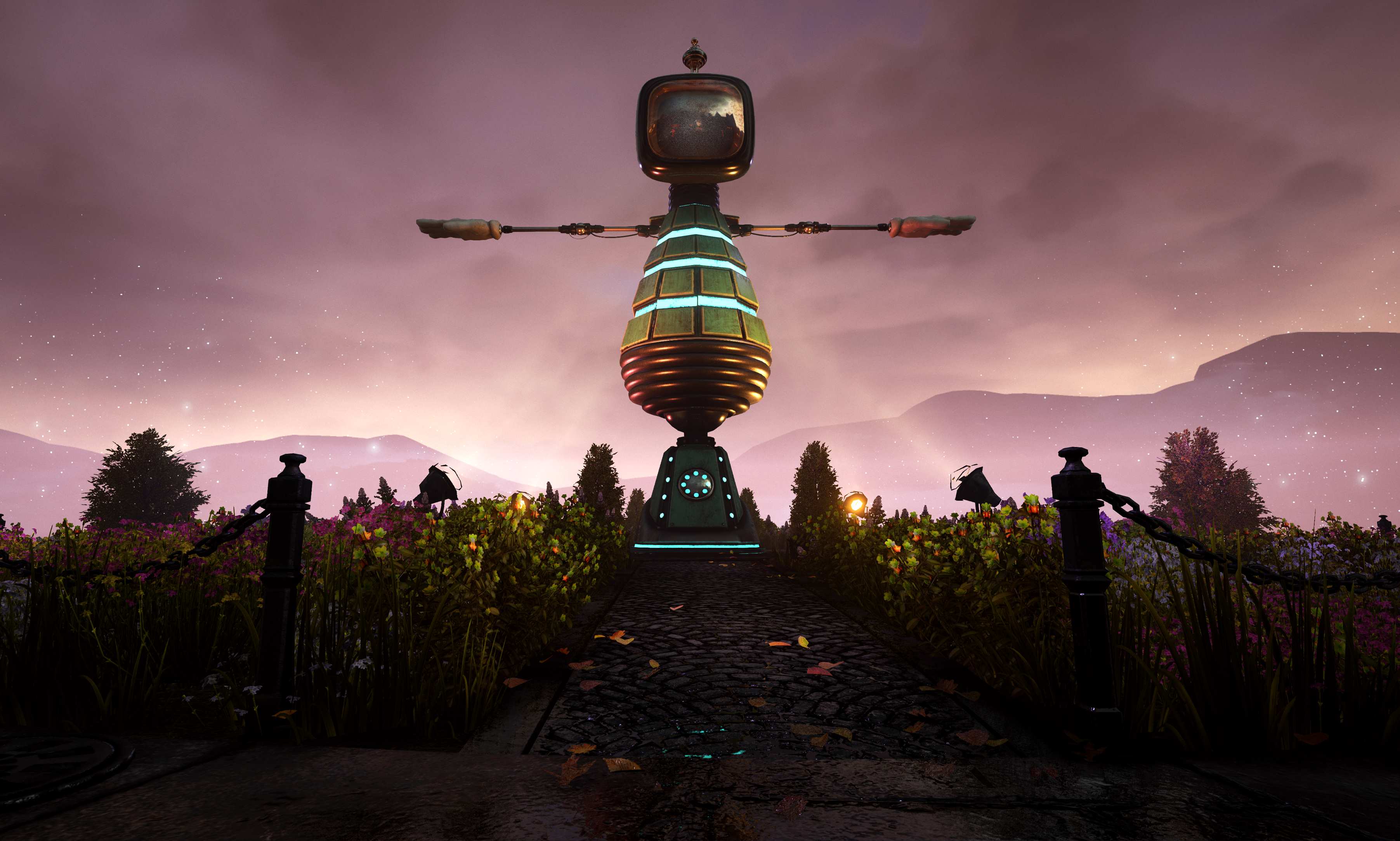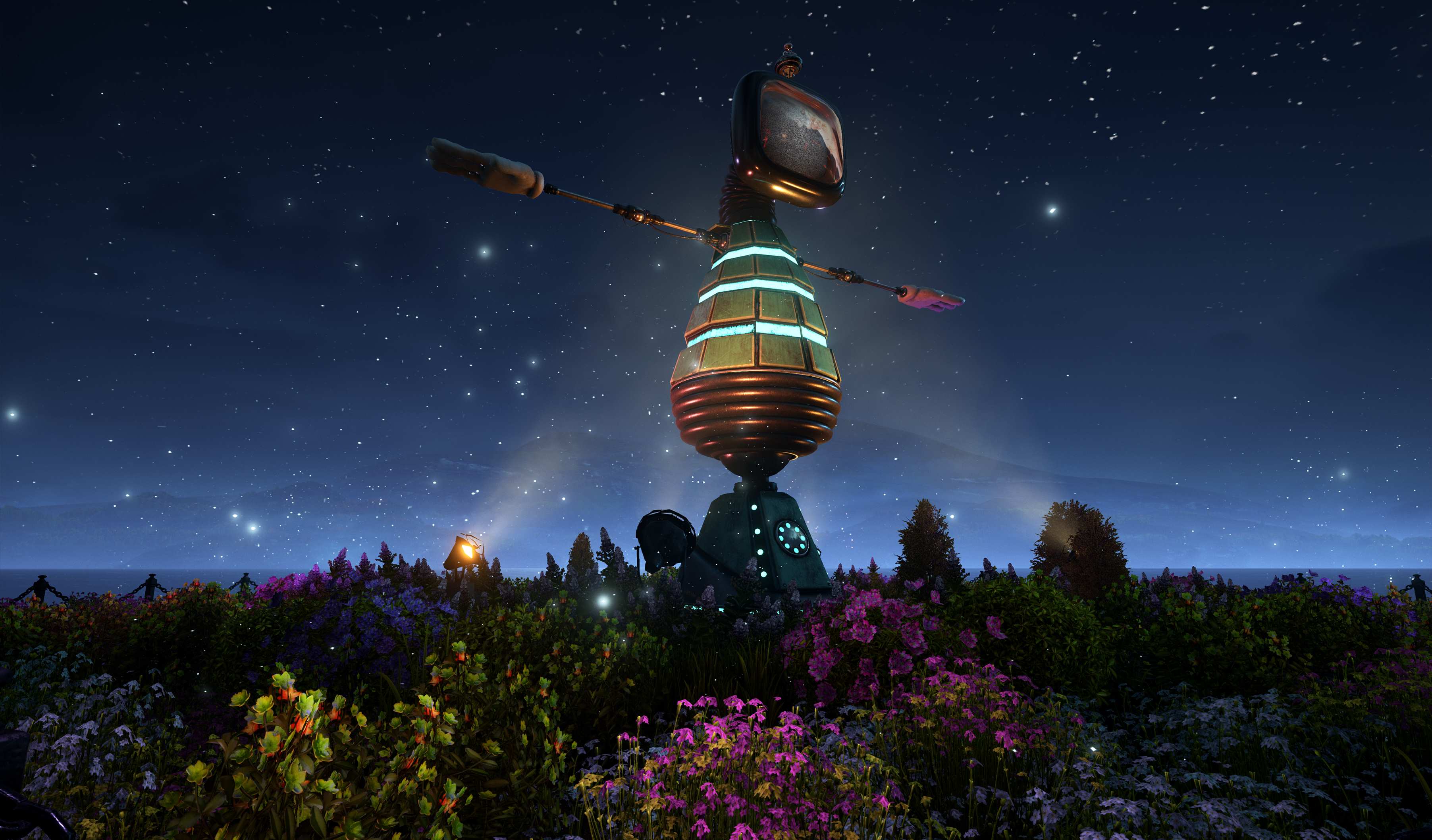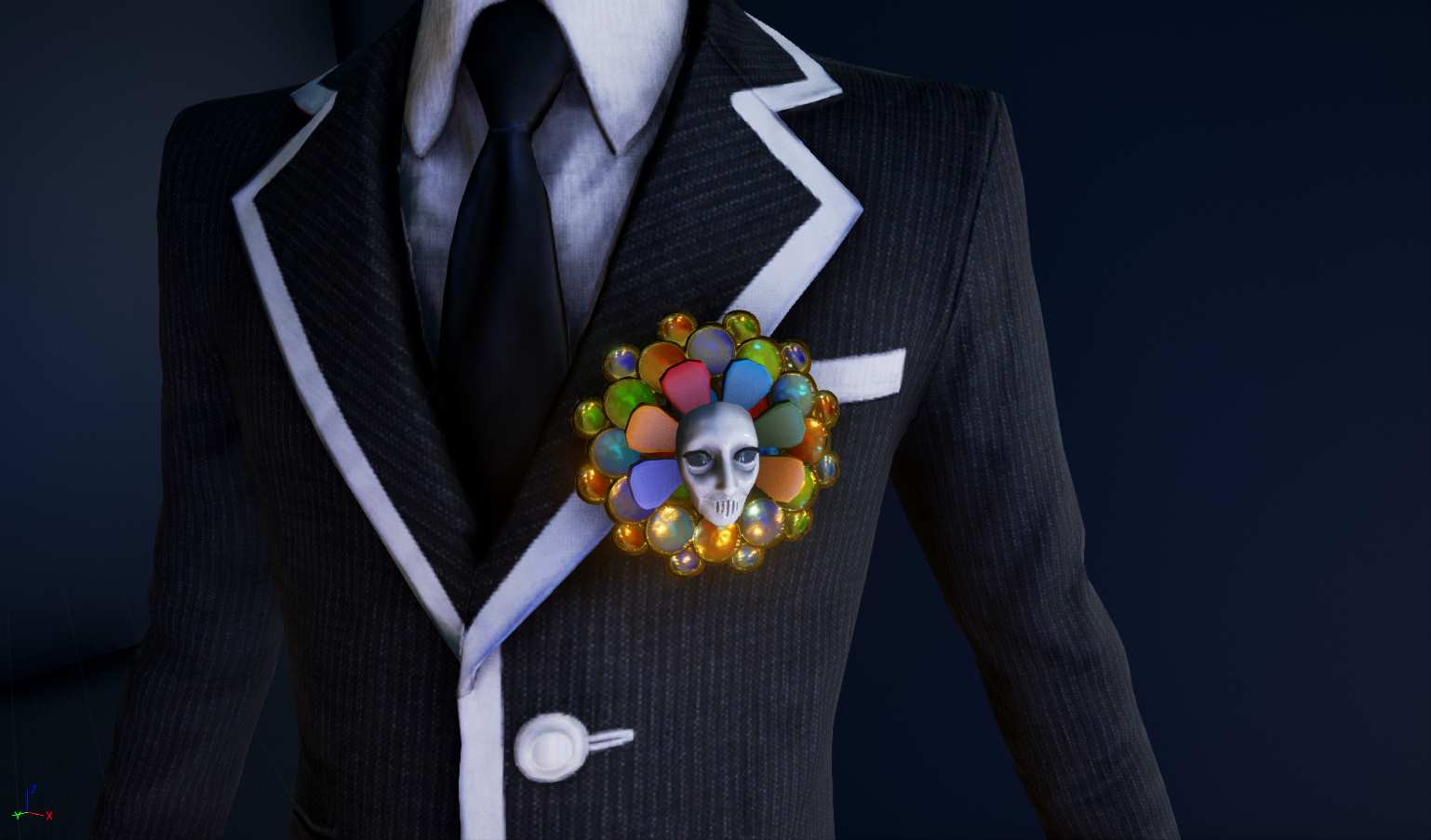 Marcos-André
This week has been equally split into two parts. First, I finished up the first pass on the reporter's house. That included getting feedback from Whitney on a few things, doing the corrections and doing the light pass. Enjoy a few pictures of the new lighting :)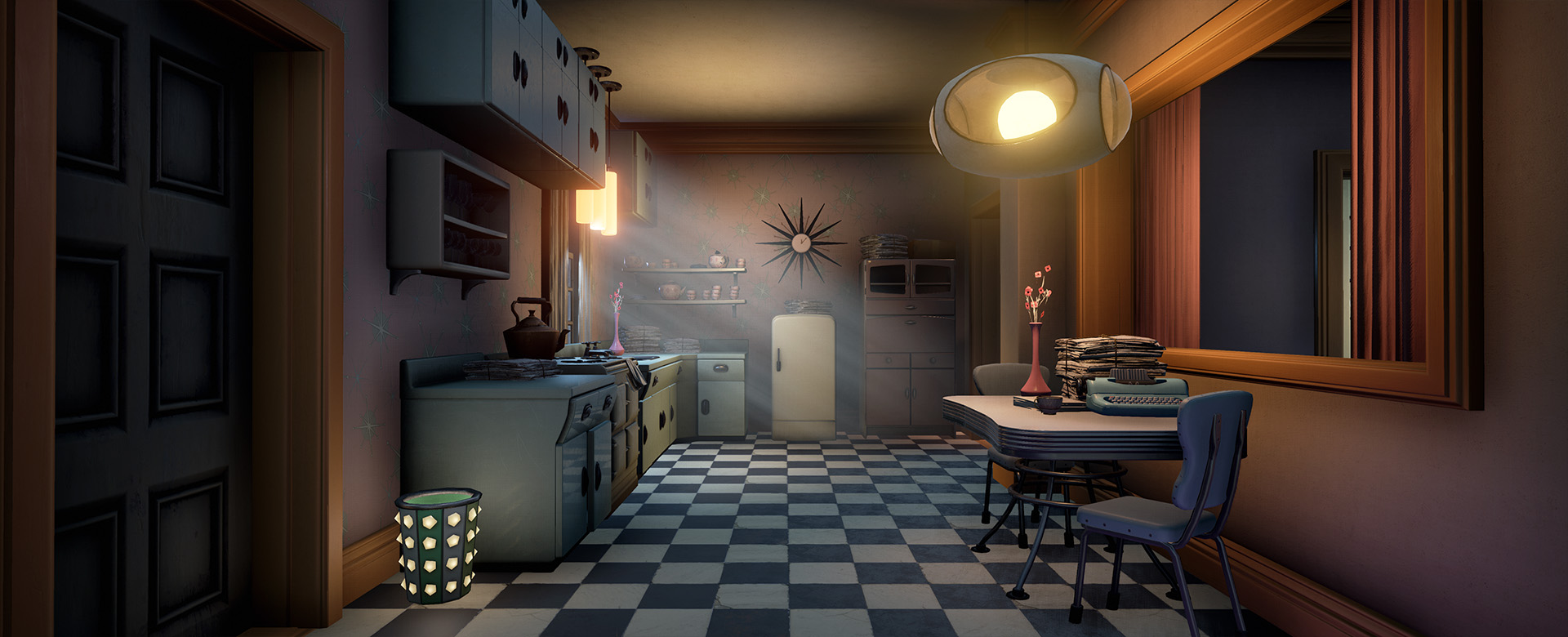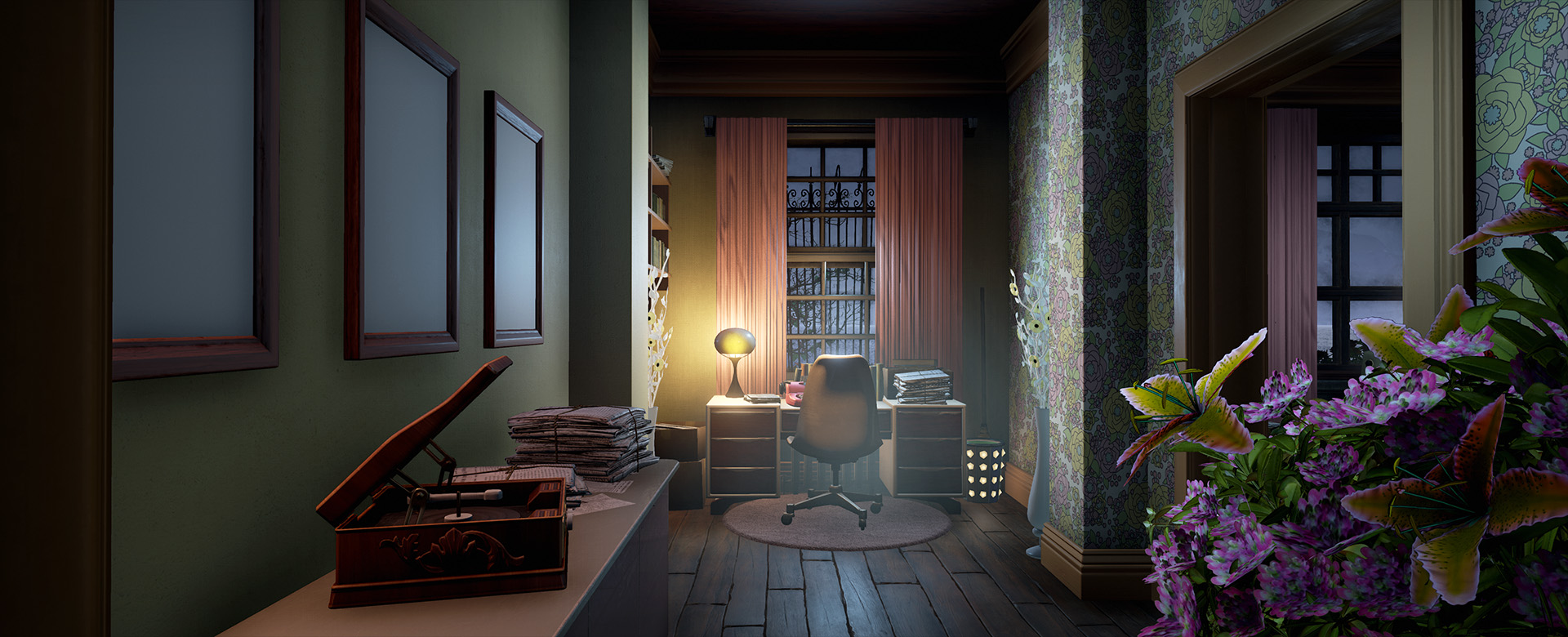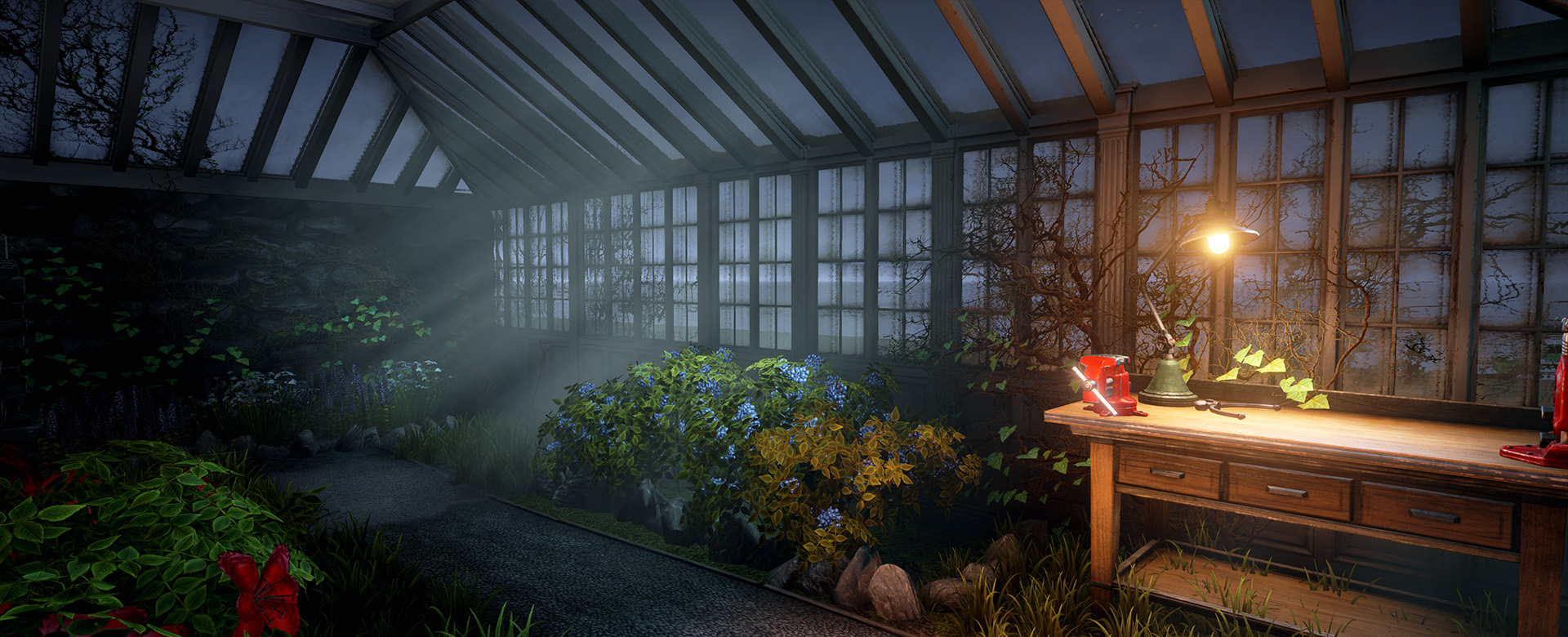 After that, I started doing the blockout for the butcher's house, where a very special encounter is to come. I've been working closely with David and Ben to validate the blockout and am now ready to add all the objects, textures and lighting that will make this space feel bloody special.
Guillaume
As promised last week, here are some screenshots of what I've been working on. Again these are really WIP screenshots, as the lighting will change and I'll add more objects to it, but the architectural structure is in place. See you next week.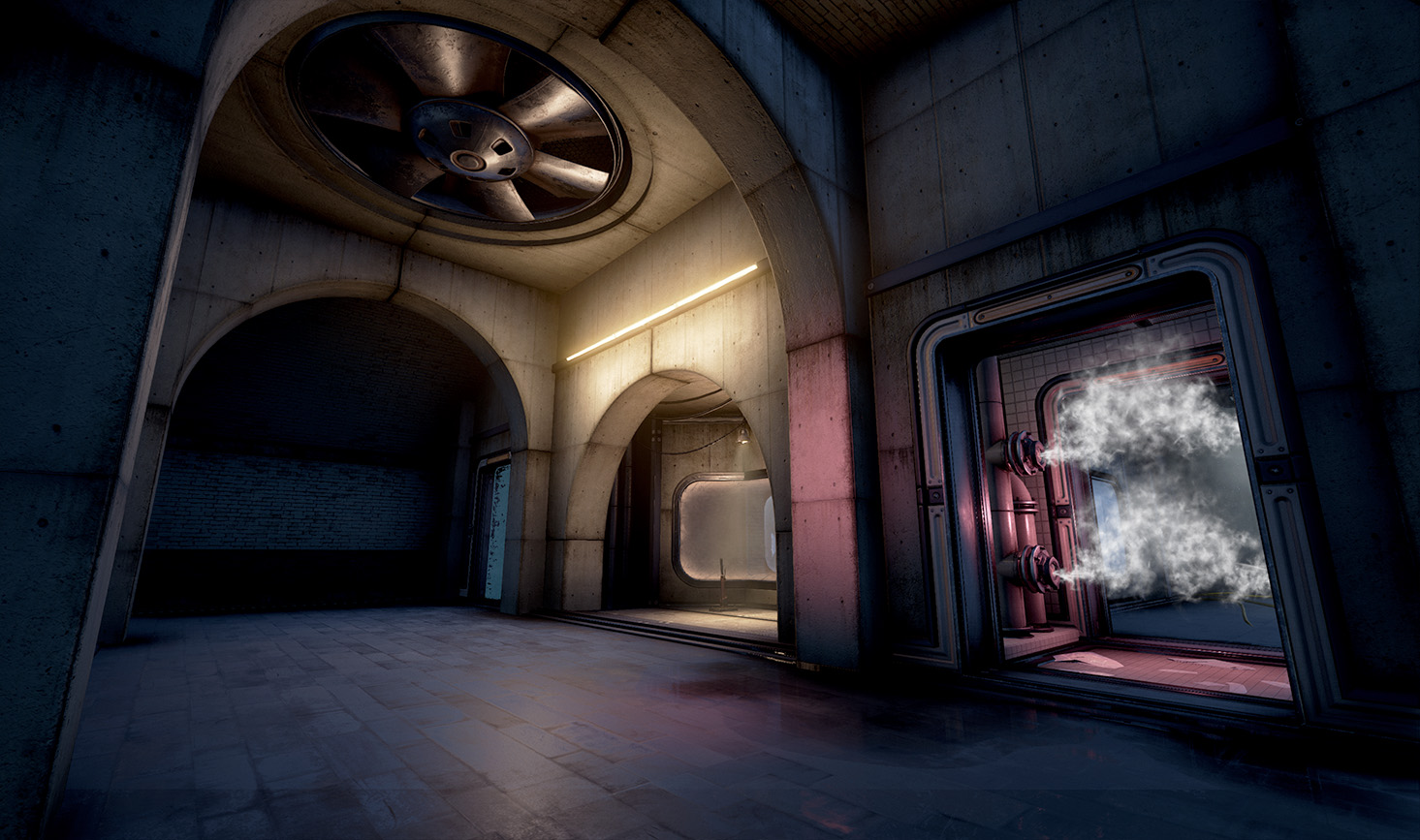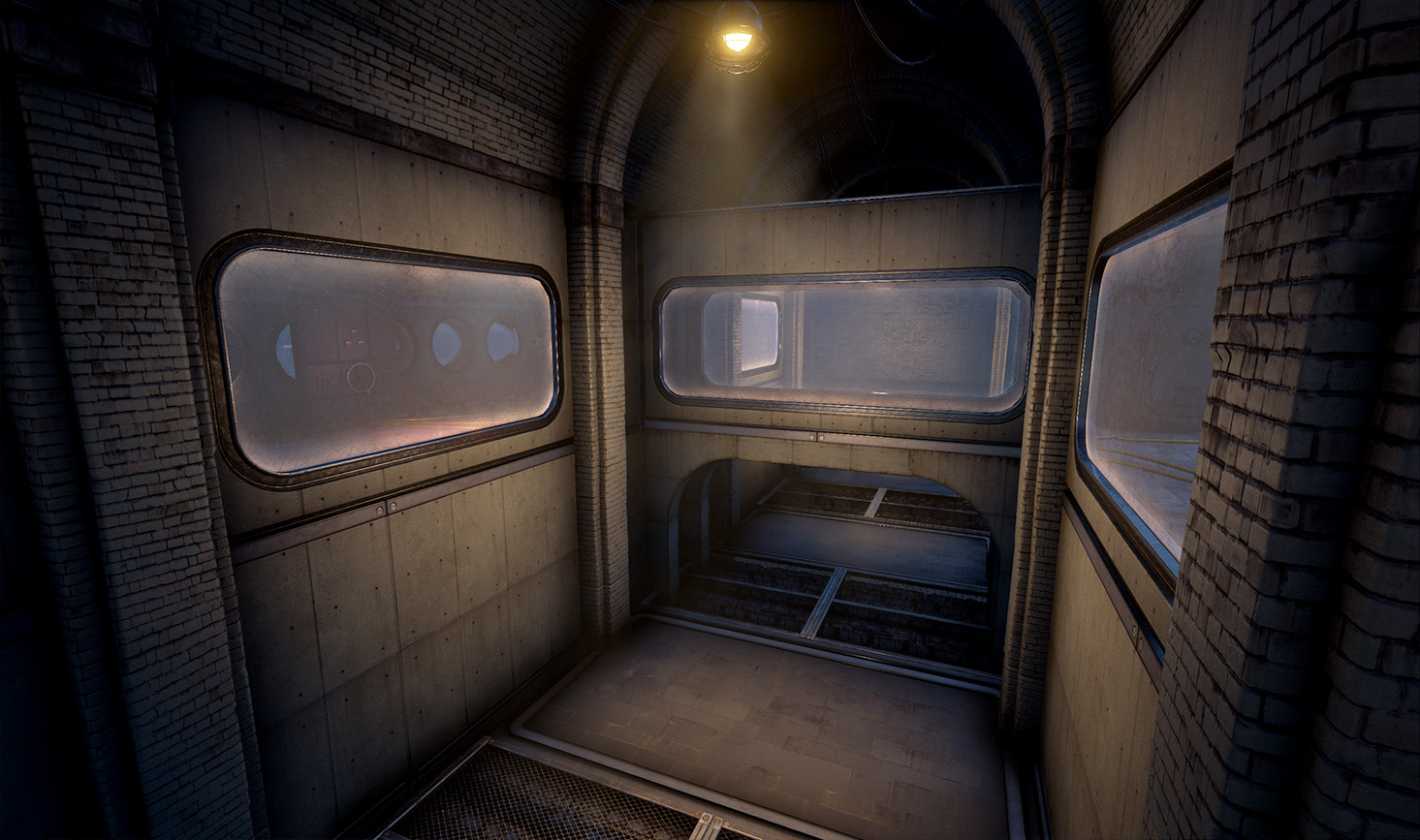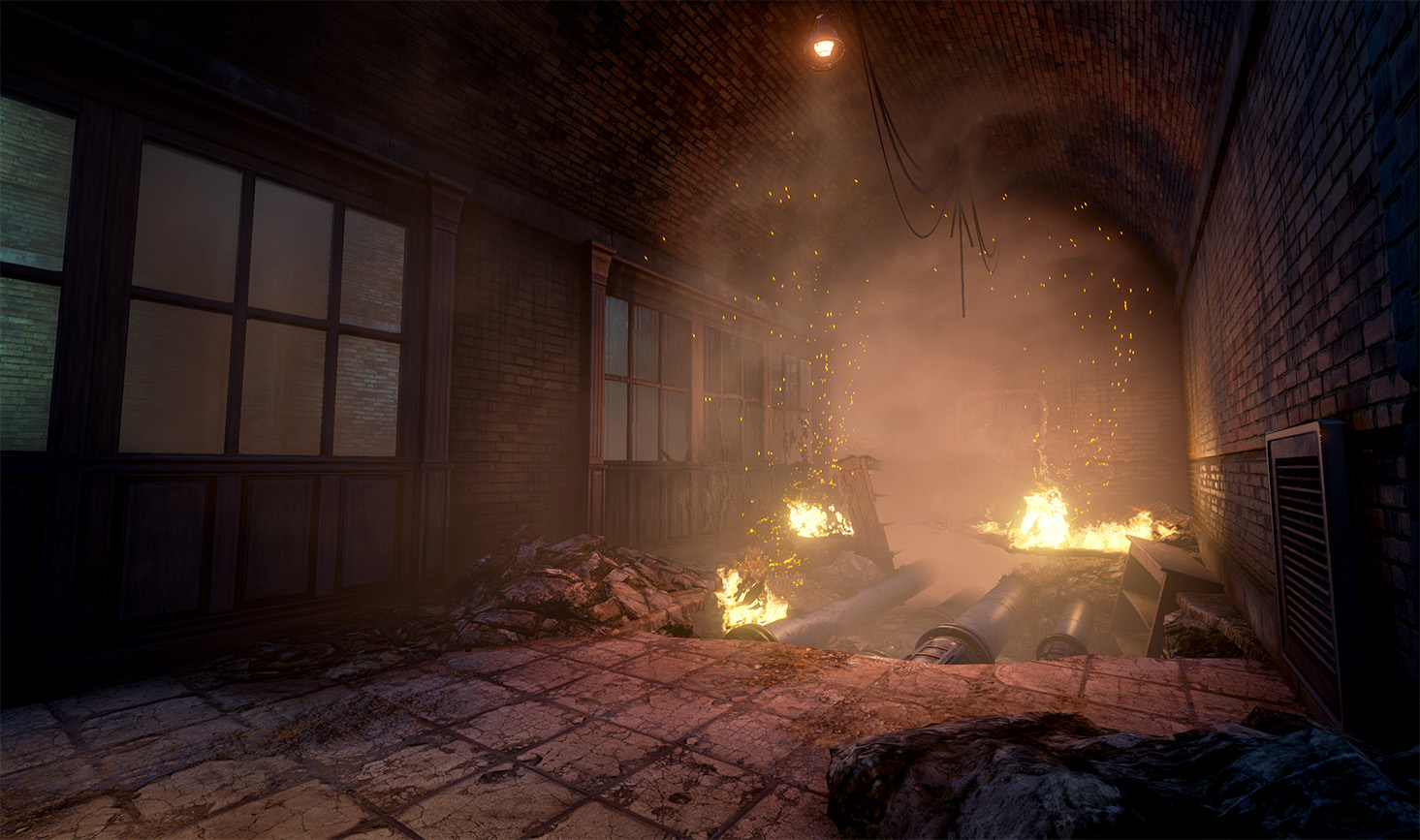 Programming Team
Michael
I've been continuing on the UI systems work this week. Feedback on the new inventory menu setup is coming in from the team which is exciting. Plenty more work to do. Here's a screenshot of the revisions - it's very ugly (I'm a programmer, not an artist) - but it should show you that we are moving to a weight-based system, instead of the fixed grid inventory we have now. No more inventory tetris!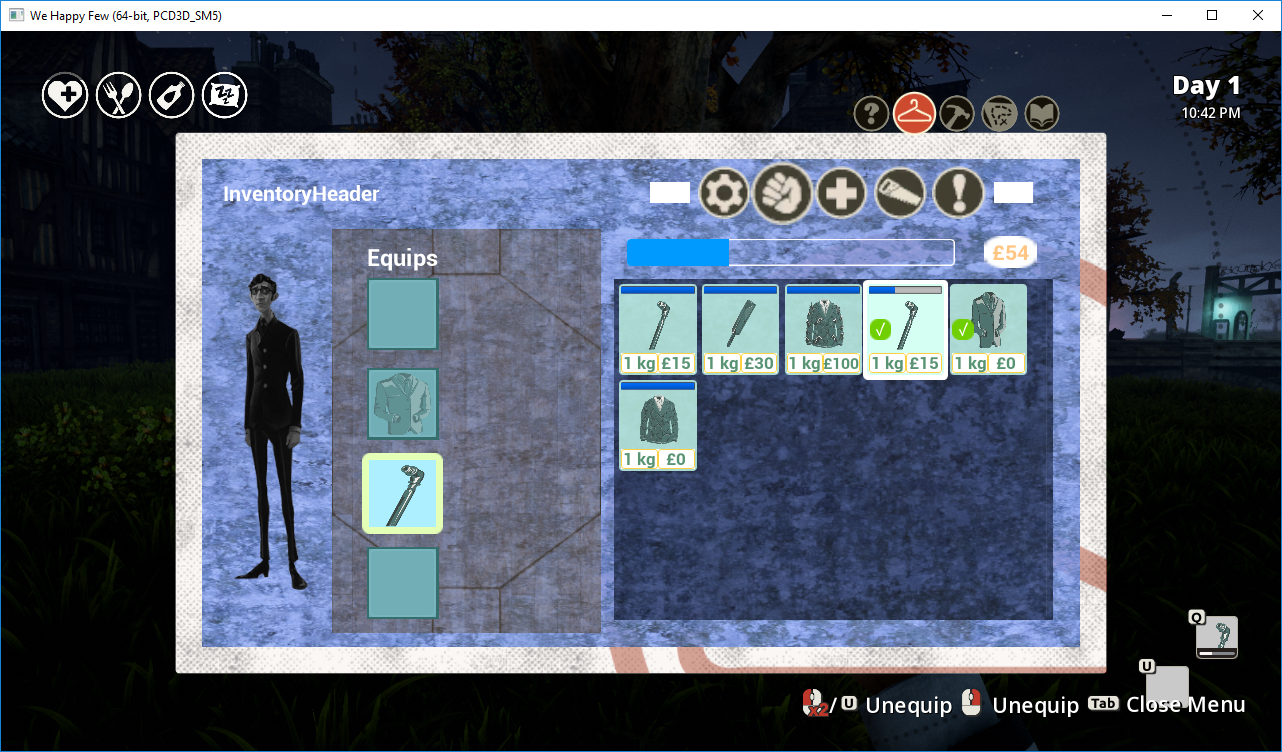 This way we can have larger more readable icons for all your little toys, rather than limited to their space allotment. We still want players to be making the tough decisions over what they need to be carrying, but the design of the new menu should give you all the information you need to make these choices at a glance, and there will be quick ways to sort everything too. If there is any frustration in deciding what to drop it should be the emotion of saying goodbye to all those syringes you're sure you'll need in the future, not in trying to find out what it is that's really weighing down your backpack, and what item is going to make you the next wasteland millionaire.
Also, the weather in Montreal has gone crazy, sometimes it thinks it's summer and so we've had a chance to get back to nature and eat lunch outside. The weather has realised its mistake and is now providing plenty of rain to chase us back inside. Anyway, nothing a British person likes to do more, than talk about the weather.
Serge
In the last weeks, I've been working on the revamp of the A.I. so they become more predictable. You might remember my first post a few months ago where I was talking about moving away from simulation driven NPCs (non-playable characters) to a gameplay rules based approach.
The first aspect of that effort has been the stealth detection which rapidly lead to the search pattern! This is that last part, the search, that has strongly benefitted from that refactoring, as shown in this video:
Design Team
Adam the Dance Machine
Well, I'm still working on story, and will for the rest of the game. I've been working on 2 major locations for Arthur to explore, as well as 1 or 2 medium sized ones.
Antoine
Oh hey ! I've been working on story. Some of the locations include the very ominous Doctor HQ located in the Parade District. I love working on gloomy creepy levels.
Eric the Spoony Bard
Nothing much to say really for this week. The last 3 weeks I've been on bug fixes. This week saw some fixes for Hallucinogenic Salad, Crazy Legs, Plague Bridge, Mystery Chest (which again decided to not spawn again), Haute Cuisine, and some other random stuff around the game.
Hayden the Remote
Hey folks,
This week I finished up some re-work on Speaker's Corner as well as some work on bugs…
But that's not important…
I also had a task to reconfigure a level that easily could have been an issue with our world generation, not to mention the dead end it caused along one of the main roads.
That level is Blood in the Streets, or as we call it, BITS.
The task seems simple on the surface; take the level, cut it in half, flip the back end around 90 degrees, reconnect everything and place it in a nice square package… Well, kinda square, at least. Problem is, there are so many little things to account for; from triggers located around the encounter that communicate with the gameplay script, to preserving the art that was already in place, to adjusting the spawning of the encounter. It was a lot more to it that just cutting it up and flipping it around--a common surgery, but risky.
With BITS on my mind all week, I began to feel nostalgic, so I put together a photo tour of her history. Dim the lights and bring the music on down, everybody be quiet…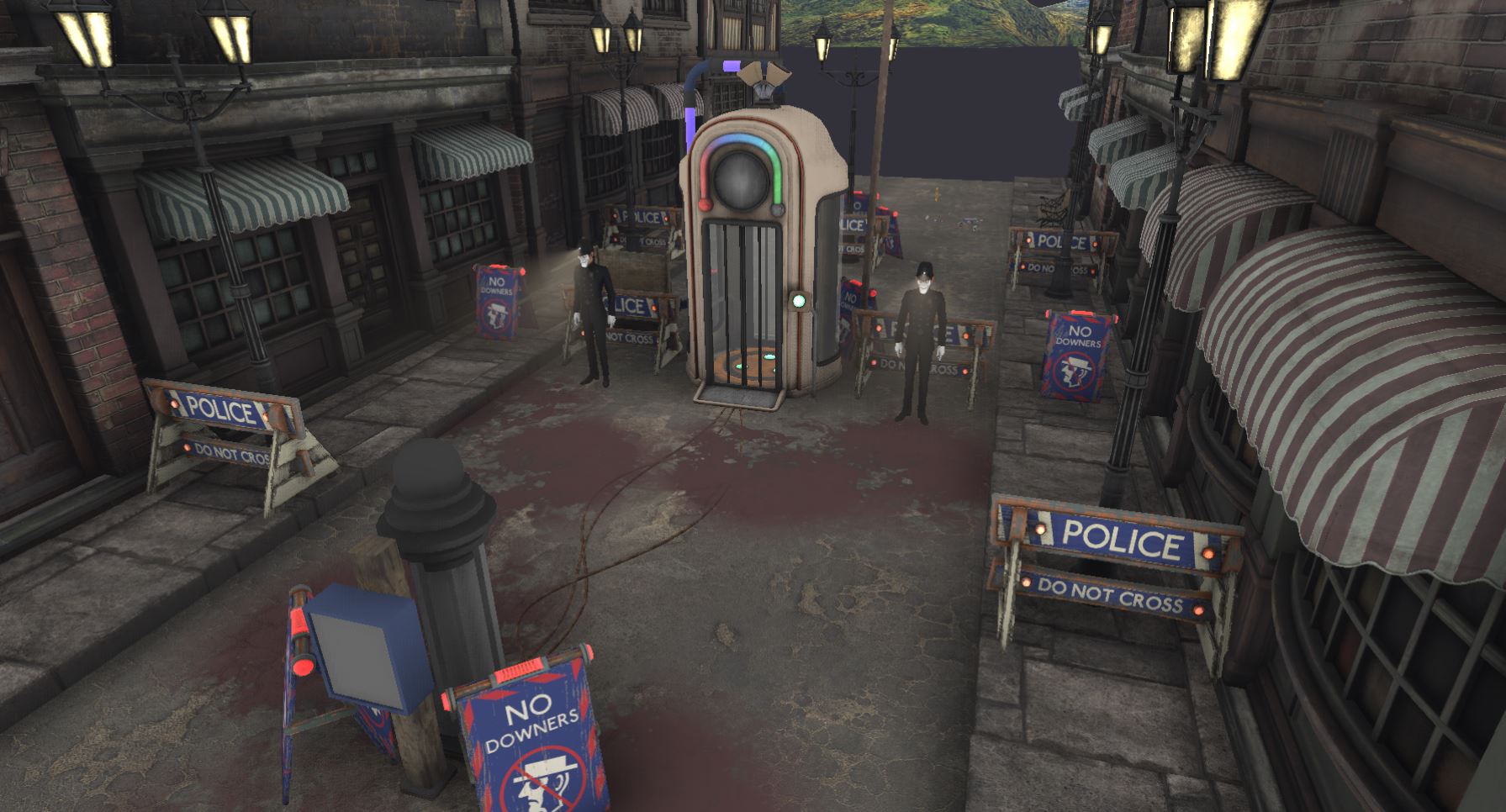 Here we have BITS when she was just a little baby… you'll notice an early prototype of the spanker, silly dev thought those police barricades would be enough to block all you crafty players.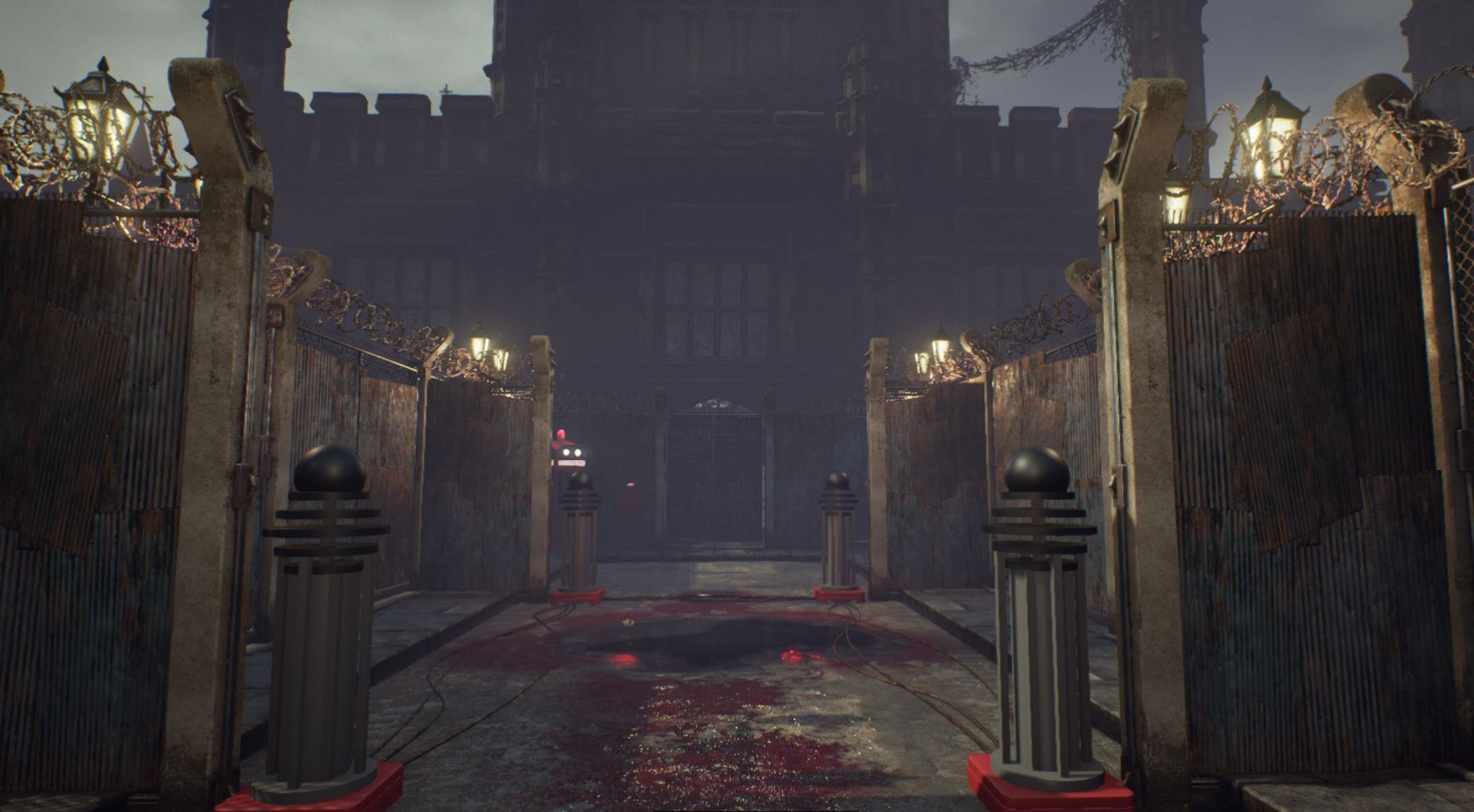 As BITS grew older, it was decided that she should move out on her own and protect an important area of the game. At this point BITS had prototype spankers, and the length of the level was growing like a weed.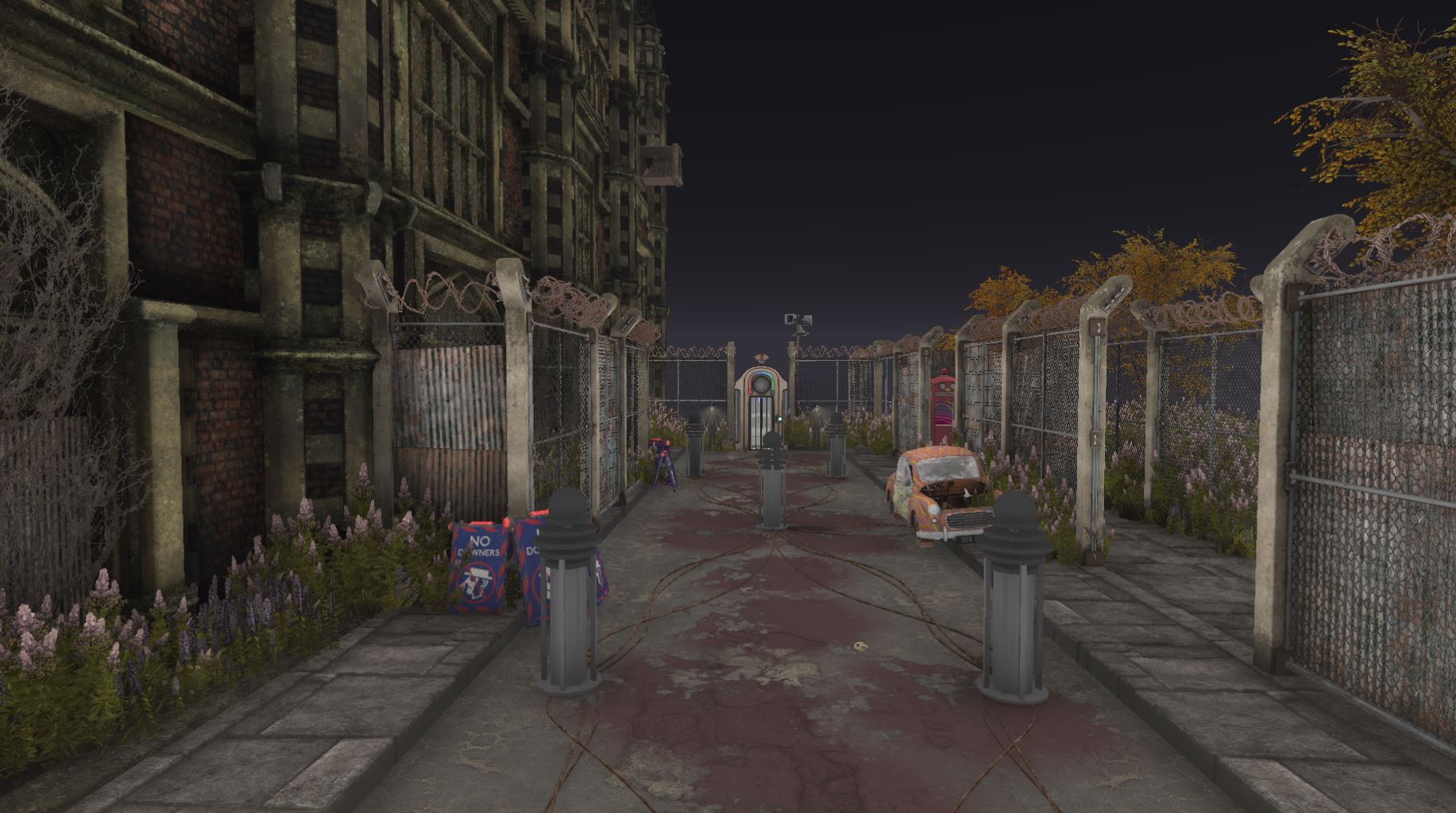 BITS soon found a home, but this new home would require a 90 degree spin and steel walls to block players instead of barricades--its network of spankers increased and everything was looking good.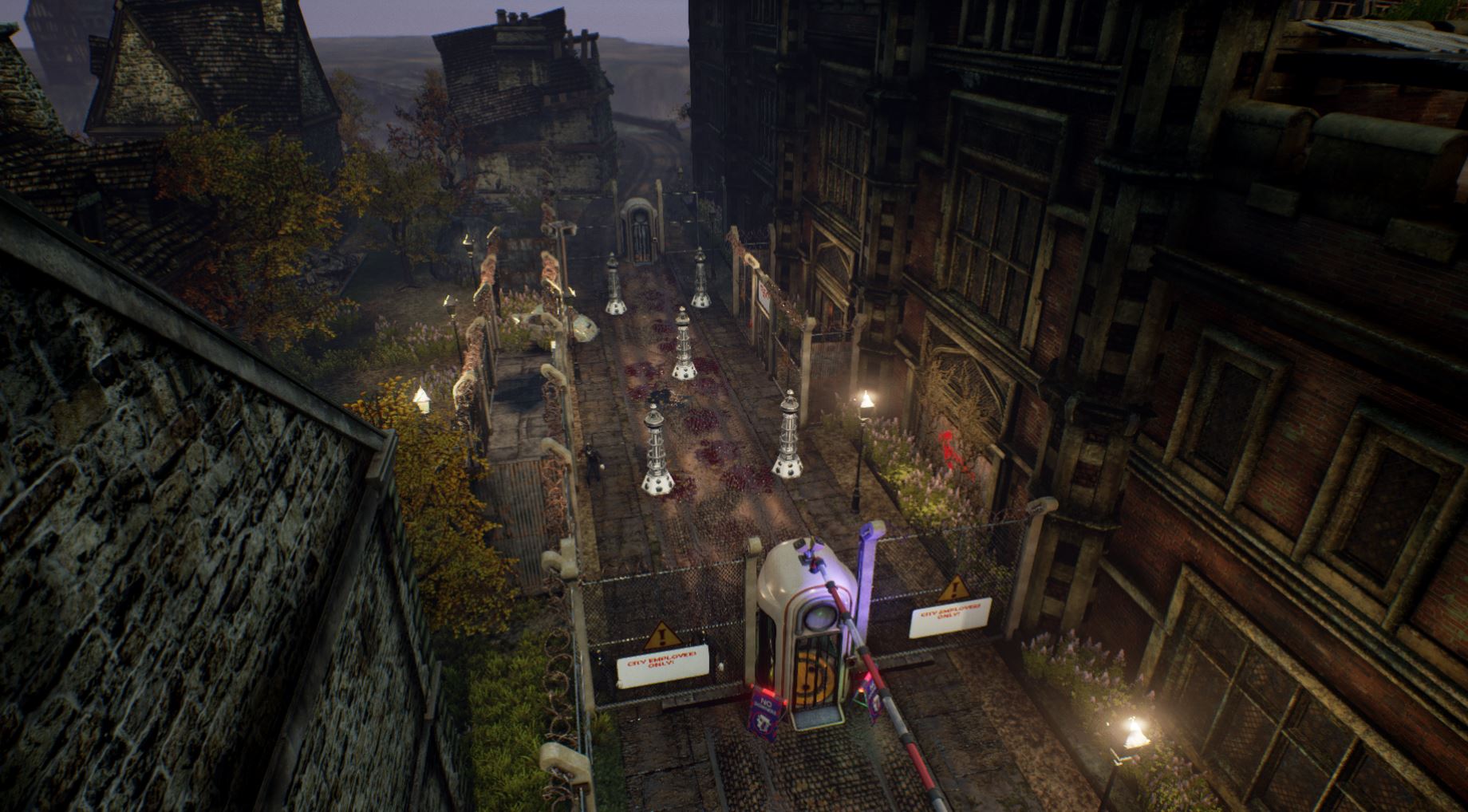 Time went by, BITS was slowly maturing and new systems were coming online to help with the overall experience… But little did we know, she would once again become anxious for greener pastures.
BITS eventually moved to the Village. She wanted a new start; more security, stronger walls, and new friends. She had outgrown the Wastrels she knew before, her new friends in the Village were introducing her to more intense spankers that fed her appetite for blood.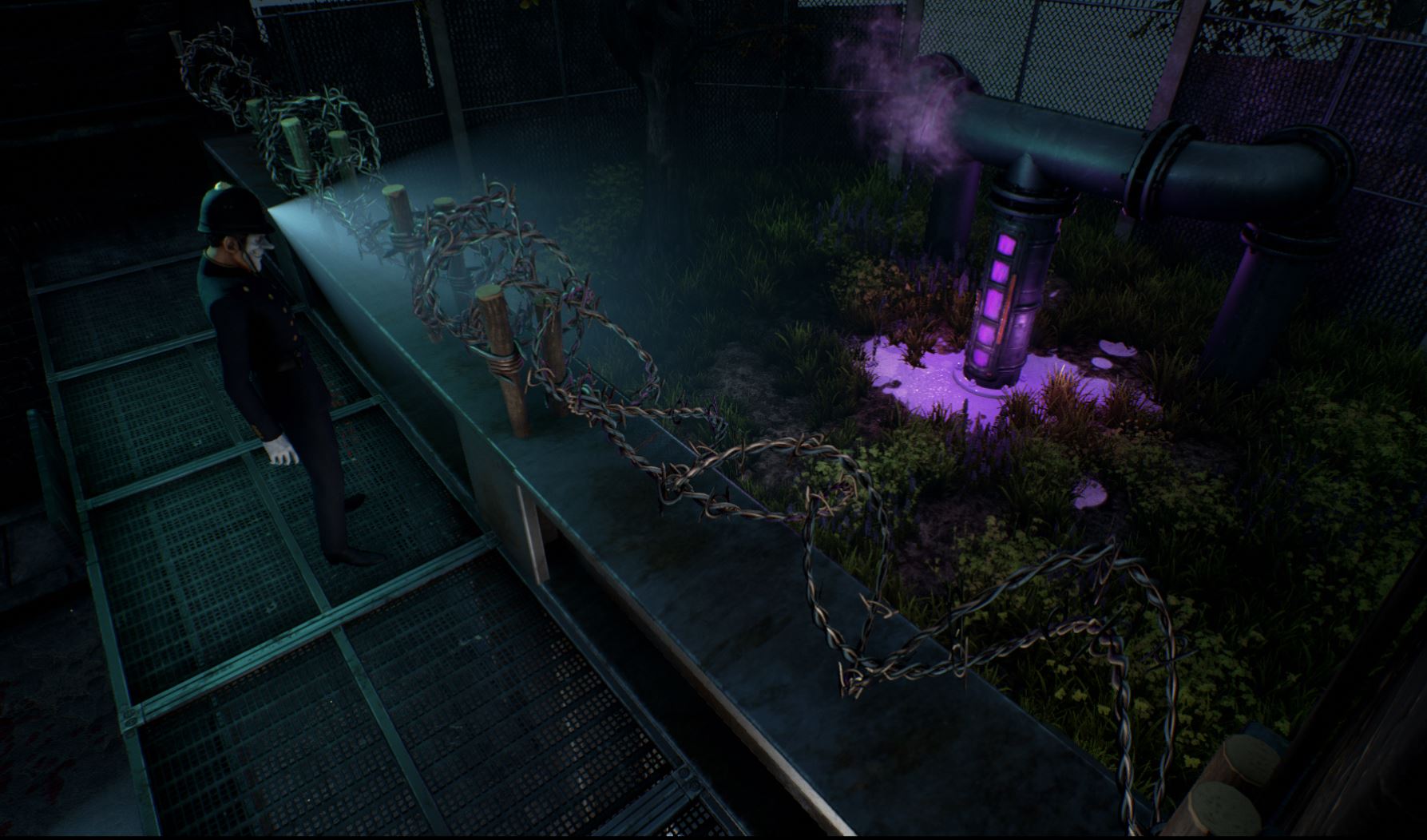 It was as though BITS finally found it's place in the Wellington Wells, she had purpose, and with that as her inspiration, she began to blossom into the level you guys play today.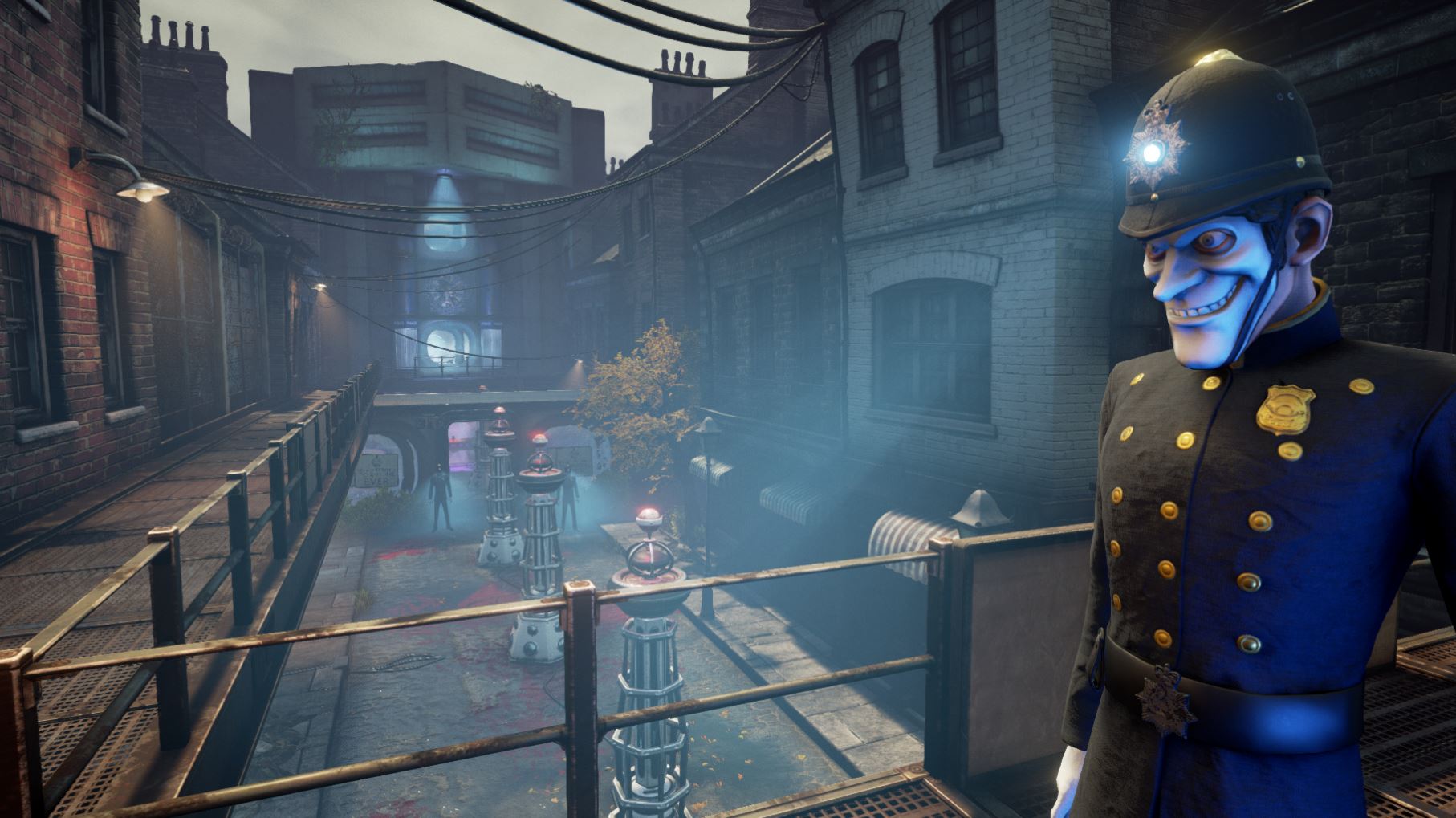 Here we see the level just before Art was given the task to make it pretty! (Sorry BITS, fwiw, I thought you were beautiful) This would eventually become the version you guys are playing today. But nothing lasts forever, right?
BITS outgrew herself once again, she recently began to present potential problems with our world generation and she had a nasty habit of blocking the flow of traffic due to the addition of the police station at the rear of the encounter… Something had to be done, and that brings us back to the task I had this week…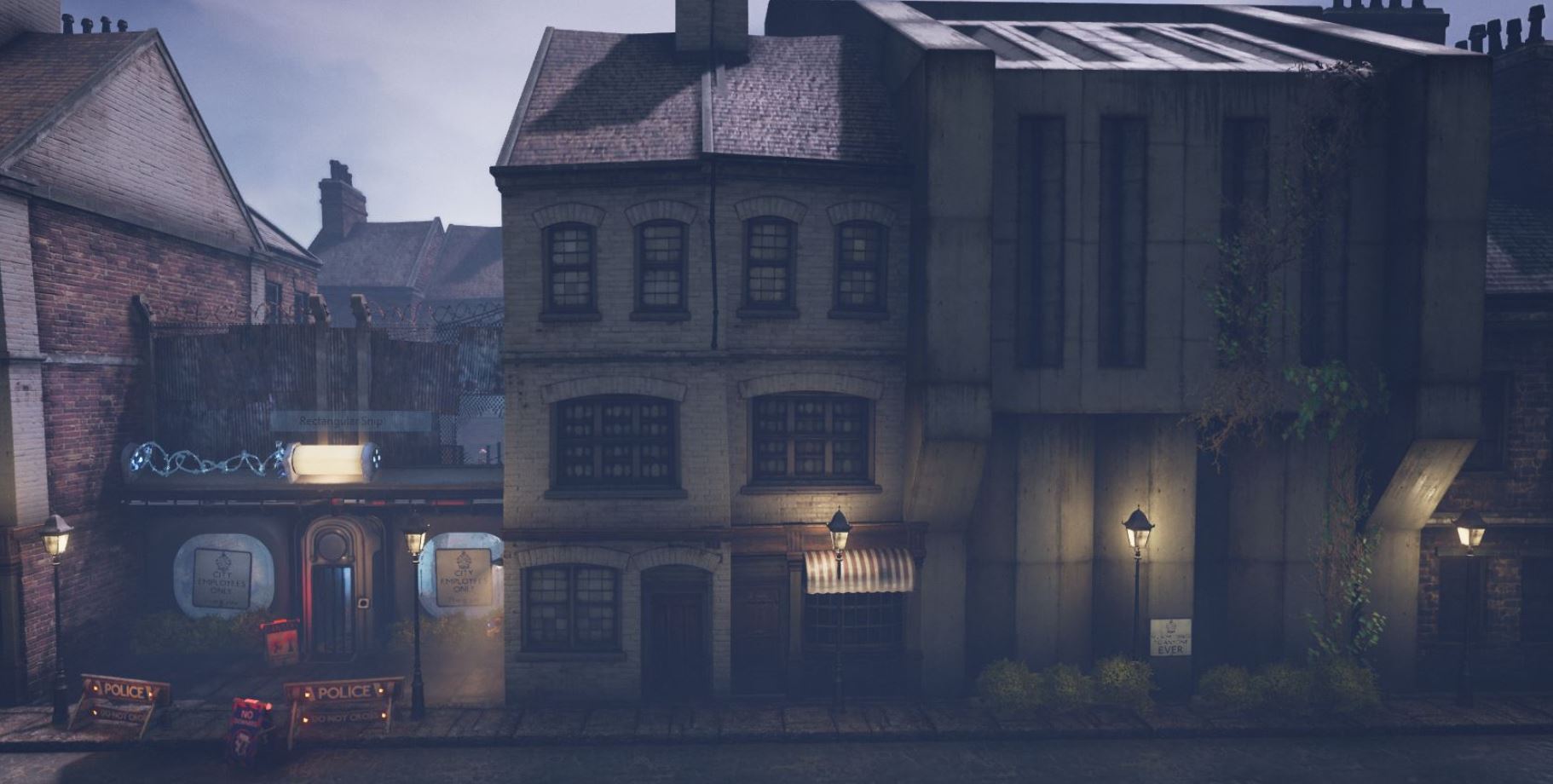 The new BITS, ready for an art pass and hopefully her final resting place… And configuration.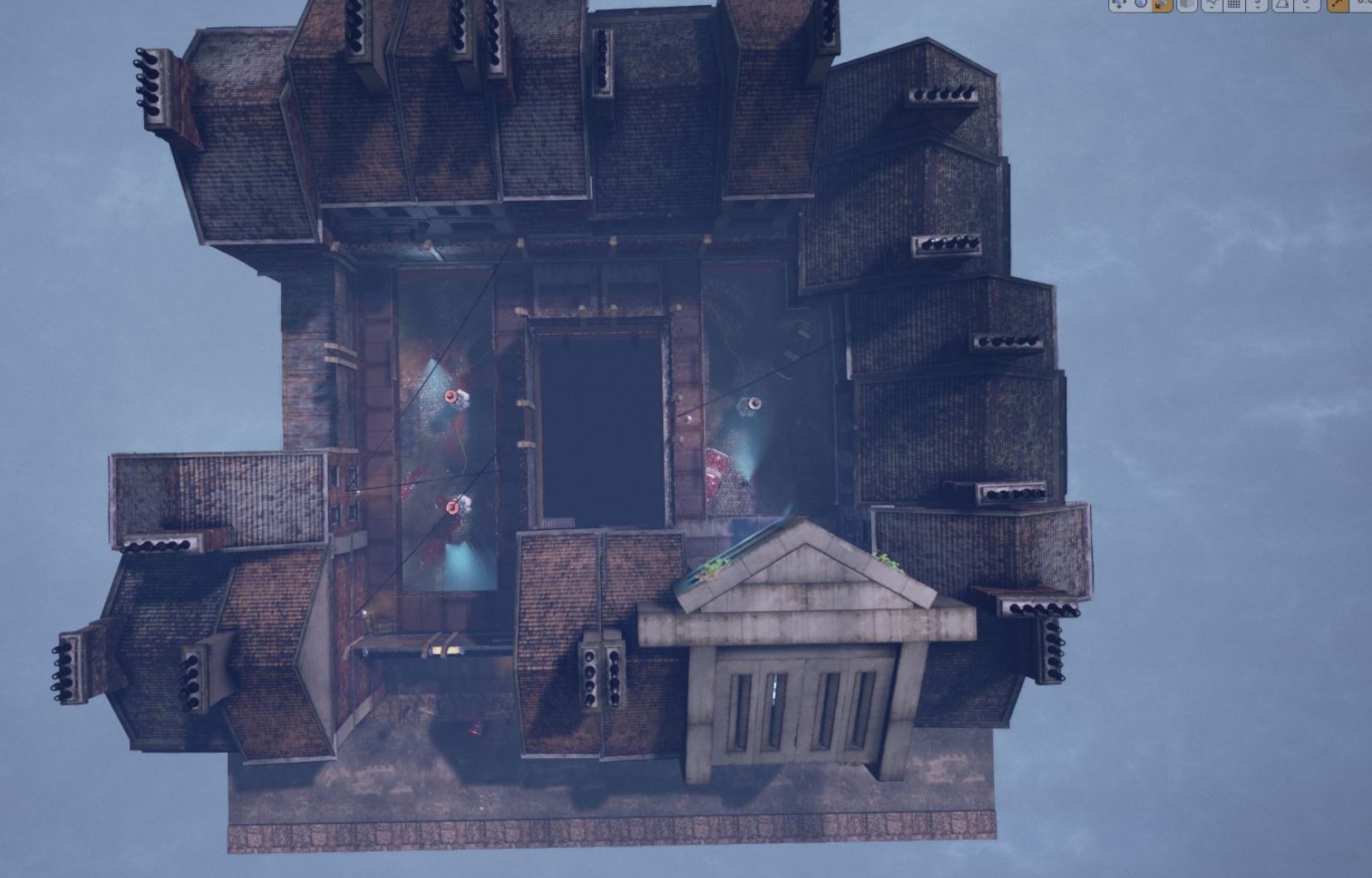 As you can see, I chopped her in half, flipped her around and stitched her back together again.
She's a little ugly now, but everything is there; all the parts that made this level from the first iteration are still present, the gameplay is similar, and there may even be a few new surprises.
All in all, BITS is alive, doing well and is expected to make a full recovery.
Have a great weekend everyone!
Compulsion Team
Discuss this post here