Weekly Update - Maidenholm Update on 29 March!
Hey everyone,
The Maidenholm Update for We Happy Few is arriving on PC on 29 March. Here's a sneak peak at what's in store:
The update will drop on Steam and GOG first, and the Xbox One version will follow some time shortly after. The Xbox One version has been giving us a bit more grief thanks to the huge amount of new content, so it needs a bit more time in the kitchen. Please give a round of applause for Clara and Sarah who created this amazing teaser.
We are also a bit surprised because today's post marks the 100th update since we started updating our Kickstarter backers with progress. This evolved into our weekly journals, so it's a good a time as any to say "100 journal updates"! As a result, we've made an extra effort this week to post up some interesting material. We hope you enjoy it.
Production
Sam
Holy shit, 100 updates. When we started doing this weekly journal, I don't think we fully understood the change it would bring to our studio. It's very unusual for a studio to do this (and thank you to the team at Facepunch for inspiring us with their work on Rust), but it has become a core part of what we do. Sharing this with you every week is one of the highlights of my week. Thank you all for reading and supporting us.
As you can see above, we are going to be bringing the Maidenholm Update to you next week. The team has done incredible work on this update, and it sets the stage for the work we'll be doing this year. It feels like we've ramped up to full speed on the game, and the next couple of updates will be even bigger.
I'd like to write at some stage about how we are building our updates, to give you some insight on our production processes. However, time is a little tight as we prepare for the update, so instead I want to show you something Naila and I put together on Thursday: our Early Access update history.
http://steamcommunity.com/app/320240/discussions/0/135512305401468442/
I figured it might be interesting to publicise our update history, so anyone can look back at the updates we've made and read the build notes in context. We have also opened up a couple of public branches on Steam with old versions of the game, which you can download and play at any time. Probably this won't be everyone's cup of tea, but for those of you interested in game design (or digital archaeology, as I like to say), we'll be happy to answer questions about why we made the changes that we did.
Ninja Team
Clara
Since it is the 100th update (hurray! an excuse for cake!), I figured I would show you a bit of what is happening right now in the ninja department aka the videography department (This was not supposed to be a thing but since it slipped through a few weekly journals ago…).
With the arrival of the Maidenholm Update, I have been busy working on videos, videos and more videos, in-between the weeklies and the PAX report.
As you guys probably saw today, Sarah and I did a very tasteful teaser for the update coming next week. It took some storyboarding and designing here and there, a couple of coffees and a lot of giggling but we are pretty happy with the result!
We really hope you will enjoy it and that it will make for an exciting interlude before next week's update.
To this end, I have been working on the big update video. Sarah and Sam went back behind the mic for a new round of upcoming features and improvements, all condensed under 5 minutes... which was not an easy task this time. Hopefully it will give a good insight on what awaits you in the Maidenholm Update!
And now, let's talk about that cake.
Design Team
Adam
Update 100, huh? I've been continuing work on one of our underground encounters. A Jubilator boss fight! This week I've been reworking the puzzles in the area and having the other designers playtest them and giving feedback. I also received feedback from our design director, David in the form of "yeh…. It's alright I guess", which is a monumental achievement.
I'll be recording a full walkthrough of the level for Clara so she can work her magic.
On the super secret side, I have been working on a major location for the story mode. Needless to say I cannot mention exactly what it is, but it's going to be sweet.
Antoine
100 updates. That's 100 weeks and boy did the game change in the span of a 100 weeks. To underline this let me scavenge some pictures off the good ol' hard drive to do a quick retrospective of one of the levels I worked on extensively: the house of curious behaviours. I got the concept from David around mid February 2016 and it was supposed to be this small encounter taking place in one of the "regular houses". You'd hear some suspicious noises and eventually find a room with people shocking themselves with the Shock Batons. Being a huge fan of Deus Ex and Dishonored I thought "ohhh I get to be the one making the whore house level or the red light district area". Always loved the wrong ambience of the Golden Cat level or the Red Light District in Mankind Divided. So I thought we could push the concept a little further and turn this into a full fledge club. There was a part of the level (the entrance) where you had to pay 5 coins in order to be invited inside, something we eventually axed because it didn't correspond to any of our gameplay pillars (conformity, stealth or combat). I'd say that early access facilitates those kind of decisions. We get to see people play our levels on Youtube or Twitch in the comfort of their home and comment openly on what they like or don't (sometimes they hold back when coming in the studio for a playtest). Here's some old greyblocking pictures of the start of the encounter: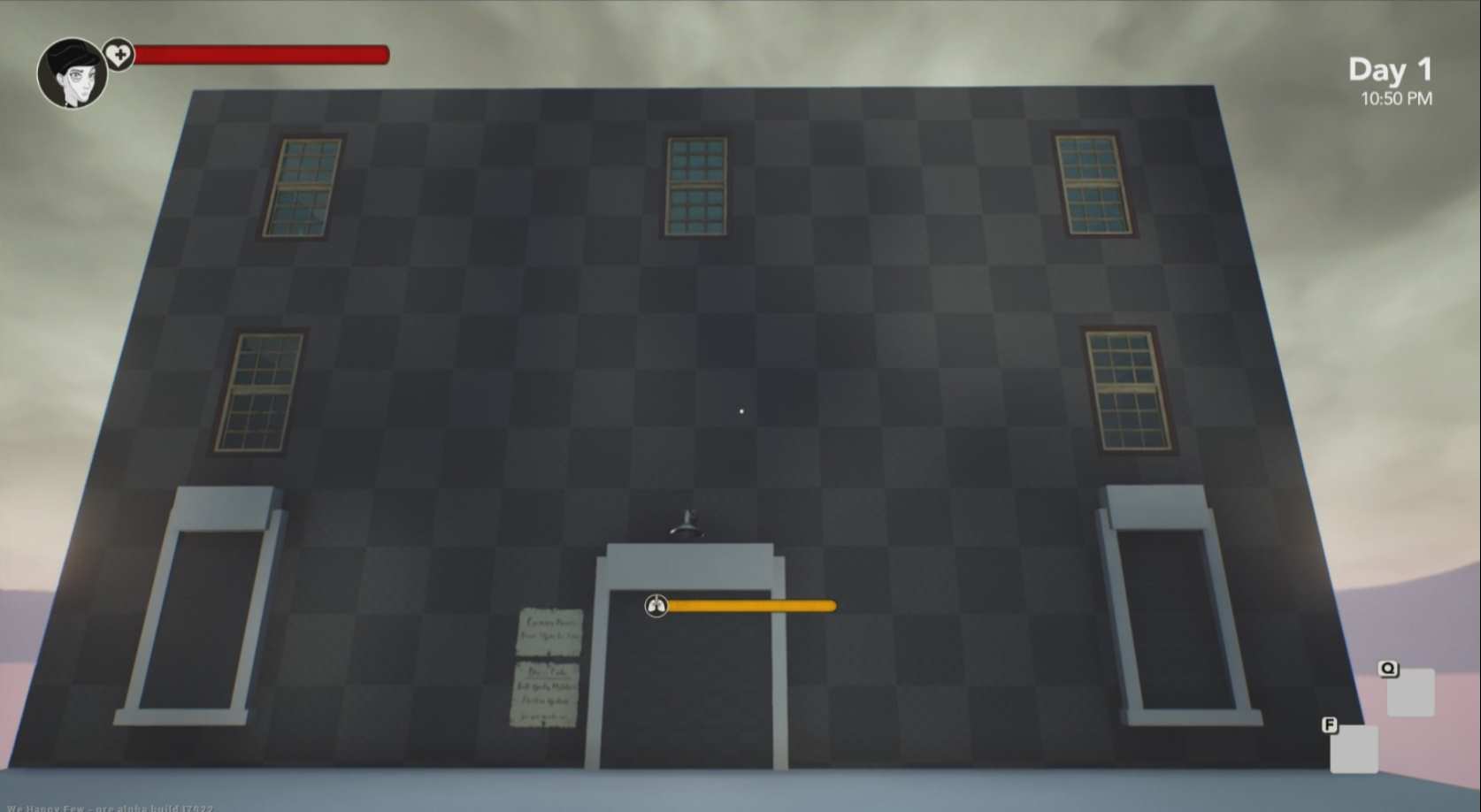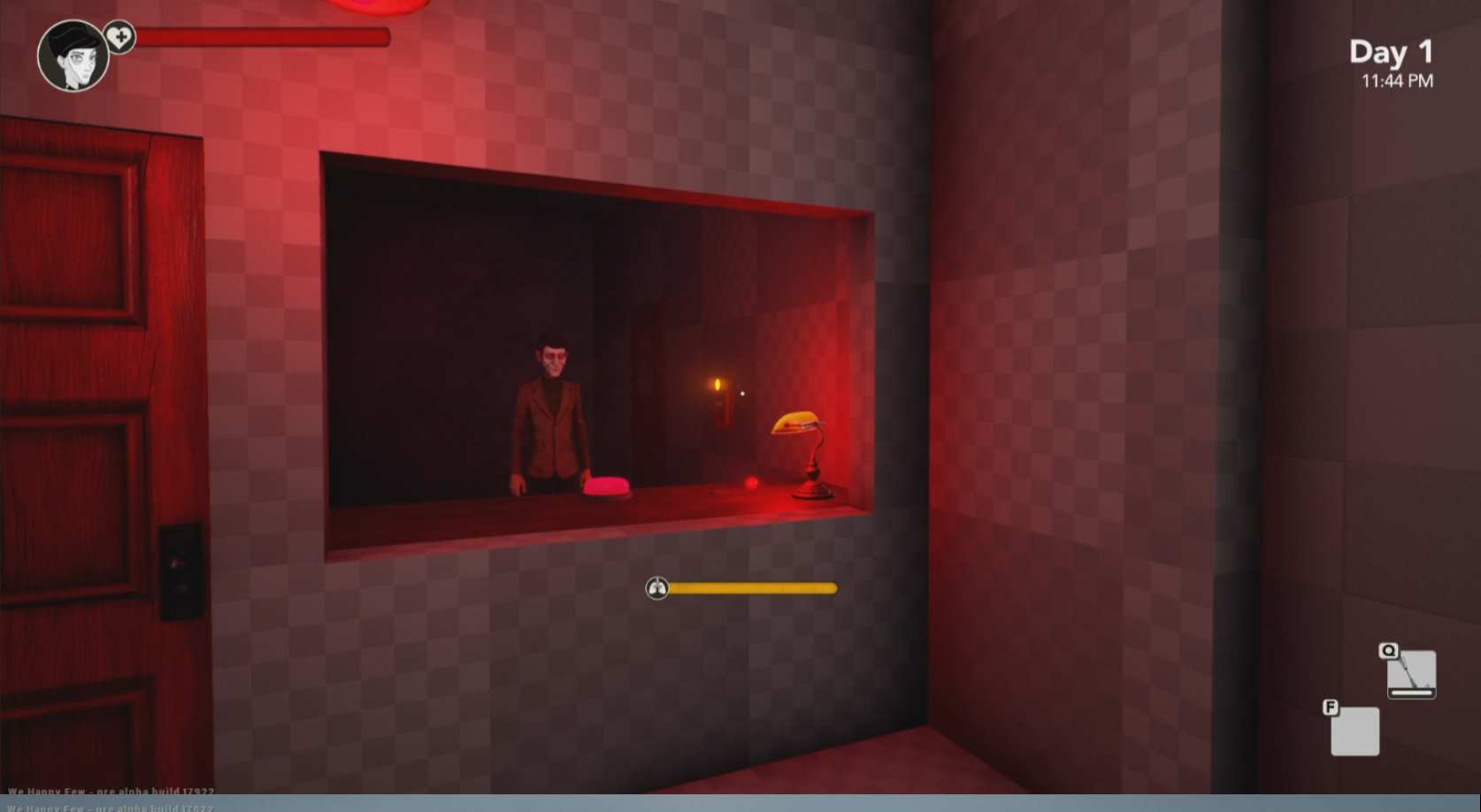 I decided to add a little courtyard in front of the house so that players would feel a little more free to experience the encounter without having to always be confronted by the Bobbies patrolling at night. The pay fee was replaced with a simple button that only Constables are supposed to use. This echoes our conformity pillar. If you don't care about rubbing people the wrong way you'd simply click the button and open the doors giving the red bobby inside a reason to smash your face in (because you didn't follow the rules!). If you do play along the conformity axis you'd probably be talking to the red bobby and see what he's got to say and look around for clues in the environment as to how to get in with minimum inconvenience.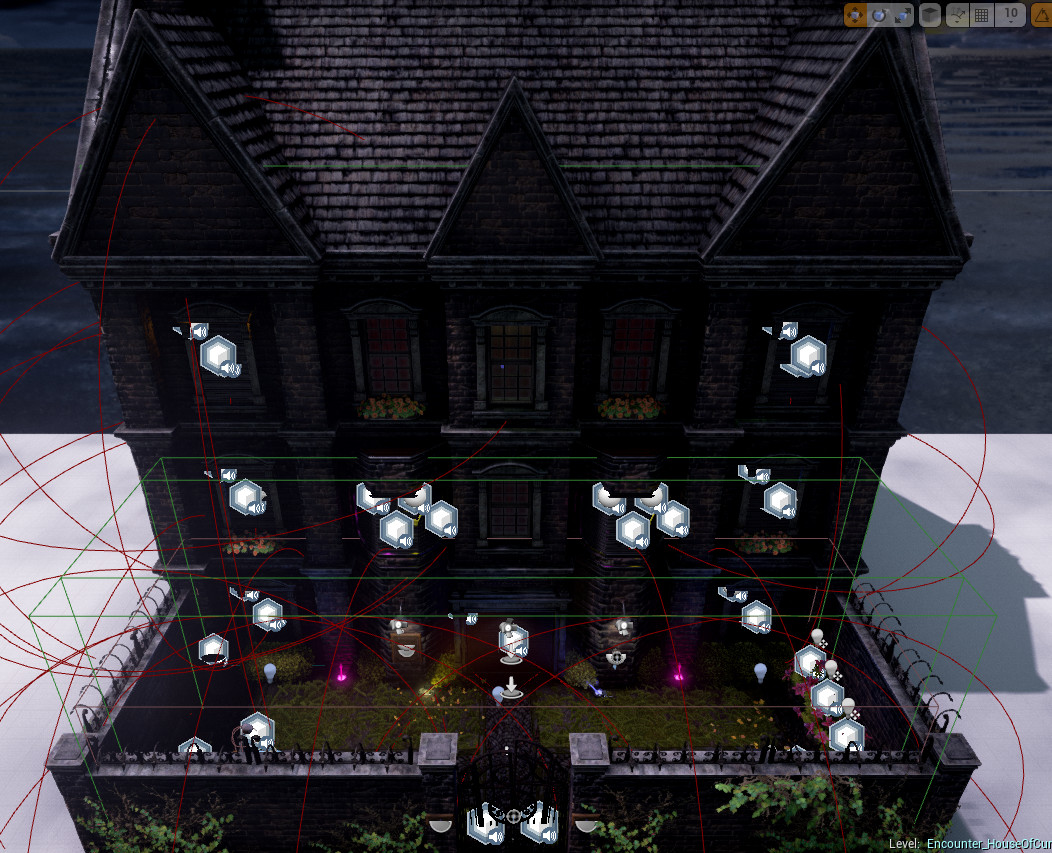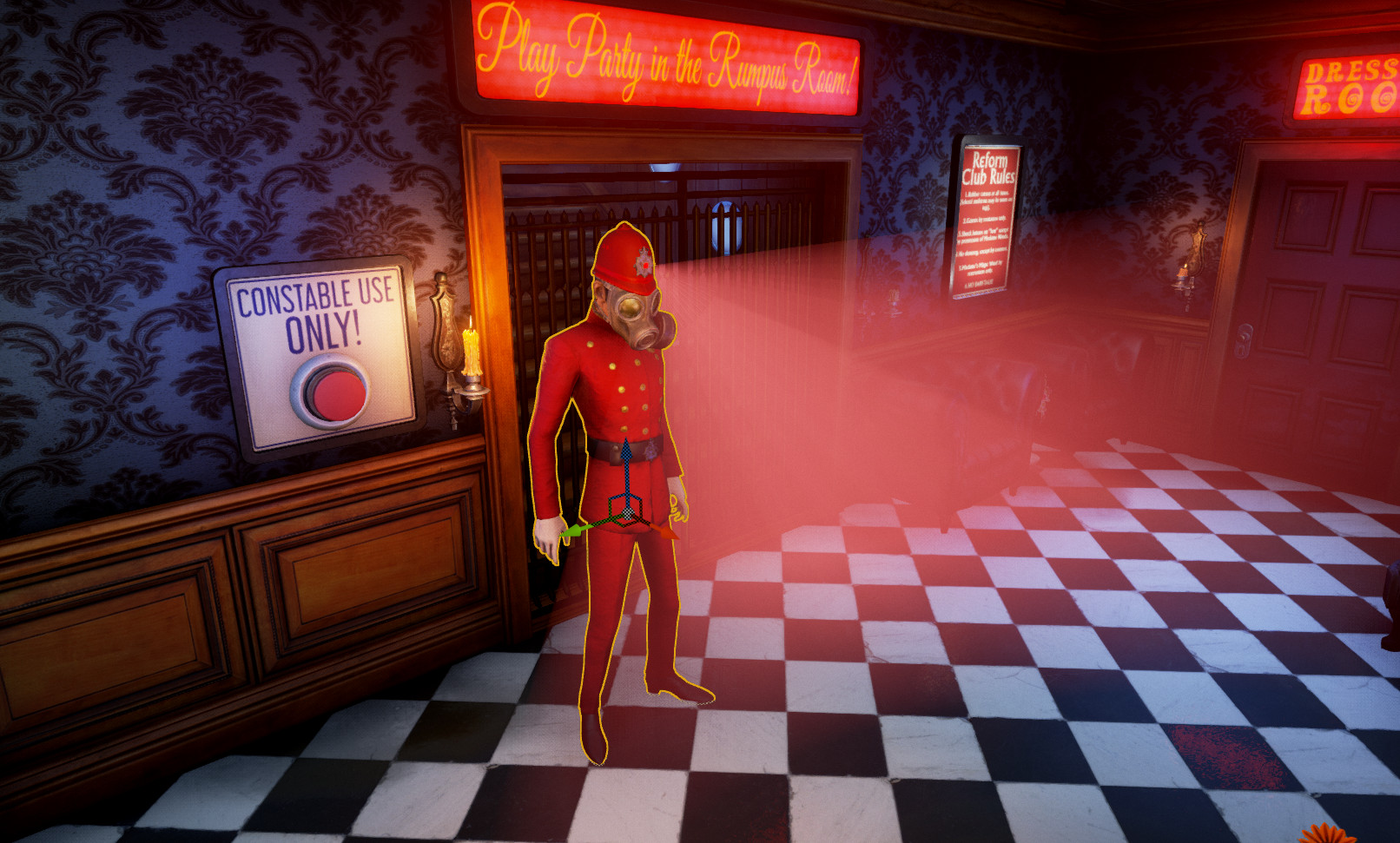 Hope you like the changes in the update next week! If you ever stream the game or post let's plays on Youtube I'll be watching… and analyzing your thoughts and behaviors… (creeppppy). I also want to thank all the people of the team who worked really hard on this level. There's over 6 people that were involved into realizing this encounter (average amount of people involved for any encounter to be honest).
Art Team
Guillaume
Hi people!
This week and the last I've been working on our new systemic encounter system that will allow us to fill the new open areas between hamlets. Those are gonna be bunkers or cellars that will spawn randomly in the world, differently each time, giving you new challenges and the most important stuff... loot!!!
Oh and I also did a coffee vending machine as a bonus.
Have a good weekend.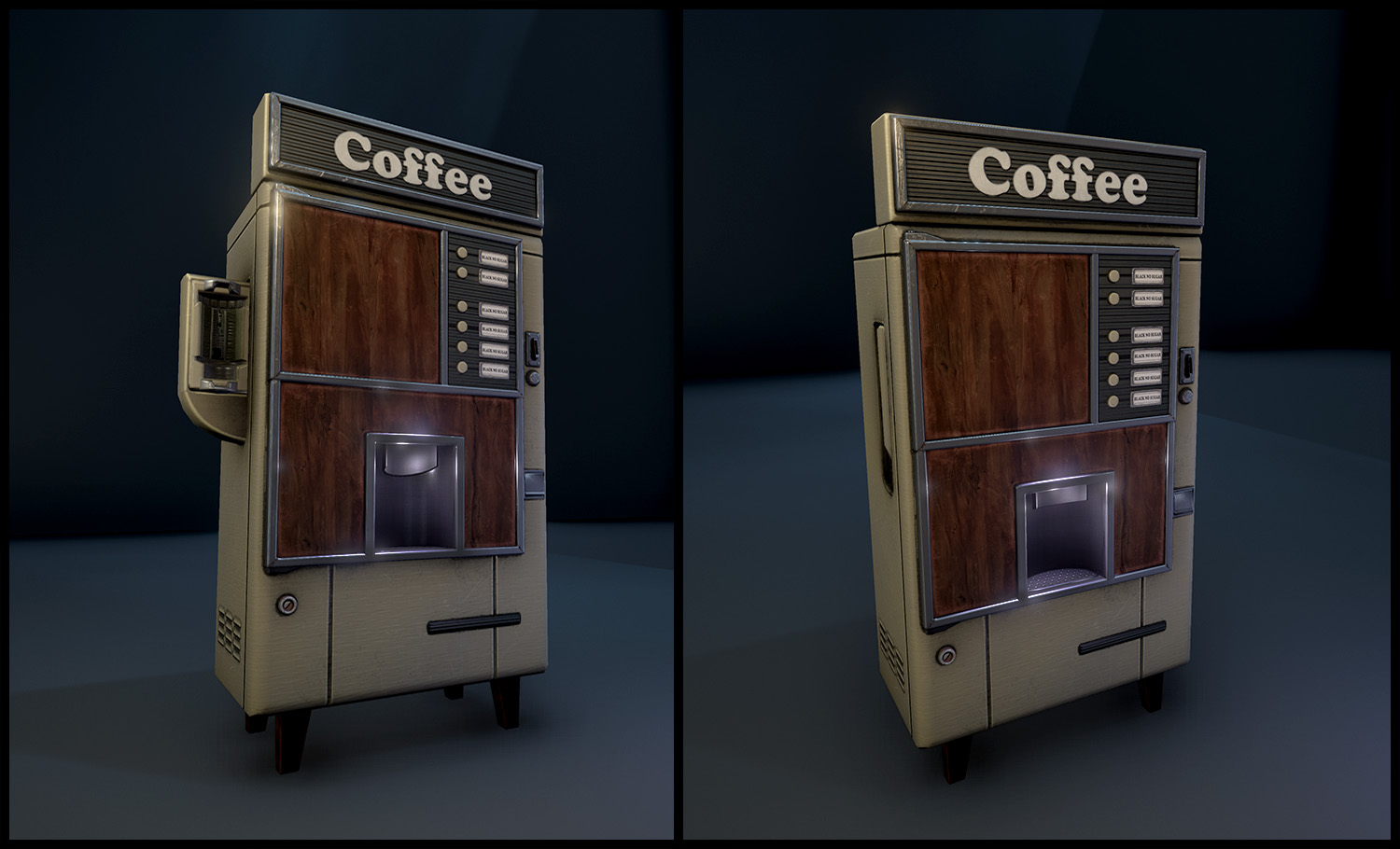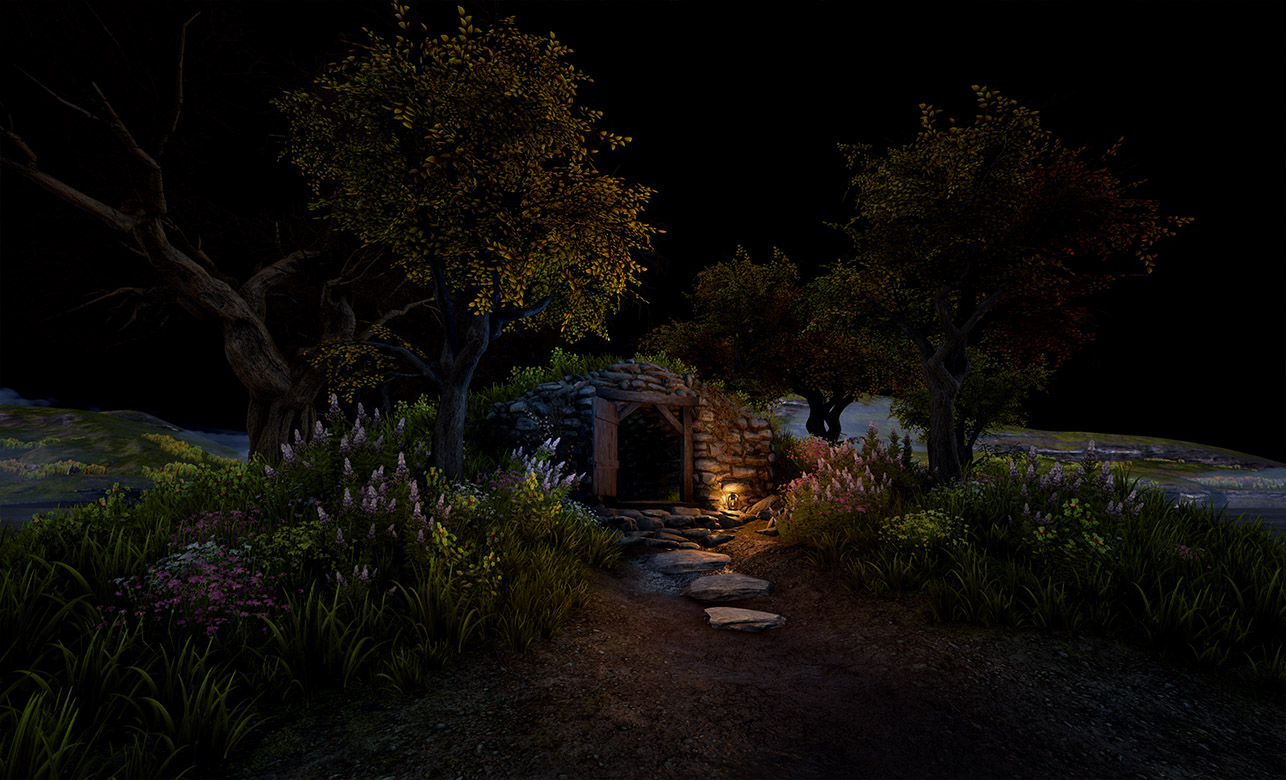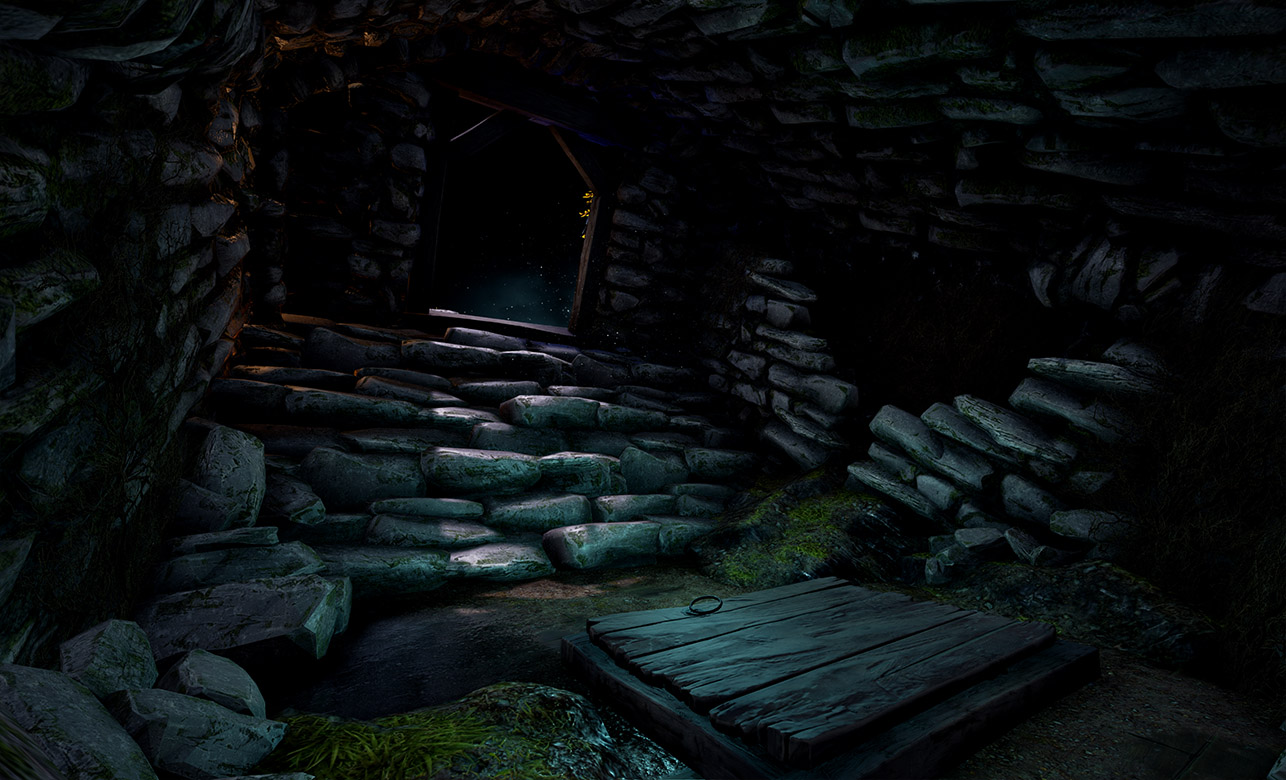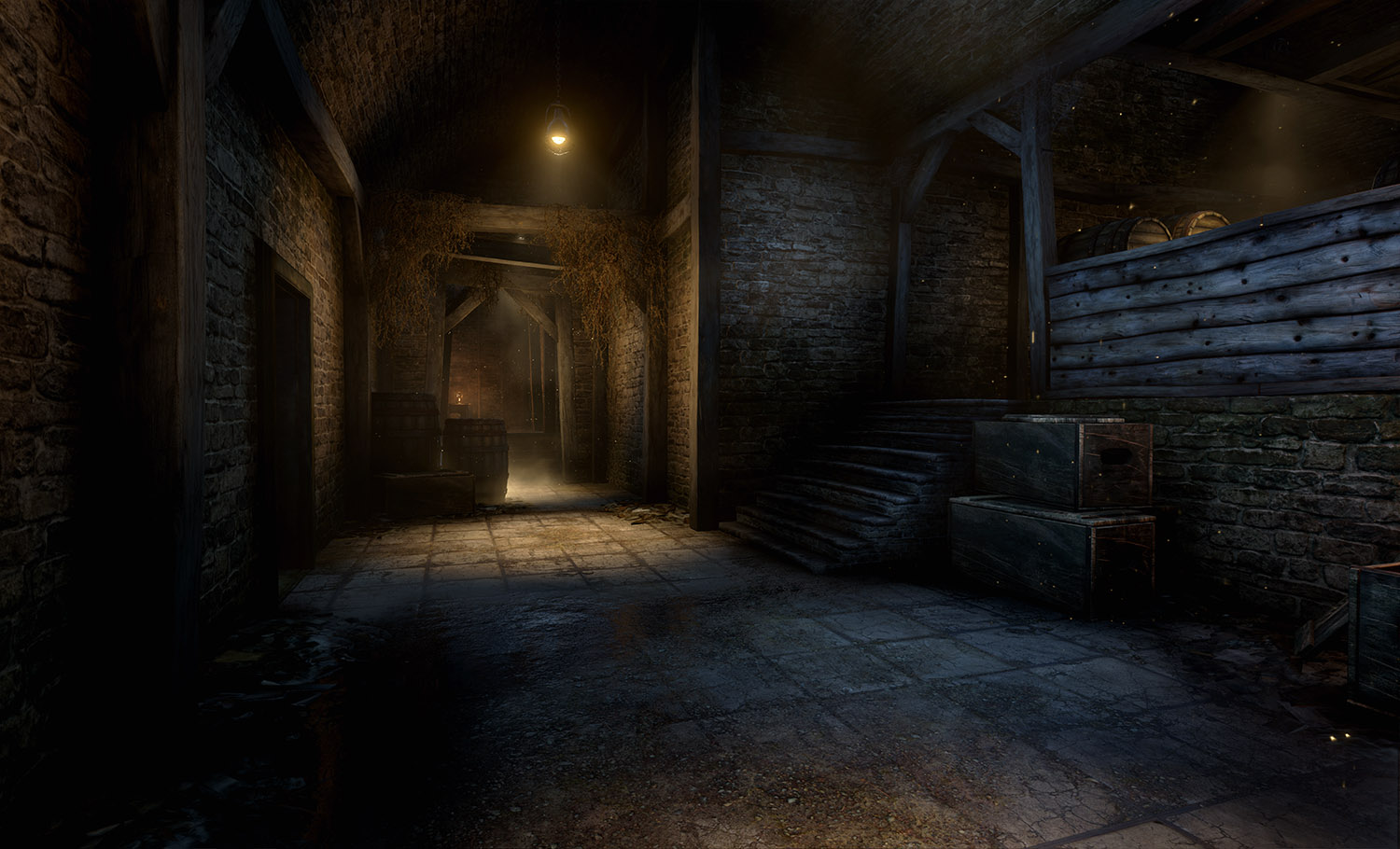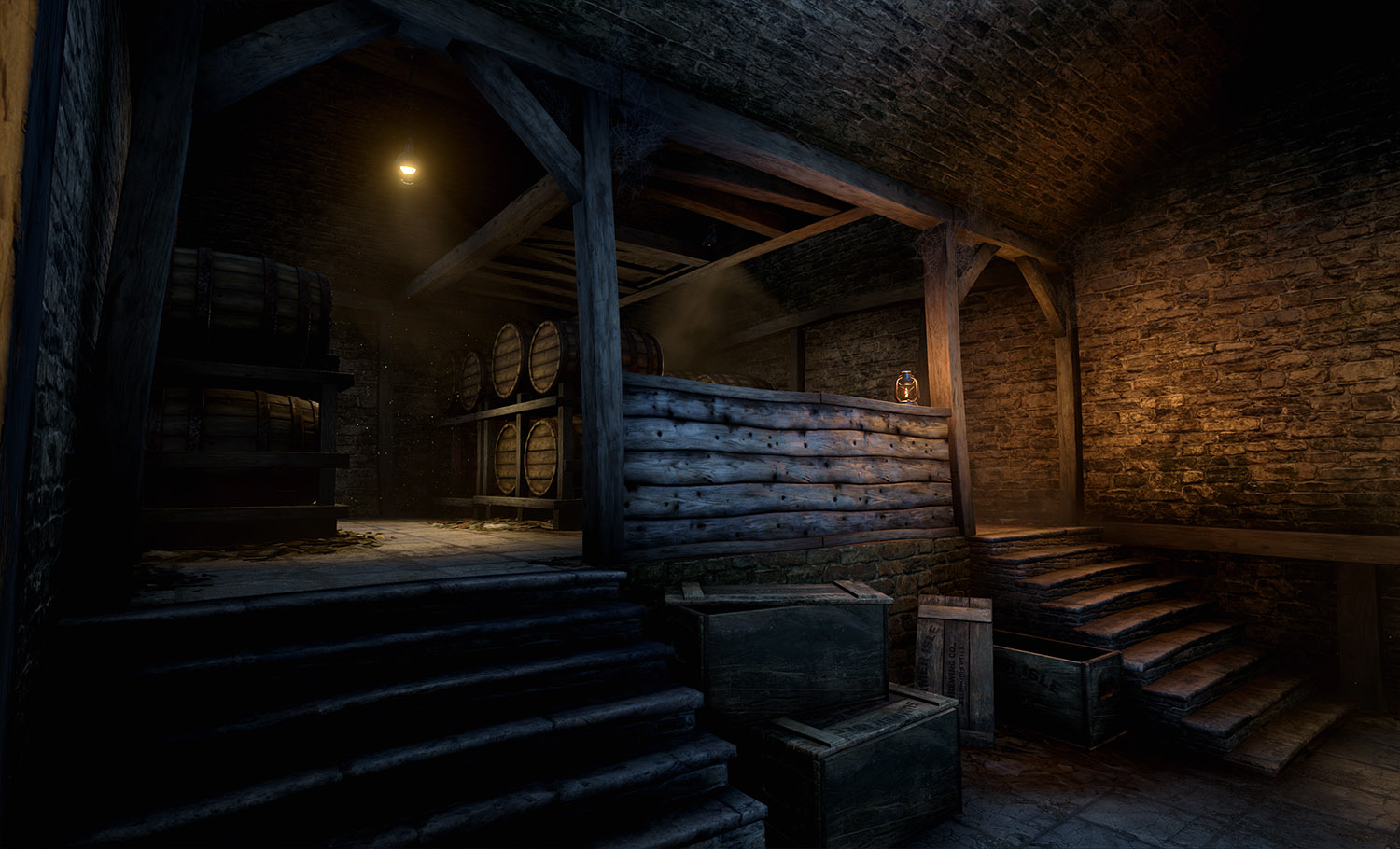 Carylitz
I have no pretty pictures with sick props to show this week, but I have been working on a big prop! I had some technical and pipeline problems but I'm sure it will be ready to show next week!
Sarah
Good news on the UI front! We're charging ahead with our redesign, and I've had my head buried in the Inventory Screen all week. I've been meeting back and forth with David, G, and Whitney to make sure it's headed in the right direction. The fact that David wouldn't throw it in a dumpster fire means we're in a great place! Striking a balance between having a satisfying aesthetic and intuitive functionality has been really challenging, but since it's a screen that players inevitably spend a lot of time looking at, it's important to get it just right. It's nearly ready to share, so keep your eyes peeled! Happy 100th y'all!
Emmanuel
I generally work in the shadow these days, on obscure secret conspiratorial story related massive and fascinating locations and FX but I had also the chance to do the environments for the new Hoarder House, Murder House, Butcher Alleyway, Joy control gate for the village and to redo the old place holder crafting station! Yeay!






Whitney
Hey everyone!

A few weeks ago I did a GDC talk about the art direction for We Happy Few! Public speaking is very scary but with enough practice not as horrible as I had once thought. I might not look like I was having fun but that's just because I was worried about forgetting to say something. Anyway, I hope you find it informative!
http://gdcvault.com/play/1024239/You-Look-Smashing-Procedural-Art
Animation Team
Mishka
What's up guys. Anniversary milestone update huh? I have something to show you today! I started working on the Jubilator this week. Here are some first locomotion animations for this corpse-absorbing-monstrosity of a machine: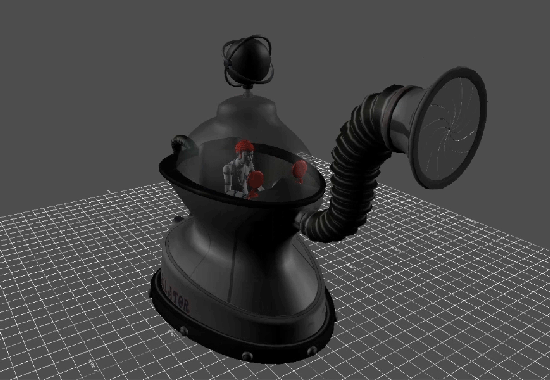 This thing is meant to collect dead bodies at night. There will be other animations for it very soon once we finish the logic on the programming side.

At the same time, I also started the polishing on a pretty complex story cinematic. To not spoil the narrative, we can't show it to you guys just yet. However, BE EXCITED as it will be awesome!
Vincent
Happy birthday updates!
No frolicking doctor video today, but I've continued to work on him all week.
Rémi
Hey all! 100 updates is pretty impressive! I wish I had something epic to share with you on this update. Remember the video a few weeks ago about FaceFX ? Well, that's exactly what I've been doing all week long! A few weeks ago was for RnD and finding a way to achieve the result we wanted. This week is full on production! I've been creating all facial expressions and animations for each type of bark that we have in the game! And yes, we have a lot! I then have to re-create the same animations and facial expressions for every character archetypes we have.
Just for you to imagine the scale, we have 7 character archetypes: Wellie, Wellette, Wastrel, Wastrellette, Bobby, Crier, Doctor. And then we have 13 types of Barks and Grunts. If you do the maths, there's A LOT to be done. But the end result will be worth the amount of work! NPCs will soon open their mouths and have facial expressions when they attack you! We are sure that adding this level of detail will make NPCs feel a lot more believable. Sadly, I don't have a video to show you this week, since the work isn't finished yet. But here are some pictures of facial expressions in the meantime: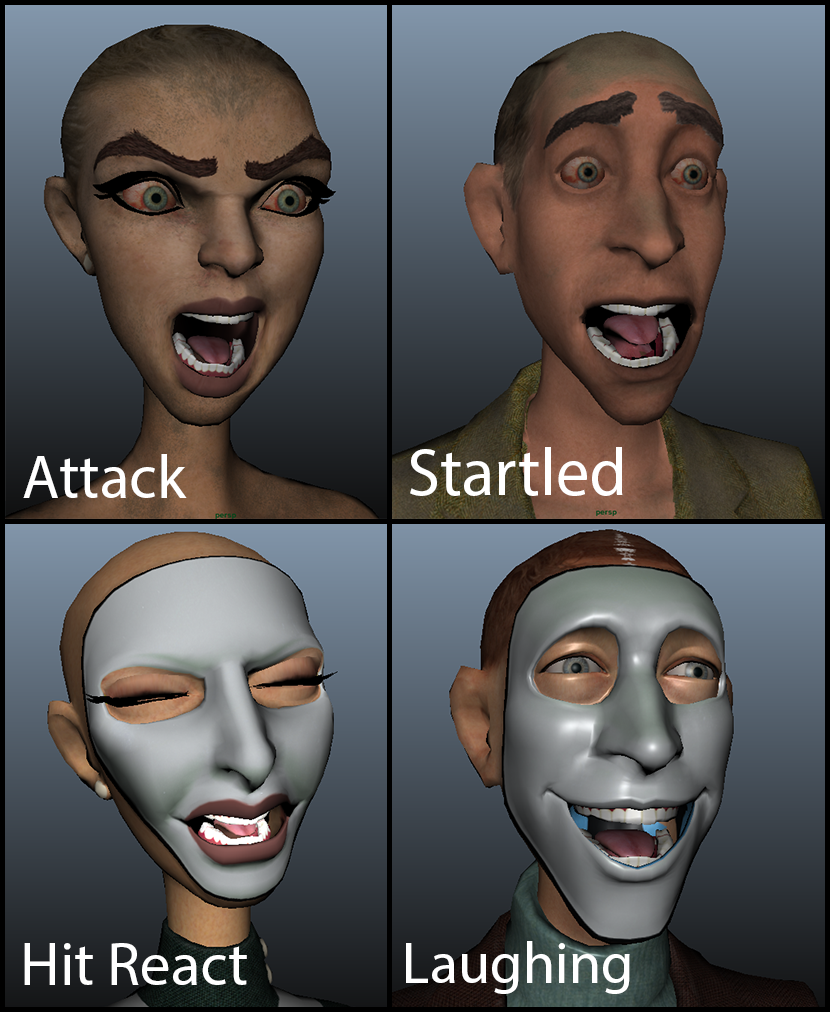 J.R.
Hey everyone. So yeah... wow! 100 updates… time goes by! It's pretty special, so I wanted to write something for you guys.
I would SO love to show you a little secret something. As you know, there's a pretty neat story under development. That's what I've been working on for the past few weeks and I simply wanted to give you a tiny peek… Sadly, some people just like to watch the world burn, and there's no way around that. (I [redacted] you Sam)
Kidding aside though, it truly is for a good reason, also not entirely under our control, and it's only going to make the reveal of the story--and the characters--that much better. Please forgive me for teasing you with nothing. I hope you're excited to know more!
Quality Assurance
Stephanie
Lee and I have been testing around the last few changes being made for the next update - no amusing gifs this time but here is my favorite graphical issue of the week: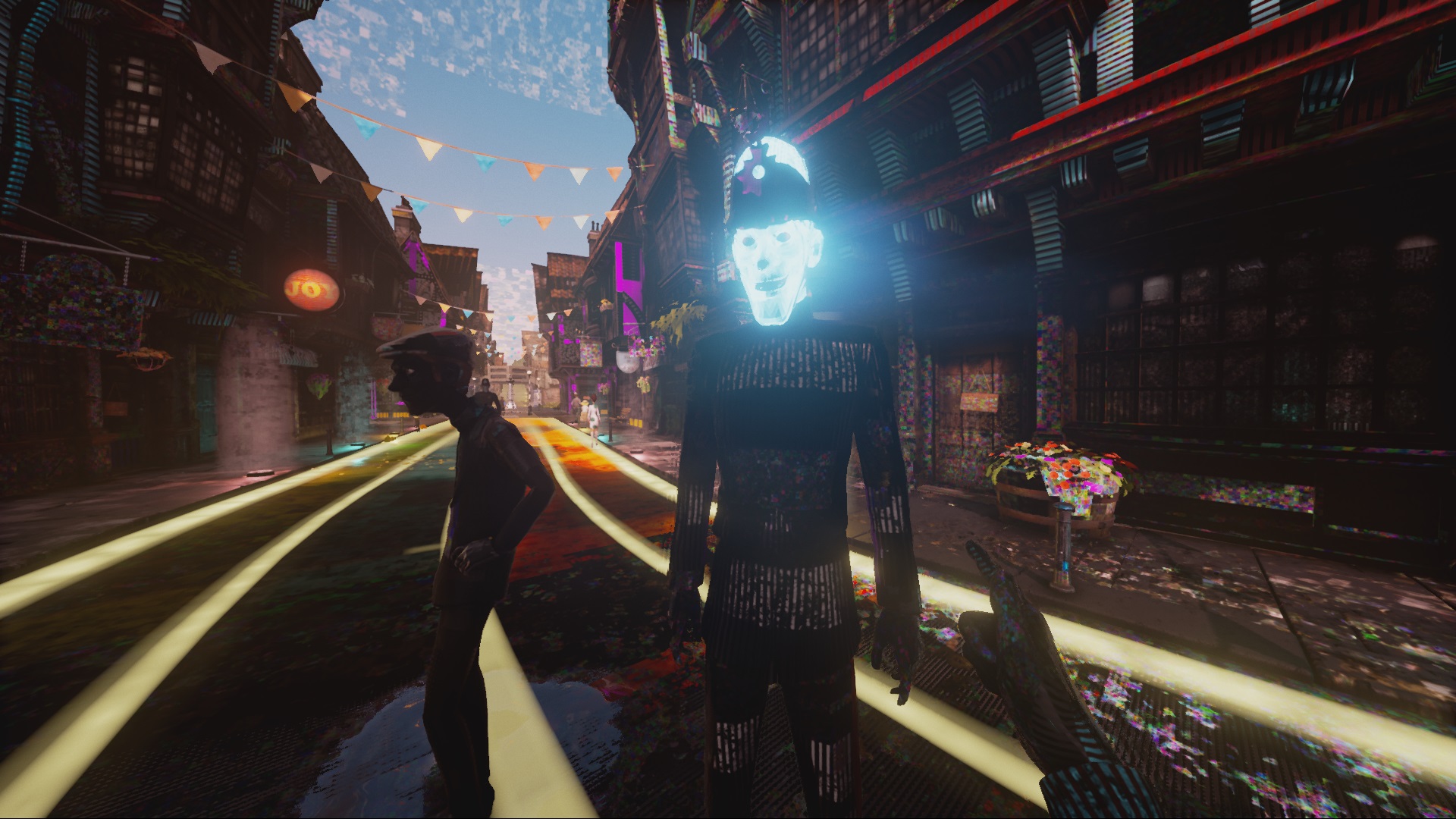 Thanks for tuning in!
Compulsion Games
Discuss this post here