Welcome!
Welcome! This is where we talk about things, like games, space and pancakes.
Howdy, Stranger!
It looks like you're new here. If you want to get involved, click one of these buttons!
Weekly Journal - 31/03/2017 - Sam's boring production talk and most importantly, arm variants!
Naila
Moderator, Compulsion Team
Hi all,
This week we launched the Maidenholm Update on Steam and GOG! In case you missed it, here is the update video, and the patch notes are available
here.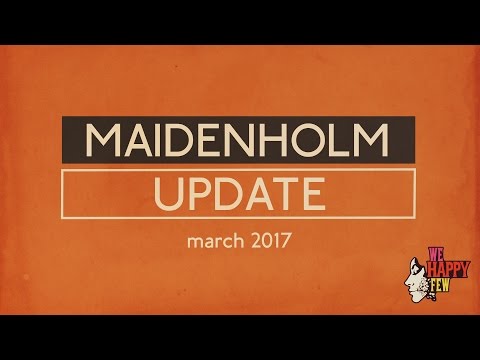 The Xbox One version still needs a bit more time. With the introduction of the new content, we've had to rework our loading and streaming systems, which is a non-trivial task. The good news is, the work we're doing now will make it faster to create updates in the future. As soon as the update is ready on Xbox One, we will let you know!
We also released earlier today a hotfix for the Maidenholm Update which should address crash and performance issues. If you have been experiencing these, make sure you are playing on version 38678 (the latest one). Thank you all for letting us know about your issues and sending us your logs, they have been very helpful in narrowing down the issues. The game might still experience some problems, so feel free to let us know and we will keep on working on hotfixes.
Production
Sam
Hi folks! I hope you are all enjoying the Maidenholm Update.
Today I'm going to talk about something that causes immense boredom in most people, but makes me super happy: production pipelines!
One of my responsibilities is to look after how the team works together to create our updates.
First, we begin by planning what's going to be in an update. This begins with David's (our design director) design, and gets built out into a gigantic planning spreadsheet:
These are some of the encounters we created for the Maidenholm Update. X means done, and a gap can mean we have more work to do on it (in this case we want to do more work on the digging spots in a later update). Also note that these are dev names - the names you see in game are what they become after Alex has his way with them. We look primarily at encounters because these are the critical path for an update, and they require ~80% of the team to work together.
You can see here that we have a ton of columns referring to the different parts of each encounter. We generally have one level designer, one artist, and one animator who look after any individual encounter. We also have Alex and Lisa working on environmental narrative and VO, Sarah on all the 2D art, Valentino and Chris on our sound, Weili (who you've probably never heard of) working on VFX, David checking in on the design at all times, Whitney looking after the overall look, QA testing for logic, save/load issues, stuck bugs, etc, Matt and the programmers looking after everything working correctly, and me making sure that people aren't blocked on what they need to do. All in all, it's quite complex.
Over time, our production has evolved into this:

Each column refers to a 4 week "sprint", and we have 3 of these per update. Each sprint represents a different phase of development, and each team has different focuses inside each phase. We're currently at the end of phase 1 for the next update. This helps a great deal when we're planning the overall production, for example, if art isn't needed on update content in a sprint, they can work on story content.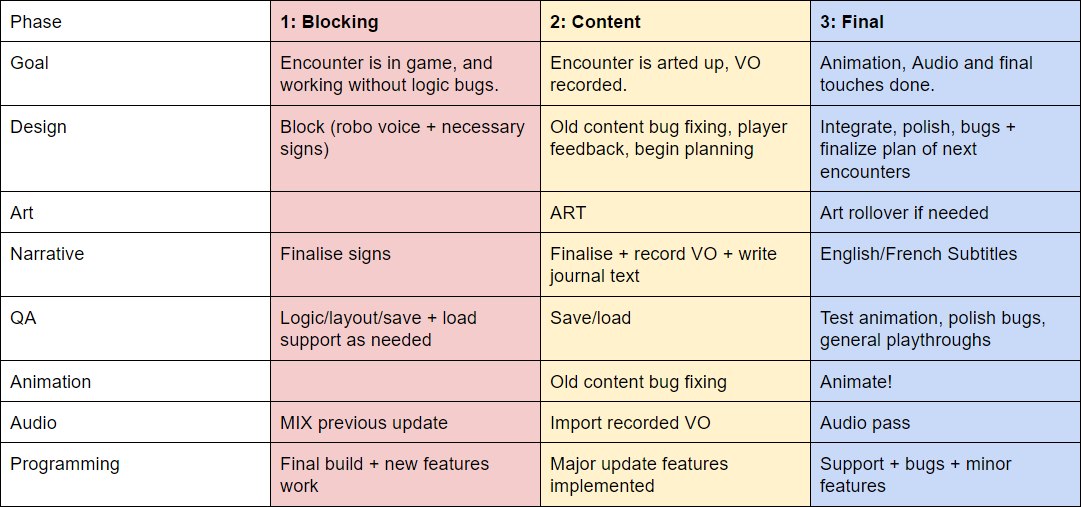 While we're not a super agile team compared to pure software development, because we have an overall plan/design we're working towards, this system makes it easy for everyone to understand when we'll be doing a certain thing. It's easy for us to respond to player feedback – eg by fixing/improving encounters in phase 2 – and also bring new content in an efficient way. \ As you may expect, it isn't always as clean as these charts make it out to be. But having the process and being flexible is much better than not having one!
Narrative Team
Alex
I've been writing encounter dialog this week. Yards and yards of it. When we started this game, we had no idea how much dialog was going to go into it. The first few encounters had very little. But you guys seem to like run-ins with strange people. So I just finished an encounter with 180 lines of dialog. Can't tell you what it is, but if you liked the rat piñata, you're going to love it.
Art team
Carylitz
Update week yaay! I have been watching a lot of streams and youtube videos, it is amazing! But well as I promised last week, I finished my big prop and did two more. I won't tell for what these props are for, but I can tell you that David and Whitney are behind this crazy idea and guys, I gotta tell you, their imagination has no limits. Hope you like them and if you have any guesses on what the props are for, let us know!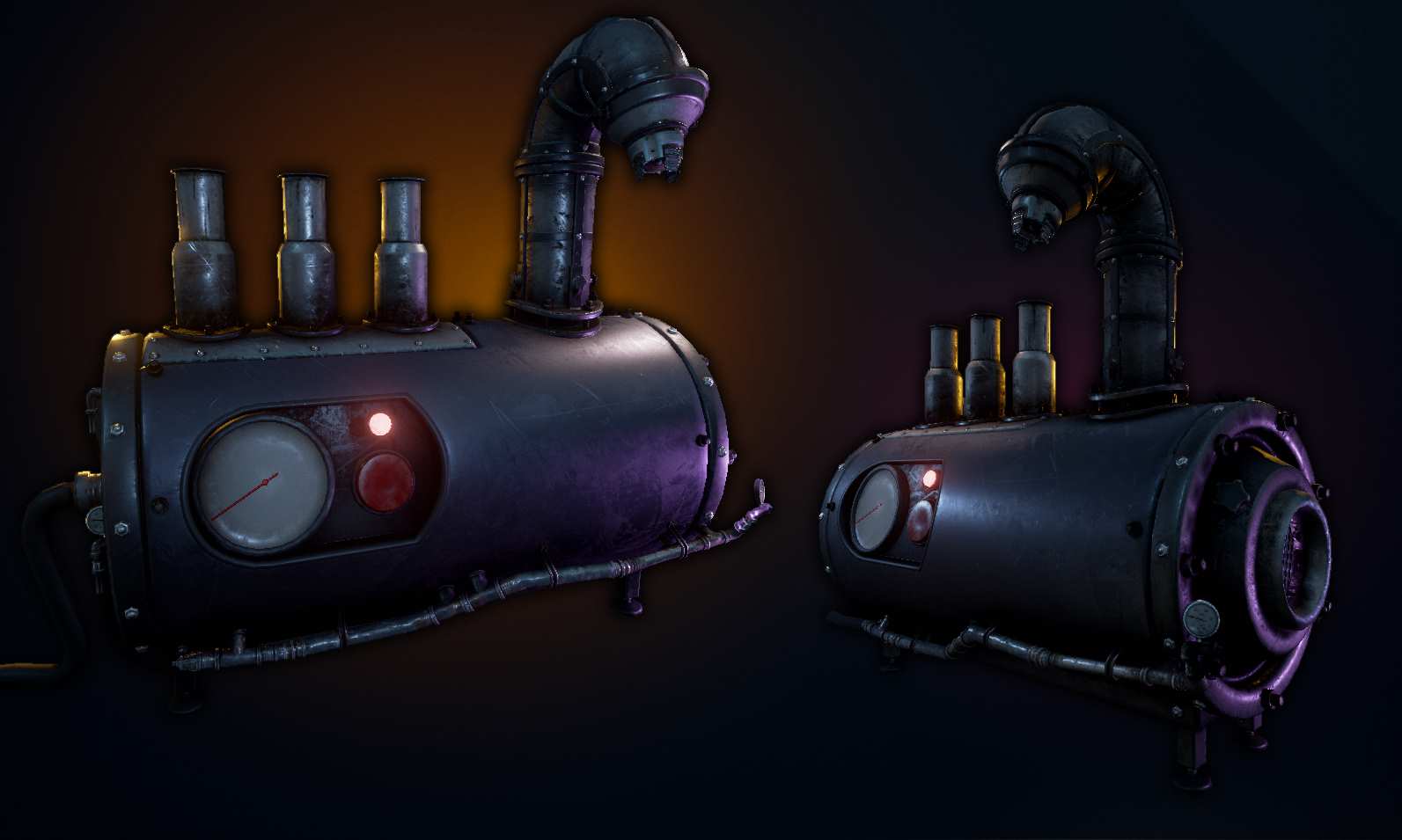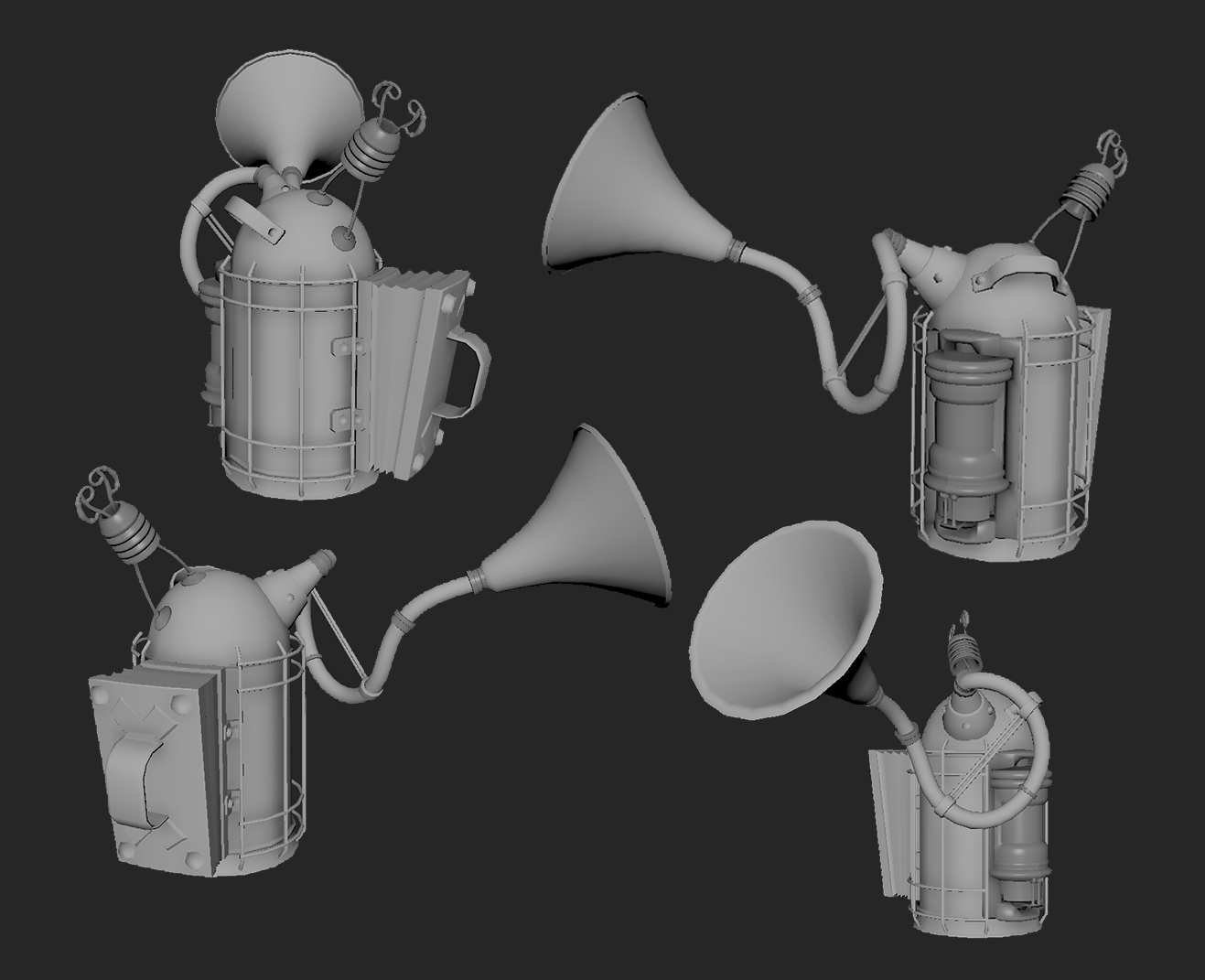 Marc-André
These past few weeks I've been working on props (objects). It had been a while since I had done so much modeling and it is really cool to get back into it. Notably, I've been working on very special machines, one of which is called "The exsanguinator". I'll let you figure out what this one is used for. ;) I also worked on a wheelchair and a silver welding exhaust ducting pipe (yes, it's the true name of the thing).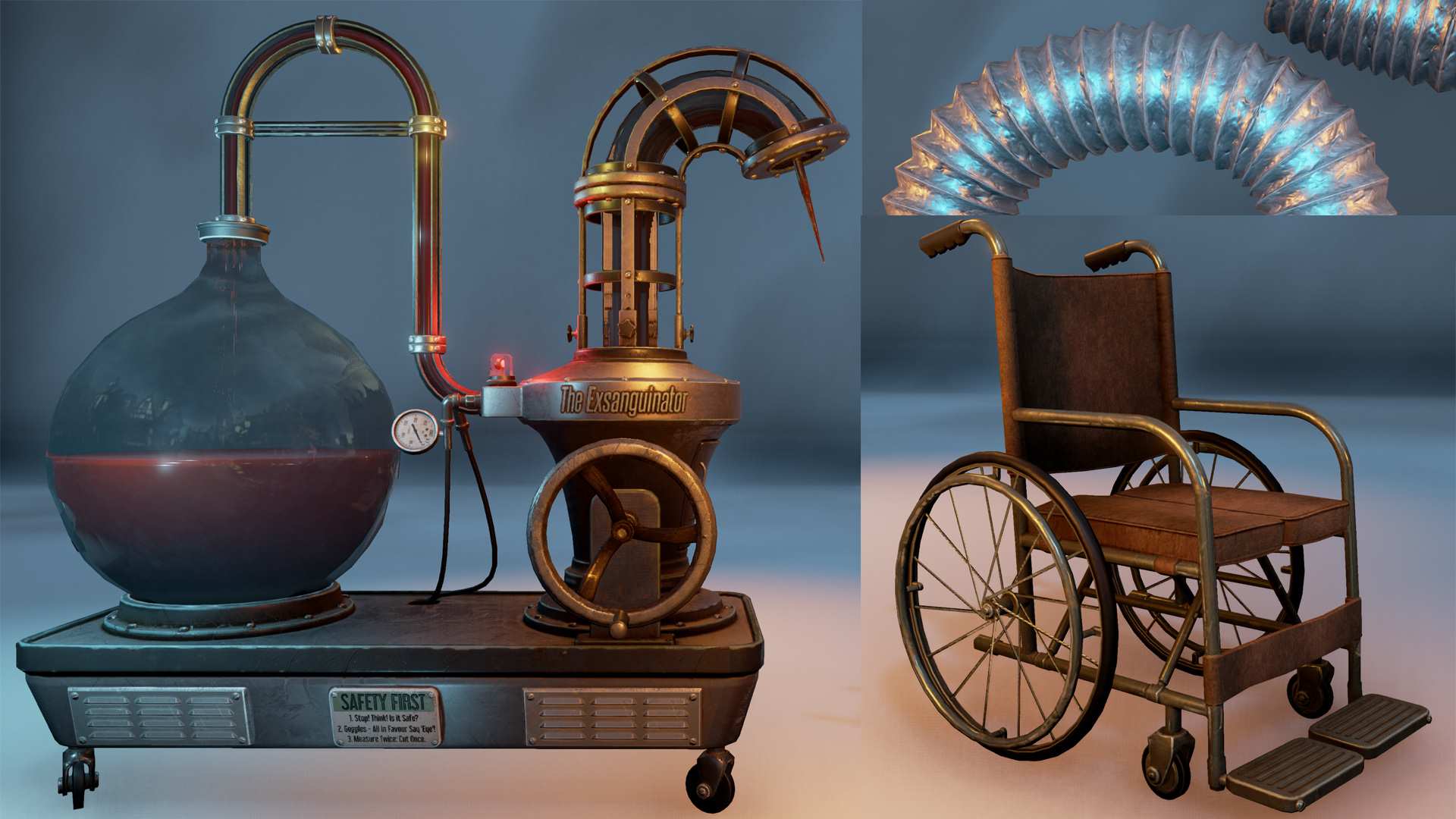 PS. New sadistic machines coming next week!
Emmanuel
This week I did exactly what Whitney told me to do and so I did great things! They were a lot of back and forth between concepts and modelling and the final result ended up just as planed and faster than expected. The statistics conjunction of the retroactive signal estimation determined that the creation curve is strong.