Welcome!
Welcome! This is where we talk about things, like games, space and pancakes.
Howdy, Stranger!
It looks like you're new here. If you want to get involved, click one of these buttons!
38616 - The Maidenholm Update - PC (Xbox One shortly after)
Naila
Moderator, Compulsion Team
Hello everyone,
We are delighted to present to you: The Maidenholm Update for We Happy Few!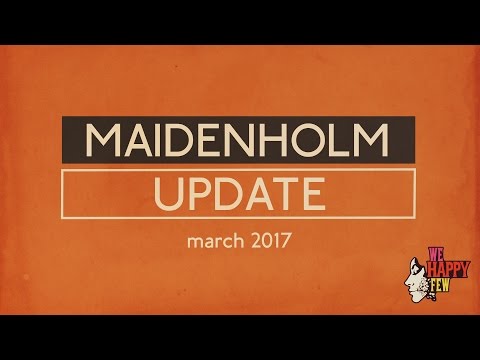 The Maidenholm Update is an exciting collection of new content that drastically changes the way We Happy Few is played.
This represents the biggest change to the meta gameplay of We Happy Few since we launched on Early Access, and potentially the biggest since we made permadeath optional in 2015.
We would love to receive your feedback on what you like or don't like. We are particularly interested in feedback on the new loot balancing, the playstyles and the general level of difficulty inside Wellington Wells. We'll look forward to hearing from you, so please come and visit us on our forums, or on your social media of choice.
Major Changes
- New island! The long-awaited second island of the Village of Hamlyn has arrived: Maidenholm. ("Holm" is an old British word for an island in a river, by the way.) Read the in-game newspaper for more information.
- Playstyles have arrived! When starting a new game, players can now choose the Birdwatcher, Downer or Vigilante Playstyles. While these settings affect difficulty, they vary gameplay more significantly. This is a first pass implementation and will evolve over time:
Birdwatcher: No hunger/thirst, game pauses in the menu, items are instantly equip, NPCs are easier to kill and aren't as bloodthirsty, more resources (only partially integrated; more to come on this). Designed for more casual players.
Downer: Hunger/thirst at normal levels, game does not pause in menu but items will instantly equip, normal resources/NPC threat.
Vigilante: Hunger/thirst intense, game does not pause in the inventory or shops, delay on equip, more dangerous NPCs. Designed for the masochists among you.
- Permadeath remains available as an option for all three playstyles.
- Procedural music has been implemented. The in-game music has been redone, allowing for better blending and more variation and combinations across the various states of the game (suspicion, combat, Joy/non Joy, etc).
World Generation
- Support for regions in the Garden District has been added. Regions such as hamlets, forests, meadows, etc will be dotted around the place, as opposed to the island consisting of just one big town. Please keep in mind that this is a work in progress. It is a little empty for now, but this will change.
- As a result, Garden District 1 island is now unintentionally shaped like a dick 70% of the time. That's what Matt says, anyway.
- Scavenger cars should no longer spawn very close to one another.
- Bridges have been refactored to require you to "open" the gate to go through to the next island. This helps us control the loading experience a bit better.
- A number of generation bugs have been fixed, so there should be fewer instances of filler buildings overlapping with encounters or interactive houses. Having said that, with the new region system, we expect a bunch of visible bugs to exist (although these shouldn't affect gameplay or block your progress).