Welcome!
Welcome! This is where we talk about things, like games, space and pancakes.
Howdy, Stranger!
It looks like you're new here. If you want to get involved, click one of these buttons!
Weekly Journal - 24/03/2017 - Maidenholm Update on 29 March!
Naila
Moderator, Compulsion Team
Hey everyone,
The Maidenholm Update for We Happy Few is arriving on PC on 29 March. Here's a sneak peak at what's in store: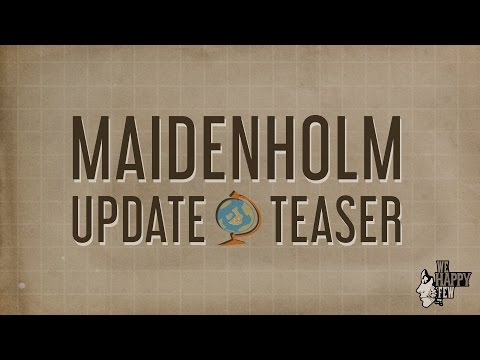 The update will drop on Steam and GOG first, and the Xbox One version will follow some time shortly after. The Xbox One version has been giving us a bit more grief thanks to the huge amount of new content, so it needs a bit more time in the kitchen. Please give a round of applause for Clara and Sarah who created this amazing teaser.
We are also a bit surprised because today's post marks the 100th update since we started updating our Kickstarter backers with progress. This evolved into our weekly journals, so it's a good a time as any to say "100 journal updates"! As a result, we've made an extra effort this week to post up some interesting material. We hope you enjoy it.
Production
Sam
Holy shit, 100 updates. When we started doing this weekly journal, I don't think we fully understood the change it would bring to our studio. It's very unusual for a studio to do this (and thank you to the team at Facepunch for inspiring us with their work on Rust), but it has become a core part of what we do. Sharing this with you every week is one of the highlights of my week. Thank you all for reading and supporting us.
As you can see above, we are going to be bringing the Maidenholm Update to you next week. The team has done incredible work on this update, and it sets the stage for the work we'll be doing this year. It feels like we've ramped up to full speed on the game, and the next couple of updates will be even bigger.
I'd like to write at some stage about how we are building our updates, to give you some insight on our production processes. However, time is a little tight as we prepare for the update, so instead I want to show you something Naila and I put together on Thursday: our Early Access update history.
http://steamcommunity.com/app/320240/discussions/0/135512305401468442/
I figured it might be interesting to publicise our update history, so anyone can look back at the updates we've made and read the build notes in context. We have also opened up a couple of public branches on Steam with old versions of the game, which you can download and play at any time. Probably this won't be everyone's cup of tea, but for those of you interested in game design (or digital archaeology, as I like to say), we'll be happy to answer questions about why we made the changes that we did.
Ninja Team
Clara
Since it is the 100th update (hurray! an excuse for cake!), I figured I would show you a bit of what is happening right now in the ninja department aka the videography department (This was not supposed to be a thing but since it slipped through a few weekly journals ago…).
With the arrival of the Maidenholm Update, I have been busy working on videos, videos and more videos, in-between the weeklies and the PAX report.
As you guys probably saw today, Sarah and I did a very tasteful teaser for the update coming next week. It took some storyboarding and designing here and there, a couple of coffees and a lot of giggling but we are pretty happy with the result!
We really hope you will enjoy it and that it will make for an exciting interlude before next week's update.
To this end, I have been working on the big update video. Sarah and Sam went back behind the mic for a new round of upcoming features and improvements, all condensed under 5 minutes... which was not an easy task this time. Hopefully it will give a good insight on what awaits you in the Maidenholm Update!
And now, let's talk about that cake.