Welcome!
Welcome! This is where we talk about things, like games, space and pancakes.
Howdy, Stranger!
It looks like you're new here. If you want to get involved, click one of these buttons!
Weekly Journal - 07/10/2016 - Survey/Feedback time! Crafting Menu screen.
Naila
Moderator, Compulsion Team
Hi everyone,
This week we have continued work on our quest system changes, and we wanted to give you an update about when you can expect our next couple of updates. However, before we begin, we would like to ask for your help! We would like your feedback on something we've been working on: the upgraded crafting screen menu! Sarah talks more about this in her update, but if you want to give us feedback, please take
this survey
and answer the question within. It is very helpful to us, so feel free to leave your feedback in the comment section as well!
Sam
Since we released We Happy Few on 26 July, we have published two major updates:
- The
Community Balance Update
on 12 August
- The
"Hey There Good Lookin'" Update
on 9 September
These were both quality of life updates to address community feedback, implement some new content, change balance, fix a few bugs, etc. The question is: what's coming next? We have two things to do: fix and polish our existing content, and continue creating new content. Both are important, and both are being worked on currently. However, as the old content needs to be revamped (see Adam's post below), it's important that we do this revamp before the new content comes, so that new content isn't plagued by the same issues. This revamp is taking a bit longer than expected, so we want to let you know when you can expect to see the next changes to the game.
So, the roadmap currently includes two updates in the next 2 months:
- First week of November: Polish
- First week (ish) of December: Village 2
The "Polish" update (we'll come up with a better name) will completely rework our encounter systems. Literally everything in-game is being redone, using the new quest, conversation and puppet systems. We will also have a few new surprises, but we want to keep those as a secret until they're ready. This update will effectively "master" the current content in-game, and we are hoping there will be far fewer progression blockers or save game bugs at this point.
The "Village 2" update will be the first time that we add a large amount of new content to the game. Oddly enough, this will be the second Village island, which will be the harder version of the Village island that is currently in game. It will contain a bunch of new quests, new NPCs and improvements overall to Village content, along with general improvements to the game.
That's the current plan! We are, of course, working on the story in the background. If you guys have any questions or comments about this, please let us know in the comments.
Design Team
Adam
Hello all. We hear you about Faraday's encounter! I've been on it for the past couple of days, and I have a few more days to go (hopefully less). It is my priority to make sure this encounter does not break no matter where you save/load, or if you just plain kill everybody or run away.
To illustrate what we are doing with the new quest system, I wanted to give you another before/after of what this encounter looks like "under the hood". Here is the House of the Inventor as it was two weeks ago: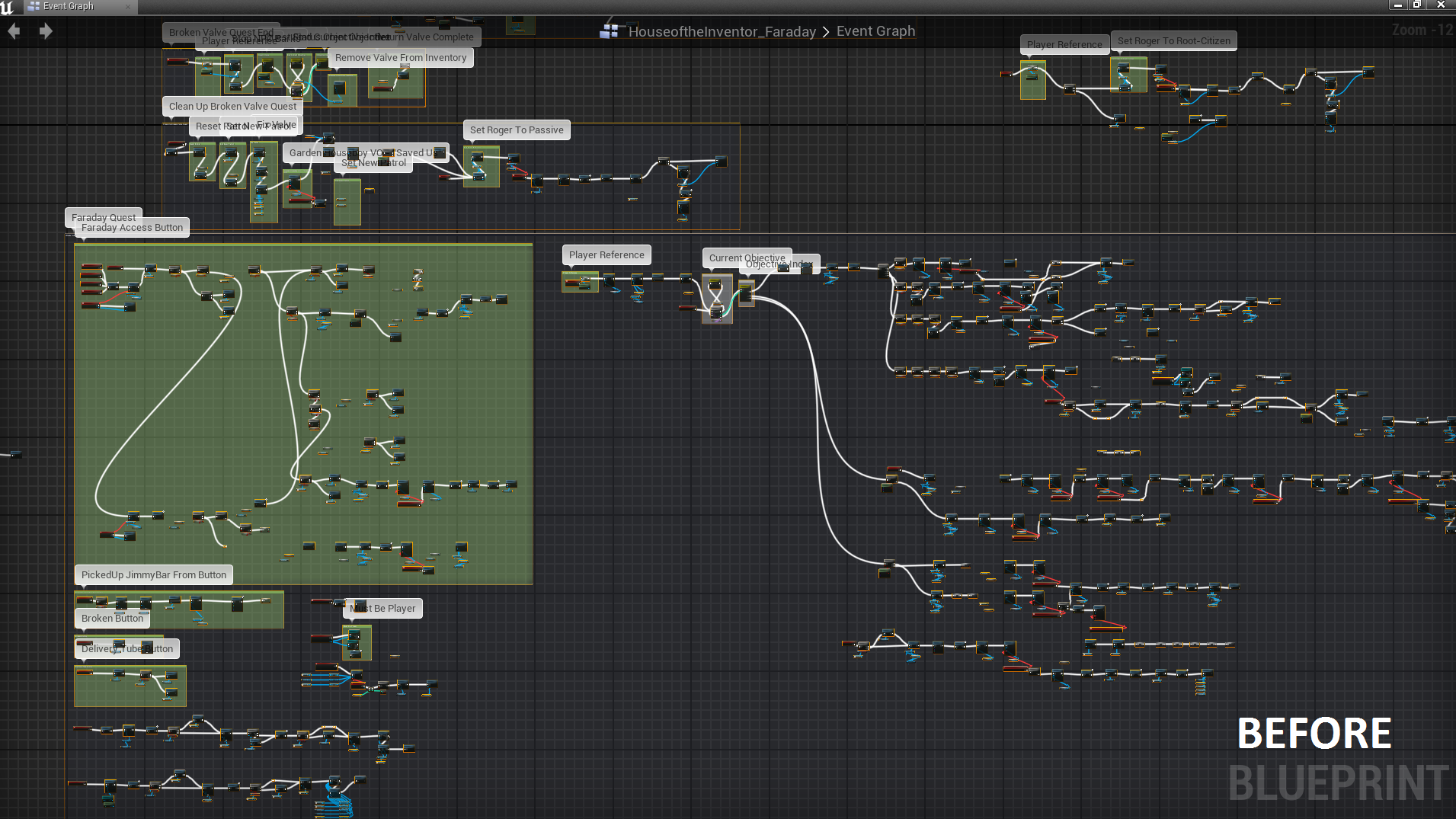 And here it is part way through the refactor into the new system: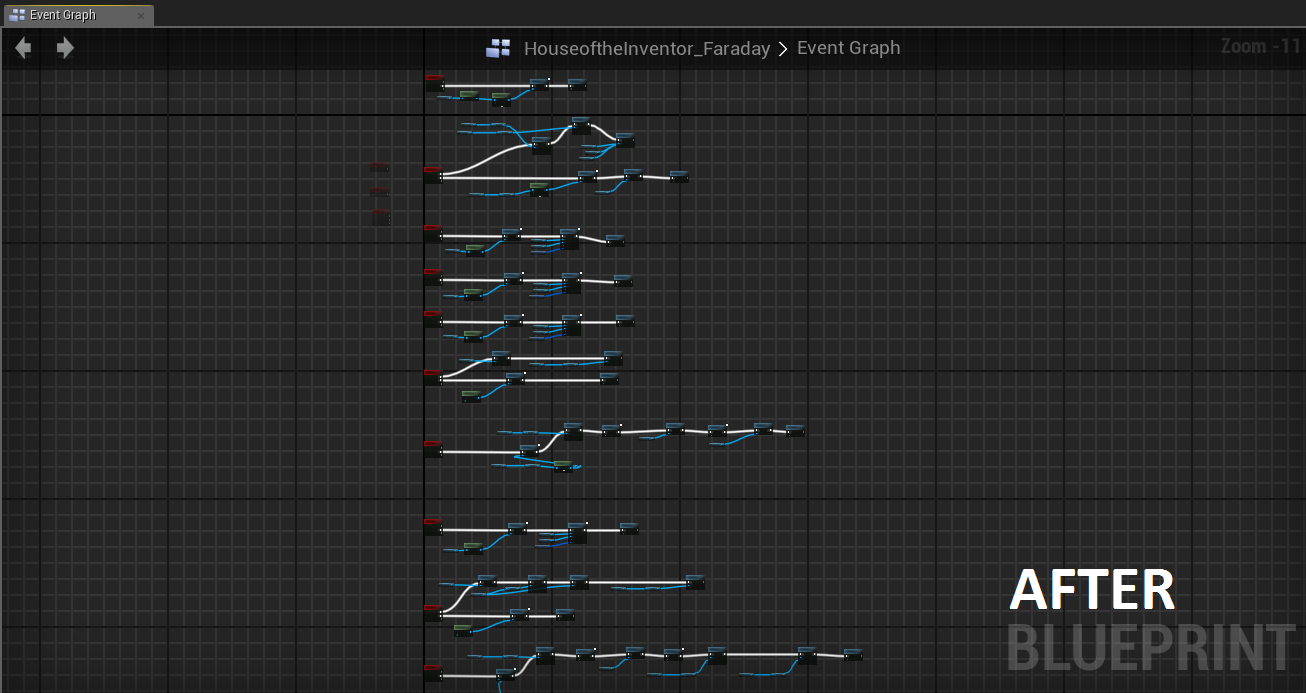 As you can see, the new quest system has dramatically simplified the work we level designers need to do, and there are far fewer parts where the scripting can break. However, it's not done yet, so please bear with me though as it is a very complicated piece of script!
Vince
Hi! Pretty much the same for me and Mike, we are just moving all encounter script logic to the new quest system to squash all those nasty quest breaking bugs, and we are nearly done! We should be able to add a nice layer of polish to all encounters with the new conversation animations the animators provided us with and move on to new stuff next week!
Art Team
Sarah
Hello, Chickadees! I spent the better part of my week hiding in the dark, pumped with drugs, and covered in blankets with a particularly nasty bout of the plague. Despite practically cheating death, I did have time to work on the UI some more, and apply some of Morgan's wonderful feedback, as well as input from both Guillaume and David. I'm very excited to finally share what will hopefully be the new Crafting Menu screen! For those interested in getting their hands dirty, we'd really appreciate YOUR feedback, too! We have a little test for you, and remember that any and all feedback is very much valued and appreciated. Thanks, and happy Canadian Thanksgiving!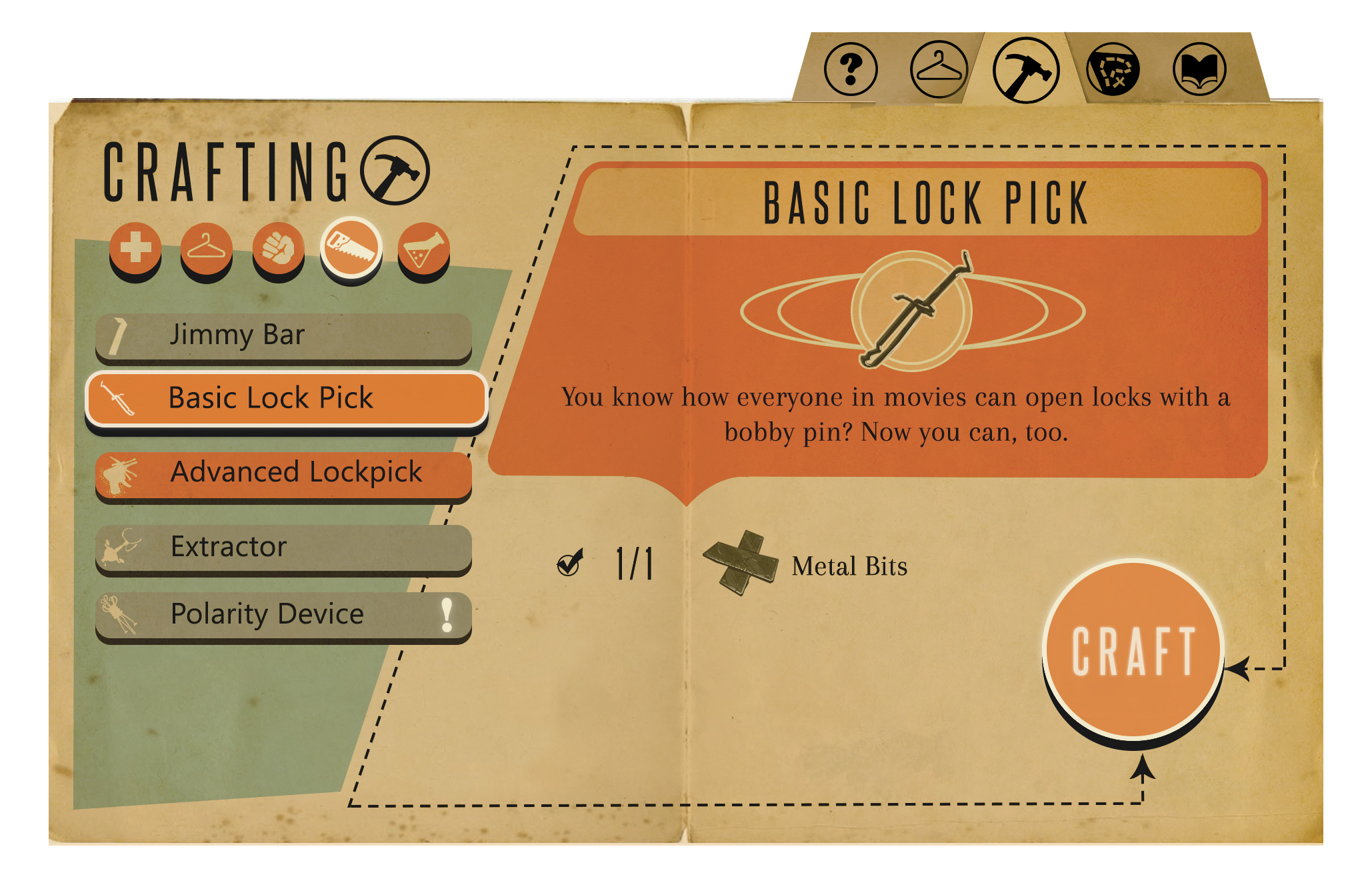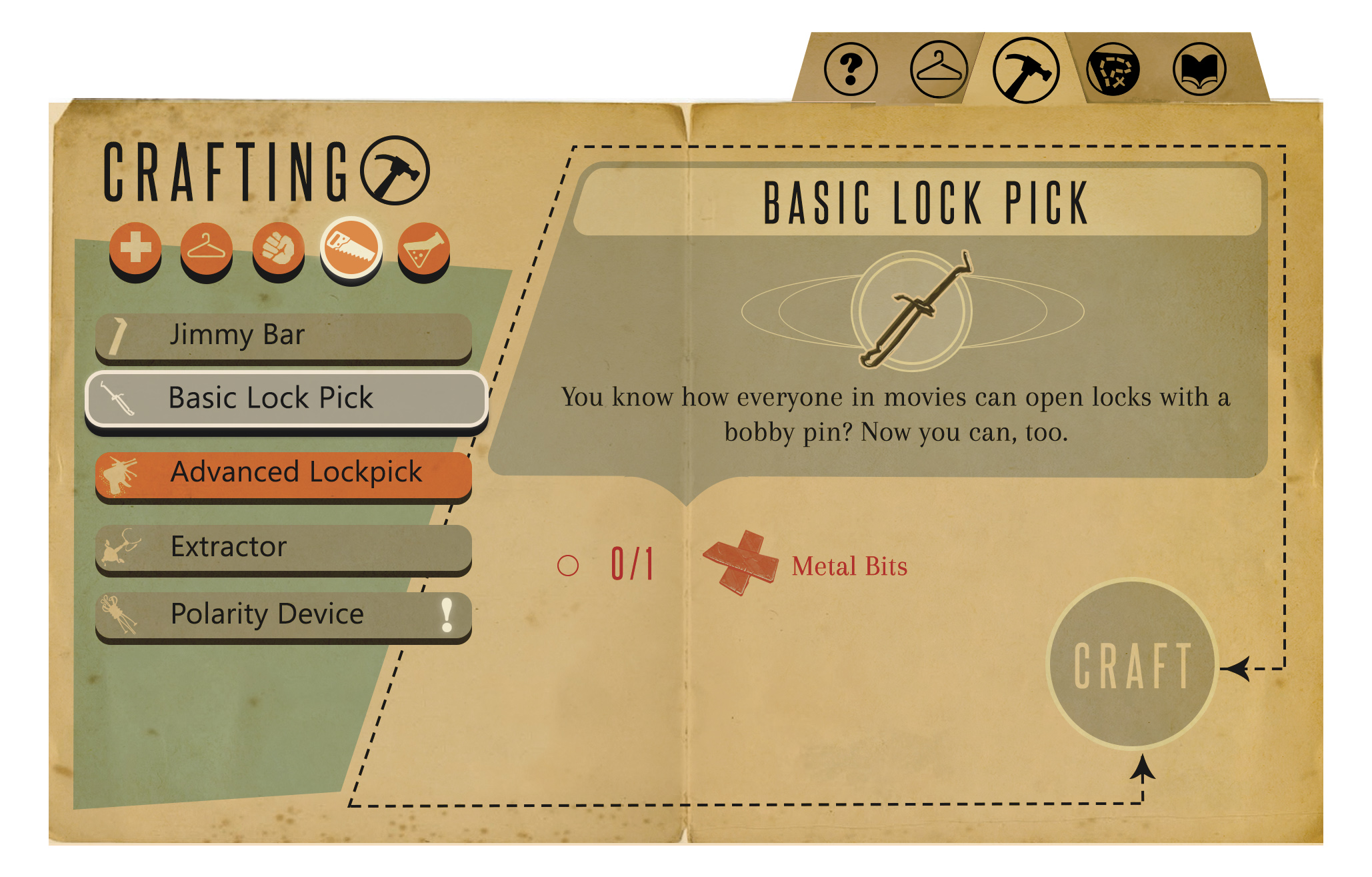 Marc-André
These past two weeks, I've been focusing intensely on asset creation, principally for use in the Village houses. I've been creating:
- Modular air ducts systems (clean and dirty versions) for use throughout the underground levels and special locations
- 60s inspired wall dividers and credenzas (two variants; one storage and one for record player)
- Mid-century and 60s inspired ceiling and table lamps
- Lava lamps :smile: (And yes, before you ask, they will be animated. Once I get some good results)
- Stars wall decoration
- Wall radiators (clean and dirty version) (painted and metal versions) for use pretty much everywhere in the game
- Mid century inspired living room chair
- Kitchen dinner trays
The following assets are also currently in the works (but not completed yet):
- New drawers furniture variant
- Vanity
- Tiki/mini bar with various decorations, such as martini and sherry glasses
- Coffee table variants
Next week I will be focusing on three main things:
- Assets involving clothes, such as beds and towels
- Small items such as shampoo, soap, toothbrush, flower vase, etc.
- Layout and lighting - finishing the first pass - for all four current Village houses