Welcome!
Welcome! This is where we talk about things, like games, space and pancakes.
Howdy, Stranger!
It looks like you're new here. If you want to get involved, click one of these buttons!
Weekly Journal - Inventory
compulsion
Administrator
Hi everyone,
This week we would like to chat about a topic that was trending a lot during during Early Access, the inventory! In this journal, we will go through the major changes it went through, and explain in a bit more depth why we made the decisions we made. We're also tackling the holsters and quickslots, as you can't really have one without the other.
The inventory changed radically to meet the needs of the game as it evolved. As we received feedback from players and changed core mechanics in the game, the inventory and the quickslots needed to adapt to the new designs. This meant that the story of the inventory is a tiny summary of the entire game's development.
The Beginning
Back in the early days, the game was a lot simpler. At the time, the game was looking like it would be a roguelike/survival game, and so we looked around at systems other games were using (Day Z, Rust, Minecraft etc). At the time, we had relatively short playthroughs in mind - something you could play in a single sitting.
Here is a picture of our very first inventory in 2014 - keep in mind that in early development, programmer art reigns supreme.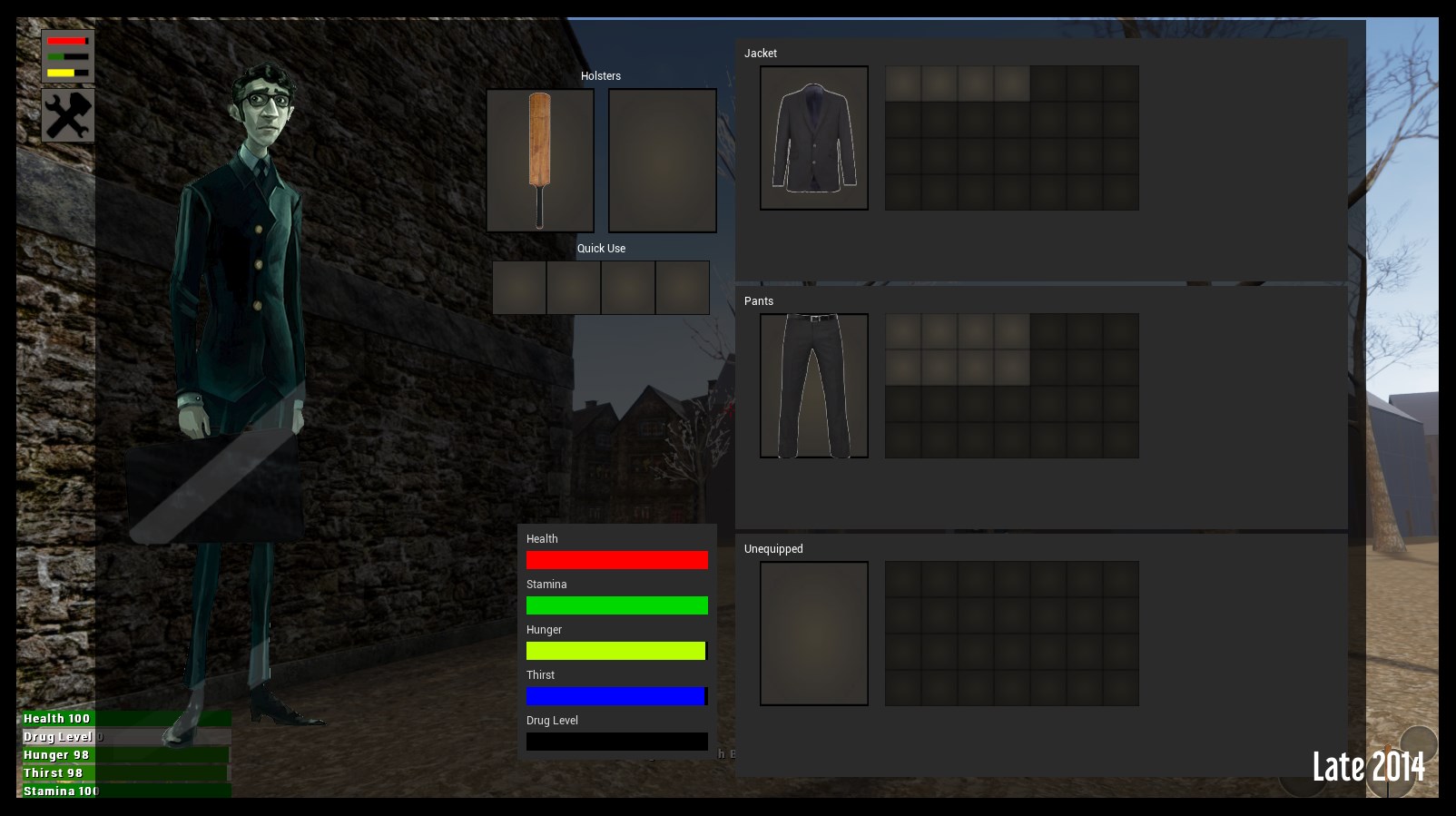 In the first version, what clothing you were wearing would determine how many slots you had available to use in your inventory. The jacket above would allow you to carry four items and the pants, eight. Finding a better suit would have unlocked more slots etc. The third slot was for Arthur's briefcase, which he could also upgrade as you went throughout the game. You could think of it as finding jackets with extra pockets, or suitcases that just got bigger. At the time, all loot was physicalised in the world.
We wanted to be able to use both weapons and items in regular gameplay, so created a holster and quickslot system that you would use both in the inventory screen and in gameplay.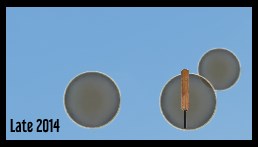 The quickslots were extremely simple, with two weapon holsters and one quicklsot for an item (food or bandage) that you could cycle using your mouse. The quickslot items would be chosen by hand in the inventory and didn't stack, which was pretty cumbersome. Naturally, we thought it was great.
PAX 2015 - first publicly playable version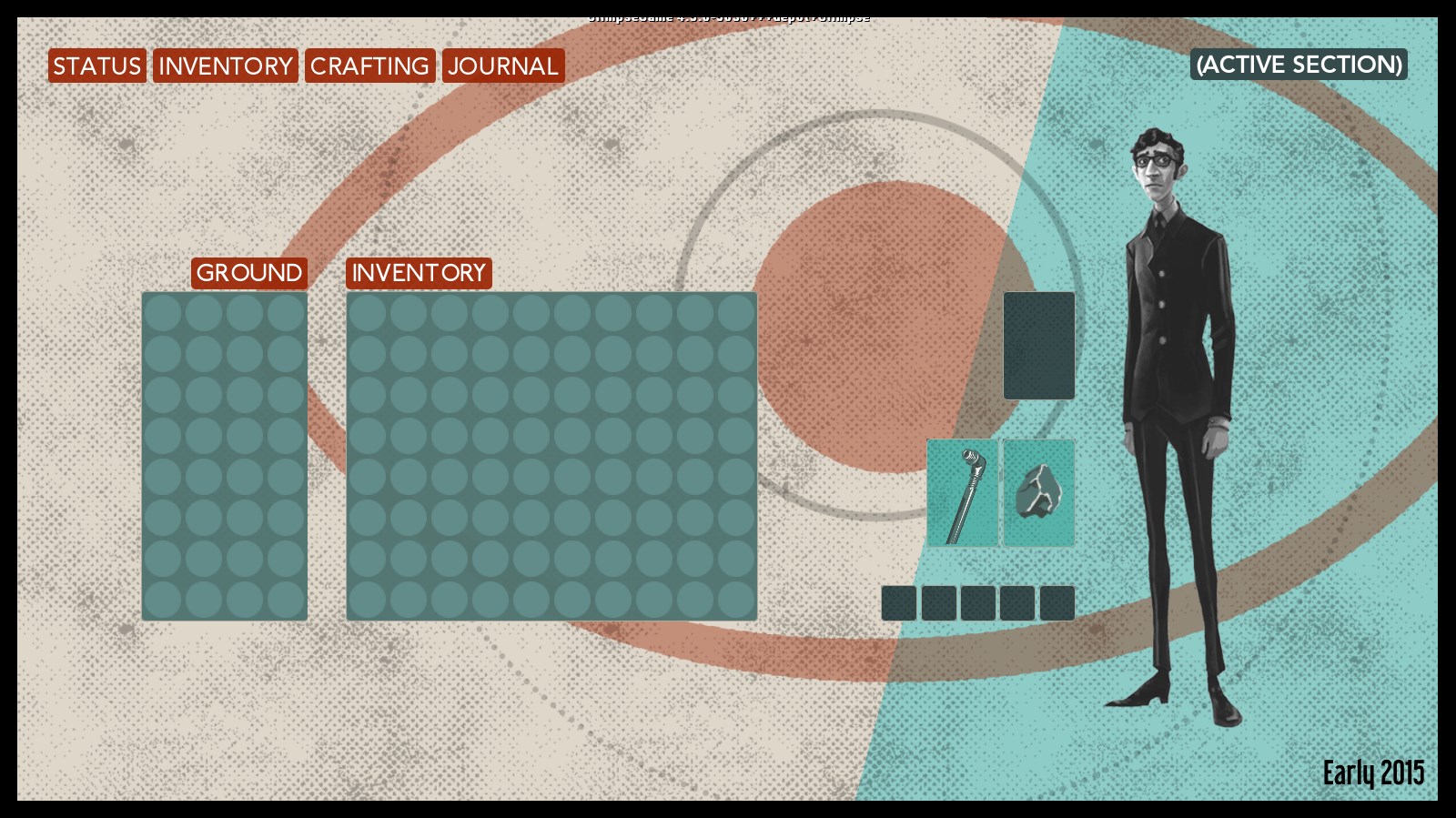 By the time PAX 2015 rolled around, our inventory had gone through quite a major change already: a step closer to what we really had in mind. To simplify looting and inventory management, we moved to a single, unified inventory - ditching the fixed slots system for a grid. Clothing no longer gated the inventory size, but instead became fully about conformity and other modifiers (which remains the case to this day).
NPCs, the ground, and chests were now containers - aka loot was no longer restricted to being physically in the world, and NPCs (or containers) could have "inventory". This was represented in the left panel above - you could open this via looting prompts or by just going into your inventory. We also moved "player menu" categories to the top, as opposed to on the side of the screen.
We still had two weapon holsters, but added an extra quickslot. Throwable weapons had been added by then, and took up a weapon slot.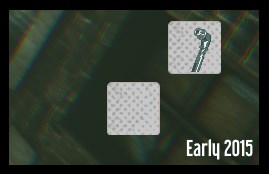 The in-game quickslot became smaller and cleaner. One for a weapon and one for an item. This horrible programmer art remained in-game for YEARS.
Kickstarter
Progress continued throughout 2015, expanding on the system.
For the Kickstarter playable build, the gating returned not only for the inventory but for the weapon holsters and the quickslots. The player could find expansion kits (briefcases made a brief comeback!) around the game to unlock them.
The survival meters were also now present in the inventory because we didn't have a status screen yet. The player menu screens are now icons, instead of names.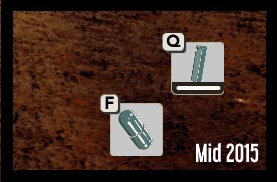 The quickslots did not change much apart from getting button prompts - we started turning more and more attention to how we communicated things to the player, rather than just building systems (that we already knew how to use). We also added durability for weapons, and weapons could no longer be swapped in the middle of combat, which meant that getting that holster upgrade became more important.
At the time, the game was still supposed to be a relatively short duration. However, once Kickstarter players got their hands on this build, we realised that everything would need to change.