Welcome!
Welcome! This is where we talk about things, like games, space and pancakes.
Howdy, Stranger!
It looks like you're new here. If you want to get involved, click one of these buttons!
Weekly Journal - 29/09/2017 - Rorke's Drift
Naila
Moderator, Compulsion Team
Hey everyone,
We are about to roll into October! Which means we are 4 weeks away from content completion...and Halloween!
We are planning some fun and creepy content on our social media for the month of October. Ever heard of Foggy Jack? Us either.
Production
We also announced this week that we are partnering up with McFarlane Toys to bring our beloved Bobbies to life!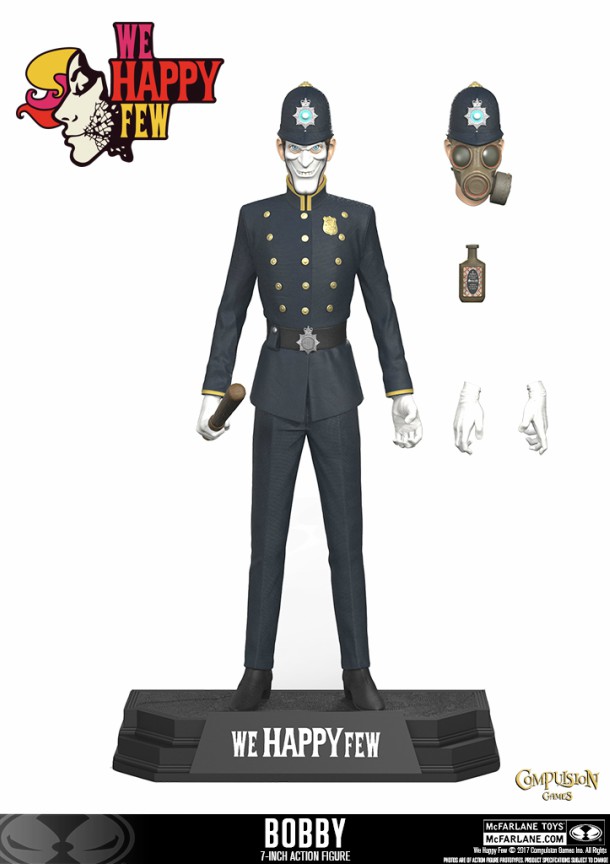 Sam
The team is busy as bees recording and integrating VO, finalising the level art, adding major changes to procedural work, animating all those little moments that piece everything together, and really just working super fast and well. Of particular note is that this week our conformity mechanics have finally been integrated to the new system, so all those weird Wellington Wells rules are back in, including the old favourite of "have you had your Joy today?"
As content comes in, we also continue reviews to make sure that the playthroughs make sense, and we begin looking at which parts we want to focus on to make them really shine. That's exciting and nerve wracking - there is a reality in game development that parts of the game need to be "good enough" but may not make perfect. It's like trying to decide which one of your kids gets the hug. But it's very important to make sure that we have moments that you guys will love and hopefully feel touched by.
Other than reviews, the production team is beginning to collate information for ratings like a full and final script (which is a hefty, hefty beast that we're currently estimating at between 100k and 150k words), videos of particularly gruesome moments, foul language (yes but HOW did the person say fuck?), and some things so awful you'll have to discover them for yourselves (spoilers). T-4 weeks until content complete (in theory)!
Design Team - David, Hayden, Antoine, Adam, Ben, Eric, Roxanne and Benji
Eric
This week has been fully dedicated to the new introductory island. It's coming along fairly well. Just stitching together the quest flow, and fixing some strange issues that crop up, that and a loot pass. But it'll shape up nicely after a few long nights of figuring out why things don't work properly. Also, Emmanuel started on the new bridge from this island (Barrow Holm) to the old first island (Eel Pie Holm), take a look.