Welcome!
Welcome! This is where we talk about things, like games, space and pancakes.
Howdy, Stranger!
It looks like you're new here. If you want to get involved, click one of these buttons!
Weekly Journal - 22/09/2017 - District 0
Naila
Moderator, Compulsion Team
Hey everyone,
Another crazy week in the studio. We welcomed 3 new members to our team, we tore down a wall and our level designers have finished blocking all of the levels! It is of course far from being finished but this is a very cool milestone.
We are also in the fun phase of designing merchandise which is really tricky because not everyone has the same tastes. Do you design something that you like or something you think others will like even though it is not your style? Both? Subtle or more on the nose/fun designs? We would love to have your opinion on this. In our opinion, as long as it is classy.
What is District 0? That is our new tutorial area which the team will explain below :)
Production
Sam
Now that we have everything blocked in (aka all our levels are in the game and mostly functional), this week saw David and G conducting reviews of our playthroughs with our level designers. This is an exciting time, because now we can get more accurate information on how long playthroughs take, how they feel, where the player direction issues are (eg does an encounter tell you enough about what you need to do), etc. It's the time where we really begin the assessing/polishing, as we decide which parts of the game deserve more love, and which parts are good as is. For example, while we are not building new encounters at this point, we are creating a new area to help introduce players more gradually to the procedural world (see Eric's post below). The goal is that players will no longer feel abandoned at the beginning of the game, and will have a longer introduction to the game world.
We can also now test the playthroughs for blockers and beginning to ramp up the QA team at Gearbox. Because the game is quite complex, with a procedural world, 3 characters, multiple platforms, different game modes, different playstyles etc, we need a pretty big QA team to look at it. We're ramping up to 25 people, who will be full time on the project until we ship. We also brought on two more QA people internally here at Compulsion, meaning that we have a solid team now to help us ship the game.
Finally, the team remains as ever in a frenzy of integration. Audio, UI, animation, art, design, tech, it's all a hectic machine. T-5 ish weeks until content complete.
Oh, and we opened up the wall and expanded the office late last Friday! Here's a picture of the new narrative/QA area. It needs some love, but at least we can breathe.
Before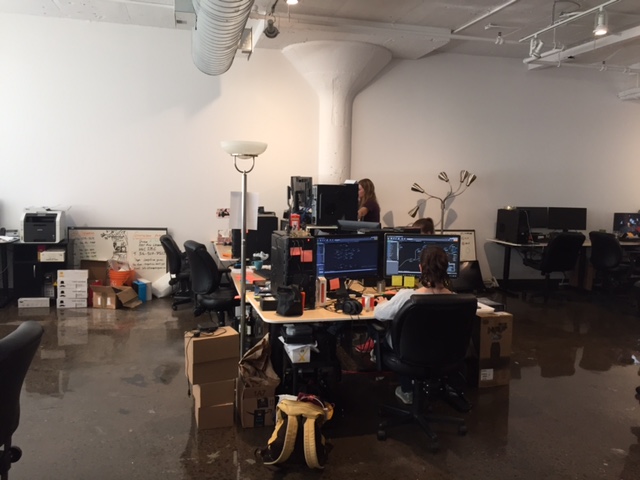 After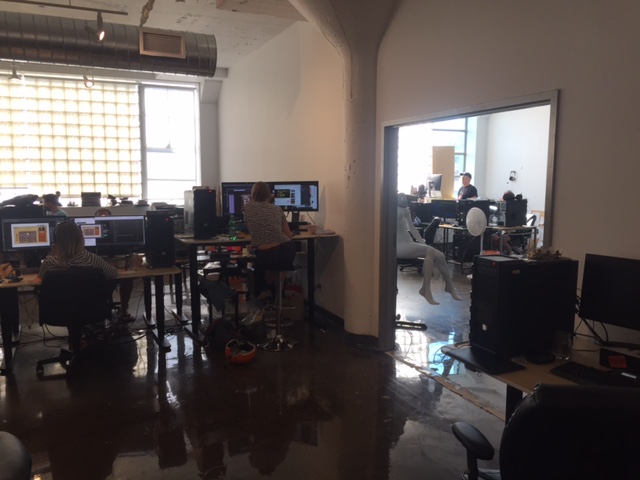 Narrative Team - Alex and Lisa
Alex
Busy week today. Working till sleep time most days. Recorded 220 lines with Miss Thigh Highs, about 120 with the brilliant Joe Sims doing a variety of voices, and about 45 with an older gentleman with a menacing voice.
Actors are funny critters. There are all flavours of good actors. Some are easy to work with and give you what you want just by reading the line. Some get where you want with just a line or two of direction. Some are hard to get where you want, but when they get there, they are very, very good. Some will never give you what you thought you wanted, but they have so much charisma that it kind of doesn't matter. They just steal your character and run off, and if you're wise, you let them.
Then there's range. A certain terrific actor we have cannot sell a joke. Another cannot play stupid.
I once saw Pierce Brosnan say, "Some actors can carry off almost any role. The rest of us have this one thing that we hone, and hone, and hone. I, for example, can wear a suit."
Sometimes an actor will just not get a line no matter how much direction I throw at them. Sometimes you can just tell that the words don't make sense to them -- intellectual sense, of course, but they are not understanding the emotion driving the character. In that case, I rewrite. It helps that I'm the writer, the voice director, and the editor. A very fine award-winning actor was having trouble with the line "You know the way out." When I changed it to, "I think you know the way out," it clicked. Go figure.
We are also refining our barks system so people will be much clearer why they hate you. This will integrate with refinements we are making in our conformity systems so that you will, hopefully, always feel like you're hiding in plain sight in enemy terrotory.
I think I meant to write "territory" above, but I'll leave it as is.
Lisa
This week I wrote environmental narrative that reveals the surprising backstory of a character you've already met. (Don't you want to know who? Of course you do!) I also worked on a jaunty little guide called How to Be Happy, which Wellington Wells distributes to all its citizens. Then I wrote "death screens" for both Miss Thigh-Highs and the Mad Scotsman, so that when your character dies, you'll see cheeky articles about how and why they went on holiday. Each mode of death gets a different article. (Collect 'em all!) And, of course, I wrote other things that I can't tell you about until 1.0. We're working very hard on story, yet I see folks on Reddit who wonder if the game will have a story at all. It feels sort of like planning a surprise party for someone who thinks you forgot his birthday. Can't wait till April, when you'll all get to see what we've been up to!