Welcome!
Welcome! This is where we talk about things, like games, space and pancakes.
Howdy, Stranger!
It looks like you're new here. If you want to get involved, click one of these buttons!
Weekly Journal - 15/09/2017 - Almost content complete!
Naila
Moderator, Compulsion Team
Hey everyone,
Really busy week here at the studio as the team is finishing most of the content for the game. We are also adding 3 new members to the Compulsion family next week! Which is really exciting but it also means the office is currently really noisy due to all the desk building. Today's journal is a bit special as we are showing a little snippet of someone we've never shown before!
Production
Sam
Annnnnnnnnnnnnnnnnnnnnnd we're blocked! Well, almost.
By the end of the day today, or maybe squeaking into Monday next week, all of the levels (gameplay areas) will be blocked inside the game. This means, for the first time, we are able to play through all the stories of all three playable characters - all main quests, all side quests, all bridges, all houses, etc - basically, all of the encounters we have in the game. There are no bells and whistles - these are just the basic building blocks - but you can play everything (in theory).
We still have a few things to do - eg bits and pieces of Arthur's story that aren't able to generate in the world yet (they're too big so they blow up the world generation, meaning we have to specially test them) - but by and large this is a very exciting milestone. After 3.5 years, we're very, very happy to be here!
The next step for the project is content complete: aka, integrating all our cutscenes, VO, art, animation and sound/visual effects. We have six weeks, in theory, to go until we've got all of this done, and it's going to be a whirlwind. It's exciting, because this is the time where it all starts coming together.
In other news, we are extending the office on Monday - cutting a door into what previously was a wall and adding 25% more office space - and doing a lot of rearranging of desks and teams today. We'll post up some pictures next week.
Animation Team - JR, Remi, Vincent, Mike P and Jules
"Dangerous" Mike (kind of still new, but with just enough experience to be dangerous)
Hey there! So this week I wrapped up the animations for a quite cringeworthy way of getting things out of the inhabitants of Wellington Wells. Think of going to the dentist who's only got 3 fingers on each hand, has the shakes and doesn't believe in anesthesia. An interesting experience for all I'm sure! Check out the GIF for the full experience. So yeah, that's about it from my end of things. See you next week, same Bat Time, same Bat Channel!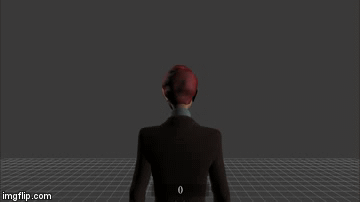 Jules
Hi, folks! For me, I spent my entire week on an awesome task! I created a few new attacks for our NPC's combat system. So now all of our NPC's have 3 different levels of attacks. The "light attack" which is already in the game. The "medium attack" and the "Heavy attack". As you can imagine the medium and the heavy attacks are slower, but they do more damage. But an animation is worth a thousand words.
Unfortunately I can't share something now, because all of these animations are very rough. This is very exciting, see you next week for more news (and gif) about it.
Narrative Team - Alex and Lisa
Alex
I've been out of commission on the weekly a bit, because I've been a bit too much in commission writing lines. As the Level Designers rush towards content lock, they are finally spitting out the heaps of encounter lines they need, which I am turning into dialog, and then recording. So that's a lot of writing and a lot of recording.
That's a full time job. Another full time job I have is testing the story playthroughs. They are still not 100% complete, but they are complete enough that a fellow can play through them... and make copious notes on all the things that are missing, or scrambled. It took three days for me to play through Arthur, even cheating to give myself lockpicks and power cells and such, even not doing side quests. When we started out, the idea was a playthrough was four hours. Hah.
Odd writing note: sometimes you come across illogical things in the game. For example, for design reasons, Miss Thigh Highs currently can't go out her back door, even though Arthur, in his play through, goes in that way.
However, you do not necessarily need to justify them. Sometimes it works just to "hang a lantern on them." If Miss Thigh Highs says, "What is wrong with this door, it's always jamming on me!" then it feels like there is an in-world reason why she can't use that door, even if we don't get a terribly good explanation for it. By addressing the problem, it doesn't feel as much like a logical inconsistency.
Oh, and, we're working on a new trailer. So there's a bit more writing.
Back to it!
Lisa
Ever wonder what the Doctors do in their spare time? Well, you'll soon know! This week I wrote environmental narrative for their house, which interestingly used to be a house for something else -- something else that no longer exists in Wellington Wells. Shhh! Can't wait until you folks see the entire game so I can stop talking cryptically!