Welcome!
Welcome! This is where we talk about things, like games, space and pancakes.
Howdy, Stranger!
It looks like you're new here. If you want to get involved, click one of these buttons!
We are coming to Xbox One, PC and PS4 on April 13 2018!
Naila
Moderator, Compulsion Team
Hi everyone,
We are thrilled to finally announce that We Happy Few will be launching worldwide both digitally and at retail on April 13, 2018, for Xbox One, PC, and PlayStation 4! Mac and Linux will be arriving on or shortly after that date.
We're also (breathe now) announcing today that to come to retail, We Happy Few is growing in scope, and is being published by the awesome folks over at Gearbox Publishing. We'll be retailing at US$60, although until launch you'll be able to buy We Happy Few at 15% off (hence the somewhat unusual US$50.99 current price). We are very excited to partner with Gearbox to bring We Happy Few to gamers worldwide, and we're happy to finally confirm to you all "Yes it is coming to your platform and yes it will be available in your language!" and much more.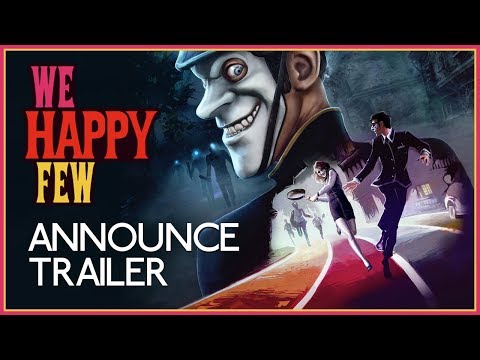 We have been working towards this scope increase and announcement for almost a year, and we've been itching to tell you all about this for a long time now. We're going to explain everything, and as this is a pretty big announcement, and a pretty big blog post, we're dividing it up into a few sections:



Scope increase, aka, our fiendish goal to create a bigger, better We Happy Few




Retail, PS4 and Gearbox




DLC and why it's exciting for us




Kickstarter backers and Early Access players - what this means for you




Life in Technicolour



Scope Increase
So, the first thing on many people's minds is "holy crap $60?" Yep, $60.
We Happy Few wasn't built like other games. It didn't start as a big game - it started very, very small. We went to PAX East in 2015, after roughly a year of development (what you'd probably call pre-production), with a procedurally generated Village of Hamlyn, a skeletal universe, and some very basic mechanics to introduce the idea of what "social conformity" was all about. At the time, the game was basically a roguelite - a procedural, systemic game, intended to be highly replayable. It also had a story, which was intended to be optional and just provide a little bit of extra flavour to the world. Think of FTL's story (really), except with a few small cutscenes, and three characters who would have a different perspective on events.
So we went to PAX with this tiny little thing, and… frankly what happened wasn't what we expected. While people were excited about the procedural world (no one had ever done procedural urban areas like that) and the gameplay, they were blown away by the atmosphere, the world, and the possibility of the stories that could be told. So, roughly a year into development, we had a decision to make: do we respond to feedback, increase the scope of the game, and grow our team, to build the game that we thought people wanted? Or, do we keep it small?
In the end, we chose to see what you guys thought. That was the purpose of the Kickstarter in 2015. We felt that if we were successful with the Kickstarter, then we had something that we could find investment for, and build into a game that had the story and experience that you wanted. After being successful on Kickstarter, and signing on to Microsoft's ID@Xbox program, around the time of E3 2015, we knuckled down and began the hard work of planning and building this game.
Fast forward to early 2016, we had a very small part of the story ready to go. The intro. We had built it based on what we thought would be a good "vertical slice" - a good snapshot of the increased story we wanted to tell. We showed it to Microsoft, who asked us not to reveal it at PAX 2016, and instead go on the big stage at E3 2016. Before this point, relatively few gamers had heard of We Happy Few.
So Guillaume (our CEO and Creative Director) went on stage at E3 2016, and suddenly we exploded. Obviously we had hoped this would happen, but we weren't really prepared for it. We were one of the most searched games on Google during that briefing, and people playing the game at the show were having a great time playing the demo. We were nominated for and won over a dozen awards during that show.
And then we released on Early Access, with a much expanded version of our sandbox world, along with the intro we showed at E3, and while a good number of you saw the promise and the potential of the game, some of you were disappointed that the sandbox experience didn't match the first minutes of the game. The standards set by that intro were higher than we were building for the rest of the game, and we realised that we had the same choice facing us: expand, and make the game that most of you were hoping for, or keep it small, stick to our guns, and run the risk of not living up to that expectation.
After we launched on Early Access, we were approached by Gearbox. They basically said to us, if we can make a game like that, then they thought we had a good shot at a retail game. We felt that in order to do that, we needed to reinvest and make the game bigger - as you can well imagine - and so that is what we have been working towards for almost a year. It's why instead of spending 6-12 months in Early Access, it's going to be closer to 20.